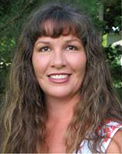 Gina Miller
Homosexual activists pray to God for "equality" in Mississippi

By
Gina Miller
June 10, 2014
Listen to an audio version of this column
Recently,
I reported on the latest front
in the militant homosexual movement's war on truth, freedom and morality in targeting three southern states, including Mississippi, with an $8.5 million propaganda and lobbying campaign. On Friday, I read a story in our local South Mississippi newspaper about a planned prayer vigil by a group of sodomite activists, set for Monday in Jackson, our state capital. Oh, yes. These people – so many of whom say the most contemptuous things about the Lord and Christians who tell the truth about homosexuality and its devilish movement – plan to pray to God for state leaders to sign on to their Godless schemes with the force of law. Oh, the caustic irony!
In the Sun Herald column, "
LGBTQ group will pray for equal protection in Mississippi
," Political Editor Paul Hampton writes:
A group pushing for an end to what it sees as discrimination based on sexual orientation says it's not so much what Gov. Phil Bryant has done. It's what he hasn't done, a spokesman for a group planning to pray for the governor says.

GetEQUAL Mississippi and other groups will pray and meditate Monday at noon across from the governor's mansion. Lesbian, gay, bisexual, transgender and queer Mississippians will then go across the street and attempt to question Bryant about their concerns, spokesman Todd Allen said.

... "We're going to simply pray that our leaders will provide protection for this community," he said, adding his community doesn't have the same protections against discrimination as the rest of Mississippians have. "Y'all means all."

Bryant, the group said in a press release, has gone out of his way to shut down all efforts to make Mississippi a more hospitable state for LGBTQ people.

"I was born in Mississippi and I am accepted here as an openly gay friend and father," said Rev. Todd Martin, organizer with GetEQUAL Mississippi. "However, far too many of my LGBTQ neighbors face open hostility and constant harassment across the state."
I don't know what kind of "reverend" Todd Martin is, but the fact that he claims to be a reverend and an open homosexual does not line up with God's commandments, desire or design for mankind. God calls homosexual behavior a sin, period. While only the Lord knows the heart of Mr. Martin, we know from God's clear statements in the Bible that no one who openly, aggressively and remorselessly embraces sin is walking according to Biblical precepts.
While everyone who is saved by Jesus' atoning sacrifice on the cross will still struggle to not sin and will be inwardly convicted by it, there is a fundamental difference between daily striving to live as God instructs us and completely throwing off restraint and even declaring that your sin is not sin, as many homosexuals do.
As for Mr. Martin's claim that homosexuals do not have the same protections under the law as everyone else, that's a damnable lie. Homosexuals not only already have the same protections as everyone else, they have
more
than equal protection under the law when you factor in unconstitutional, federal "hate crimes" law. Now, if you're talking about making a law that would force an employer, even a Christian employer, to hire a mentally disordered man who dresses like a woman, no we don't have that, nor do we want that, and you can bet we will fight strongly against it.
Neither is this an issue of homosexuals "facing open hostility and constant harassment across the state." If that were the case, it would be front page, blaring-headline news daily. No, this is not about Mississippi not being "hospitable" to homosexuals. This is about a sinister movement to ultimately outlaw any opposition to the militant, radical homosexual agenda. That's what this has always been. It is a Godless, anti-Christian movement that is marching across our nation, feverishly trying to "catch up" with Europe and Canada where it is already illegal to even voice Biblical admonitions against homosexuality. The goal is to outlaw Christian expression.
Here in Mississippi, these people have decided to create a stir by "praying to God" for His blessings on their efforts to have their sinful behavior shoved in our faces and businesses by force of law. I have no idea whether or not they truly imagine the Lord would ever grant His blessings to sodomy, but I know that's not the point for these homosexual activists. The point is to make a scene for themselves, to paint a false picture of "victimhood" based on their perverse sexual behavior. They choose to engage in grotesque, unnatural, unhealthy and immoral sexual activity, and they want to force people to accept, and even celebrate, this madness under penalty of law. And, they have the audacity to ask God to bless it. What a depraved world this is!
I have no doubt that the explosion of success this diabolical movement has seen in the past few years is because, like the hellish Obama presidency, it is part of God's judgment on our horribly wayward nation, which makes these homosexual activists' prayers that much more ironic.
© Gina Miller
---
The views expressed by RenewAmerica columnists are their own and do not necessarily reflect the position of RenewAmerica or its affiliates.
---