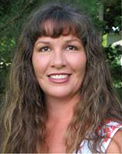 Gina Miller
Homofascists turn their "gay" guns on Mississippi

By
Gina Miller
March 29, 2014
Listen to an audio version of this column
It has been a heck of month here in Mississippi.
As a testament to how brazen the radical homosexual movement has become under the current administration in Washington, homosexual activists have boldly turned their fire power on the deeply conservative state of Mississippi. These people are winning diabolical "victories" all across the nation, as miscreant federal judges arbitrarily overturn the will of the people in state after state by imposing same-sex "marriage" on them by lawless judicial fiat. Because of the momentum these people are seeing in their wicked campaign, they are emboldened to turn their guns on a conservative stronghold like Mississippi.
One of our local television stations reported on Monday that an alphabet soup brigade of homosexual activists had planned a rally on Wednesday in our state capital, Jackson. In
the column
published at the WLOX-TV website, Jeff White, a homosexual activist, was cited:
The group is now focused on changing laws in the state that they say discriminate against gays and lesbians. Same sex marriage is at the top of their list.

"Of course, we'd like to see marriage equality happen here, but it's not just about marriage. We have no non-discrimination employment laws, meaning anyone who is gay, lesbian, bisexual or trans-gender can be fired just for that and that's not fair. We don't have any bullying laws to protect students, not just gay students, any student," said White.
Many people today are so unmoored from God's truth and morality that they can't see anything wrong with statements like Mr. White's. They don't see that what he is pushing is pure tyranny. Let's deconstruct what he said. First, there is no such thing as "marriage equality." There is marriage, period. Marriage is one thing only: the union of a man and a woman. That's all it can ever be. Any other coupling is only an abominable sham falsely called "marriage."
The forcing of a bogus definition of marriage on the people of the United States is tyrannical, because it brings with it the force of bad law to make people recognize and accommodate an immoral bastardization of marriage. People are compelled to violate their conscience and deeply held knowledge in obeisance to depraved pairings of people of the same sex, or they will face dire consequences, including lawsuits and loss of employment if they refuse to bow at the altar of radical homosexualism.
Another point Mr. White makes is that Mississippi does not have any "non-discrimination employment laws." He uses the fallacious argument that because of a lack of these laws, homosexuals can be fired just for being homosexual. That's not happening, but these people don't let truth get in the way of their perverse agenda. The real motivation behind these laws is to squash the God-given rights of business owners. It's to force them to give up their right of free association, free exercise of religion in conducting their business according to their conscience, and even their private property rights, because their business is their property, and if the government dictates whom they must hire, then they have lost their right to their own property.
As for "bullying" laws, the anti-bullying campaigns that have exploded across the U.S. in recent years are nothing more than another facet of the militant homosexual movement's efforts to crush the freedom of speech and religion of those who oppose it. Even expressing the fact that homosexuality is wrong can be considered "bullying." All these aspects of the homofascist movement are tyrannical.
While I didn't find any news on how the homosexual rally in Jackson turned out,
another story
popped up on Tuesday that a group of same-sex couples marched into the Hinds County Courthouse in Jackson and applied for marriage licenses. That's how it begins, how they roll. Make a scene, then later comes the lawsuit against the state when they are not granted marriage licenses. Shop it to a left-wing activist federal judge who rules according to the evil whim of Sodom, and then – boom! – you have destroyed marriage, freedom and common sense in yet another formerly-sovereign state.
Let me tell you something. We keep hearing how "gay rights" won't affect anyone, won't trample on anyone else's rights, how same-sex "marriage equality" hurts no one, doesn't affect real marriage. These are lies from the pit of Hell. These things do and will affect every one of us. Jeff Allen, writing at BarbWire.com lays out the hard facts of this in his recent column, "
Ugly Truth: How Same-Sex "Marriage" Affects Us All
." Read it, and open your eyes.
Another truth is that people now risk losing their jobs at the hands of the homosexualist behemoth. Many, if not most, of the leaders of large corporations have already capitulated to the demands of homosexual activists and have written into their company rules their own versions of "non-discrimination" policies that include homosexuals, "transgenders" and other deviants. These rules have opened the door to deranged people forcing themselves on their workplaces, compelling their coworkers to accommodate them and to stay silent, or risk losing their job.
Not so, you say? I have witnessed this first-hand here in Mississippi. I work for a small office (around 25 people) of a giant, global corporation. Late last month a representative from our corporate headquarters came into town to inform the people in our office that one of our coworkers, a middle-aged, formerly-married father has decided he wants to be a "woman." He now comes to work completely in drag – women's clothes, make-up, ladies' wig, the whole nine yards. We were told without question that we must now refer to this man by a woman's name and in feminine pronouns. The rights of Christians and others who work there were not considered. It was a mandate from corporate-on-high.
I asked the corporate representative if this man intended to use the women's restroom, and I was told that yes he would. I strongly protested this, and the result was that a lock was installed on the outer doorknob of the two-stall women's restroom.
This selfish, mentally and spiritually disordered man has turned the office upside-down. He has forced the managers and his fellow employees to participate in this abominable charade, to pretend he is something he can never be and to regard as "normal" the degenerate spectacle of his parading around dressed as a woman. Besides me, no one dares to speak against this for fear of losing his job. This man has become an activist, and I believe he is targeting our company, possibly for legal action, and he likely has the backing of others in the radical homosexual movement. I have no doubt of this.
We are in such a dark and demented place here in America today that even my writing this account with no identifying names could possibly put my job in jeopardy. I certainly hope it doesn't, because I would not take that lying down. Count on it.
© Gina Miller
---
The views expressed by RenewAmerica columnists are their own and do not necessarily reflect the position of RenewAmerica or its affiliates.
---