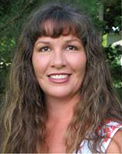 Gina Miller
Impeach Obama to save America--think 2014

By
Gina Miller
November 19, 2013
Listen to audio version of this column
Just in time for Halloween,
I wrote an edgy column
about Barack Obama (or whatever his name is) and his aggressive campaign against our military, how he is stripping it of commanders loyal to the Constitution, jacking it up by forcing the insane, anti-Christian homosexual agenda on it, and more. In the piece, I noted that the military is likely the only earthly power that could stop Obama from his lawless assault on the United States. While I was not calling for a military coup, I
was
wishing the military would just arrest Obama for his crimes. (Is there a difference between the two? Probably not.) Of course, that's not the way it works, nor would that be a constitutional remedy.
The column was just an expression of my deep frustration, sorrow, and outrage at what this man and his fellow commies in the administration, Congress, the judiciary, and federal bureaucracies are doing to this great nation. However, the only constitutional solution for ridding ourselves of a lawless president is the prosecution of impeachment, and if anyone is worthy of impeachment, it is Barack Obama and those in his administration who are perpetrating a vicious anti-American war on our country. The
list of impeachable offenses
is extensive, not the least of which are his bold lies and
actionable, criminal fraud
in cramming the unconstitutional, deceptively-named "Affordable Care Act" down our throats, Chief Justice John "Quisling" Roberts' horrendous, twisted ruling notwithstanding.
No, a U.S. military coup is not the answer. As Ambassador Dr. Alan Keyes
wrote in a column
published on Veteran's Day:
I've noticed that some people openly wish the U.S. military would move against Obama. Any such action would be, prima facie, a military insurrection, a fatal act of treasonous war in the course of which any involved military personnel would be subject to peremptory execution. No one loyal to the Constitution finds hope for America in the prospect of such an event.

The congressional impeachment/removal process is the only constitutional way to end unconstitutional abuses of the U.S. government's power at the highest levels. It can only occur if the people effectively demand it. The people can effectively demand it only by electing a U.S. Congress controlled by a sufficient majority in both Houses to achieve the desired result. In this respect, liberty is a Do-It-Yourself proposition. Only the people can rescue the constitutional sovereignty of the people from destruction.
Naturally, I will hear comments of "Dream on. There's no way Obama will ever be impeached." So, that means we all just sit down and shut up? I understand that we are not only battling the communist Democrats, but also the "establishment" Republicans, for the constitutional soul and foundational freedoms of our nation, and I also know that none of these people will make such a move against Obama. But, if we can miraculously overcome Democrat election and voter fraud in the 2014 midterm elections, we could re-take the Senate and hold, or even make gains, in the House. Obama cannot veto his own impeachment.
There is another huge aspect to Congress's fear of removing Obama from office that I have long considered and that Sylvia Thompson noted in her latest column. It is the likelihood of violent, feral behavior from Obama's senseless supporters.
Ms. Thompson wrote
:
Besides there being no leaders of the caliber to pull off such an act of justice, I wonder if every-day, patriotic Americans are prepared to see impeachment through. How many are ready for the civil unrest that would surely follow a serious effort to remove Obama?

The barely literate masses of welfare slaves; black gangs; leftist operatives, such as the New Black Panthers and Farrakhan's Black Muslims; and all the forces currently under the spell of Obama will be coerced into the streets. It is very likely that the coercion, wreaking massive havoc and bloodshed, will be directed by Obama and Attorney General, Eric Holder. The desired race war would be underway. And we can be assured that no law enforcement will be turned against the mobs, because Obama and Holder control law enforcement.

If Americans strike back, Obama would probably turn the force of the military against the violence in the streets. That could be tricky, because he does not know how much of the military will follow his orders, given that many of them despise him – as he despises them. Whatever the case, we can see where impeachment could lead.

... An impeachment would require confrontation at every step of the process and it may well become violent confrontation. I say it is time for that confrontation, to eliminate further destruction of the nation, but that's just me.
Yes, in Obama, the communist Left has the perfect candidate. Because of his mixed race (although he looks black, he's also half white, but don't tell that to the race-baiters), they have crafted an aura of untouchability around him, stupidly shouting "racism!" for any criticism of his treasonous actions and policies. They also have a standing army of zombies, Obamatons, who would be dispatched to the streets of America in the event that anyone makes a real move to expel the first "black" "president" from office.
So, is impeachment really impossible? No, it's not. Think 2014. That's the key. Stephen Stone, President of
RenewAmerica
, also makes the clear, compelling case for setting impeachment of Obama as our goal in the 2014 midterms. Declaring that we must elect an IMPEACHMENT CONGRESS in 2014,
Mr. Stone states
:
For proof of the power of IMPEACHMENT ALONE, we need look no further than two modern examples of presidents who've been subjected to impeachment: Richard Nixon and Bill Clinton. Nixon resigned during his impeachment hearings once the facts came out; and Clinton had little popular or political support following his impeachment by the House, even though the Senate failed to follow through and remove him.

Of course, removal by the Senate is the best possible outcome, and should be tenaciously pursued – but it's not essential to stopping a corrupt president, historical precedent clearly shows.

Should the House impeach Obama with sufficient evidence to justify his removal, a powerful groundswell from an irate citizenry can be expected to pressure the Senate to convict – upon threat of retaliation at the polls in 2016 for neglecting their constitutional duty. Removal of Obama in that case would then be more than a remote possibility, if enough vocal citizens across America rose up and pushed for it.

This means IT'S UP TO US – the people – to stop Barack Obama and his minions through the "constitutional remedy" of impeachment and removal, beginning with electing Constitution-minded representatives to the House and Senate in 2014.
That's it, folks, the bottom line. And while it's certainly not an easy proposition, it is one that we must chase with the greatest intensity. I know it's also a scary prospect. Sylvia Thompson is spot-on when she wonders if we are prepared for the violence that would surely follow any serious effort to remove Obama from office. I don't see how we can ever truly be prepared for such a thing, and while it's sometimes quite tough not to do, we should never let fear dictate our action – or inaction, in this case.
In all of this, we must also remember that no matter how wretched things look, the Lord is in charge, and we must continue to earnestly petition Him in prayer for His mercy on this undeserving nation. We are not, and could never be, deserving of anything but death; however, God, in his boundless love for us, has made a way through Jesus, that each of us can gain the grace of salvation through Jesus' willing sacrifice on the cross. While salvation is for individuals, it is our hope that the Lord may yet relent from the seemingly inexorable judgment that is falling on America.
And let's get that Obama impeachment steamroller out for the 2014 midterms. Never give up, and never give in, Friends.
© Gina Miller
---
The views expressed by RenewAmerica columnists are their own and do not necessarily reflect the position of RenewAmerica or its affiliates.
---