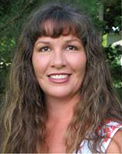 Gina Miller
Has Jackson, Mississippi, lost its mind?

By
Gina Miller
October 1, 2013
It's hard to keep up with the mind-numbing flood of putrid malfeasance gushing from Barack Obama (or whatever his name is), the communist Democrats and the detestable "RINO" Republicans in Congress. And while we try to monitor the constant barrage of lies, anti-Americanism and criminal behavior of these people, it's easy to lose sight of what's going on at the state and local levels. Who has time to chronicle everything?
So, it's no surprise that living down here on the Mississippi Gulf Coast, I missed news of the June mayoral election up in our state capital, Jackson. While I can easily understand how people across the nation who don't live in Mississippi might ignore this story, it is nevertheless something you should note and watch. The election is quite remarkable, because the people of Jackson, apparently aiming to become a junior Detroit of the South, have chosen as their mayor a radical black supremacist Democrat, Chokwe Lumumba (pronounced: Sho-quay Luh-MOOM-buh). The 66-year-old Lumumba was born Edwin Taliaferro in Detroit but later changed his name.
Here in Mississippi, we have a conservative majority among residents; however, the population of Jackson is roughly 80 percent black and 20 percent white, and we know that a stupefying majority of black people blindly support Democrats, regardless of the Democrats' evil, destructive policies.
Of his election,
WorldNetDaily's (WND) Scott Greer wrote
:
Voters in Jackson, Miss., a mid-sized city in the heart of the Deep South, have picked a Democrat as their mayor. What's different about this individual is that he is a former leader of the Republic of New Afrika, a group dedicated to creating an independent black nation out of five southern states.

Now leading the city of about 175,000 is Chokwe Lumumba – who has a long history of radical activism and whose plans for the largest city in Mississippi could be called "revolutionary."

A co-founder of the Malcolm X Grassroots Movement, which promotes black "self-determination," Lumumba was sworn in on July 1, after winning 86 percent of the vote in the general election.
This guy is part of a racist movement that intends to commandeer five southeastern states and turn them into an independent nation, a little Africa – excuse me – a little Afrika. Do the residents of Jackson think this is okay? With all the people to this day criticizing and deriding the secessionist South of the Civil War, I find it rather silly that the Democrats in Jackson apparently don't see the irony of this man's revolutionary goal of an independent "black nation" in the South, which, last time I checked, would mean seceding from the United States of America.
But, wait! There's more! Lumumba, a lawyer, has the praise of Louis Farrakhan's Nation of Islam satellite publication
The Final Call
, which carried a
glowing piece
on Lumumba. WND's Scott Greer cites the column:
During his career as an attorney, Final Call reported, he represented members of the Black Liberation Army, and he was vice president of the "Republic of New Afrika," which claimed Alabama, Georgia, Louisiana, Mississippi and South Carolina to be the home of a new "black nation."

His plans include summer youth programs such as what he calls "African Scouts."

Blogger Trevor Loudon, of the New Zeal, "Shining the Torch for Liberty," said anyone who doubts Lumumba's dedication to being a Marxist revolutionary should watch him in action in 1998 in Washington.

There he demanded freedom for black "political prisoners" in the U.S.

He cited convicted cop killer Mumia Abu-Jamal as one of those needing "liberation," Loudon reports.

Lumumba also listed another convicted cop murderer, Assata Shakur, of the Black Liberation Army, and Loudon noted that Lumumba was Shakur's lawyer.

"We're here in the governmental center of the citadel of imperialism," Lumumba said about Washington, where the buildings were built "off the blood of our people" and using the "wealth they have stolen not only from colonies all over the world, but the African colony."

"This is a corrupt system," he shouted. "There can be no bargain with this system ... there can be no compromise. ... We are New Africans. We come here because we are colonized."
Lumumba also
claims he is not a racist
. This would make me laugh, except I'm too busy being sick to my stomach that 86 percent of the people of Jackson are stupid enough to have elected this radical, whom they had already elected to their city council before they made him mayor. A guy who says he wants to import large numbers of black people into Mississippi, so he can create a permanent, black Democrat voting majority in order to usher in a new, black separatist nation within the United States and who gave a raised, clenched-fist "black power" salute at his swearing-in, says he's not racist? Go on and pull my other leg, mister.
Chokwe Lumumba's "reign" as mayor has only just begun. No doubt he will be watched very closely by people all over the country, and even beyond, as he undertakes what looks to be a fundamental transformation of Jackson, Mississippi. Hmmmm... Where have I heard something like that before?
© Gina Miller
---
The views expressed by RenewAmerica columnists are their own and do not necessarily reflect the position of RenewAmerica or its affiliates.
---