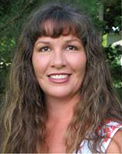 Gina Miller
Paula Deen hysteria and deranged 'political correctness'

By
Gina Miller
July 9, 2013
When I started seeing the scathing headlines about celebrity chef Paula Deen, I immediately remembered
the story
from about a year and a half ago of Ms. Deen recounting having had Michelle Obama on her television show in the run-up to the fateful 2008 presidential election. Ms. Deen popped off about how Mrs. Obama loves to eat – a lot. While it was clear that Ms. Deen was saying it in good nature, what she said made Michelle Obama sound like a pig. In part, Ms. Deen said, "Well, I did a show with Michelle and I just loved being with her. She probably ate more than any other guest I've ever had on the show. She kept eating even during commercials."
Well, you just don't "diss" the healthy food nazi First Lady by carelessly blabbing about her hypocritical eating habits. I'm certain Ms. Deen was on the media's (and possibly the Obamas') target hate list from that moment on. So, now a woman decides to file a "harassment" lawsuit against Ms. Deen and her brother, which has produced a Paula Deen deposition that gives the media a fried plum opportunity to ruin Ms. Deen by making a mountain out of her verbal mole hill.
The woman filing suit, Lisa Jackson, who is "white," worked for five years – five years – as a manager of one of Ms. Deen's restaurants that she co-owns with her brother. The gist of the lawsuit is that Lisa Jackson claims Ms. Deen and her brother run a hostile work environment.
According to TMZ
, Ms. Jackson basically claims Ms. Deen's brother is a racist, lecherous porn hound. Ms. Jackson worked until 2010, and I see no word on why she stayed in that oh-so-terrible work environment for five long years or why she waited three years after leaving to makes these claims in a lawsuit. Whether or not she is an opportunist looking to cash in on some of Ms. Deen's large fortune remains to be seen, but what is remarkable about this whole story is the nation's response to Ms. Deen's having admitted to calling an armed robber – as our insane, politically correct nation calls it – the "N-word."
Paula Deen was swiftly steam-rolled by the hysterical media frenzy over this revelation. Judging simply from the media's outrage and indignant, self-righteous reaction, you would think Paula Deen had admitted to pan-searing cute little live puppies in butter sauce. But, no; what she did was say a word that some people might find offensive.
Diana West,
writing at WorldNetDaily
had this to say:
As practically everyone knows by now, multimillionaire TV chef Paula Deen was yanked from the pinnacle of free-market success after admitting to a lawyer taking a deposition in a racial and sexual harassment lawsuit (already Orwellian) that she had used what is referred to as "the N-word" some 25 years ago.

"The N-word"? Here we give the Victorians a run for their word-mincing money. The offending word, of course, is "nigger," and no matter how ugly it is, it is hardly taboo when a quick search of iTunes pulls up 2,000 entries for sale featuring the term.

According to the deposition, Deen said the word when telling her husband about the man who had stuck a gun to her head during a robbery at the bank where she worked years ago. She also admitted to using the slur at other non-specific times but said, "It's been a long time," adding: "That's just not a word we use as time has gone on" (unless "we" are in the music business).
That's right. The so-called "music" business is glutted with "songs" that vomit the word. I have no patience for double standards, especially when they are this blatant. Black people call each other "nigga" all the time, and that's supposed to be okay, but a "white" woman saying it is not?
Larry Elder also has no patience for such hypocrisy. In his WorldNetDaily column, "
If Paula Deen is out, what about Maher and Sharpton?
" he points out the absurdity of the vicious attack on Paula Deen while the virulently racist Al Sharpton and the despicable Bill Maher both get passes for some of the dirtiest racist and sexist remarks we've heard. Mr. Elder refreshes our memory with instances of Sharpton's and Maher's words and actions. Paula Deen does not hold a candle to those two men when it comes to bad words.
This isn't about what Paula Deen said decades ago – or even yesterday. Besides being a handy distraction from Barack Obama (or whatever his name is) and the crimes and scandals of his administration, this is about the steady, incremental conditioning of the people in our nation to accept the deranged shackles of "political correctness." This is about our taking a lesson from observing the swift media trial and execution of Paula Deen's career. It is disturbing to see how easily-offended so many in our nation have become, as if we have a "right" to not be offended. And of course, this whole ridiculously overblown ordeal was created, shaped and fueled by the media, which led the American public's dim perception by the nose.
© Gina Miller
---
The views expressed by RenewAmerica columnists are their own and do not necessarily reflect the position of RenewAmerica or its affiliates.
---