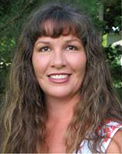 Gina Miller
Radical leftist judicial nominee Halligan fails Senate cloture

By
Gina Miller
March 7, 2013
It's hard to keep up with all the criminal and otherwise reprehensible behavior of this current administration in Washington, so things like judicial nominees can be overlooked under the flood of mammoth malfeasance coming from the Obama regime. But this judicial nominee needs to be noticed, because she would be yet another leftist subversive radical who is a pure danger to our constitutional republic. Barack Obama (or whatever his name is) has nominated the 46-year-old leftist radical New York lawyer, Caitlyn Halligan, five times now, and so far she has failed five times.
I may be a little late to this nominee's party, but thanks to
the reporting of Jim Kouri
of the National Association of Chiefs of Police (among his several titles), at least I showed up. On Wednesday morning during crummy winter storm weather in Washington DC, the Senate failed to achieve cloture on Halligan, but Senate Majority Leader Harry Reid
has moved to reconsider
her cloture.
Harry
Reid says that she is eminently qualified
for the position on the Washington DC Circuit Court of Appeals, but just because she is "qualified" does not mean that she would be a good choice for a federal judgeship in the United States of America. In fact, she would be horrible.
Because of the research of the Judicial Action Group (JAG) in Washington, we have all we need to know about the radical Halligan.
From the JAG report on her
, we learn that she is every leftist's dream of the perfect judicial nominee, which means that she would be very bad for America. The fact that Obama has nominated her five times, and she has, so far, been rejected by the Senate five times, should tell us that even some Democrats can't stomach her.
As was written in the JAG report:
Ironically, only once in more than two years has Halligan been brought to the floor by Senate Majority Leader Harry Reid (D-NV). In essence, only one of Halligan's five nominations [has] been filibustered by minority Senators. Responsibility for her other four failed nominations [rests] solely on the shoulders of Majority Democrats who have refused to even bring Halligan's nomination to the floor for a vote.
I suppose Obama keeps throwing her at the Senate wall hoping she'll stick.
What's so bad about her? Here are the deal-breaking points, which are outlined and explained in
the JAG report
:
Halligan worked extensively to bankrupt gun manufacturers and oppose protections critical to the survival of Second Amendment rights.


Halligan has repeatedly downplayed the war crimes of terrorists, arguing that they be tried as U.S. citizens rather than enemy combatants.


During her "confirmation conversion," Halligan attempted to distance herself from past roles producing a controversial report on war crimes of terrorists.


Halligan's opposition to traditional marriage takes the form of text-book judicial activism.


Halligan petitioned the U.S. Supreme Court to infringe on executive powers by disregarding limits on judicial authority.


Halligan's elitist view that judges can raise their own pay is pure activism, and ignores the plain language of the Constitution.


Financially, Halligan has supported a wide variety of organizations that regard Roe v. Wade as a proper exercise of judicial power

You can read the JAG report linked above for the details of these points. This is enough to know about the rotten choice of Caitlyn Halligan, and if Obama won't withdraw her nomination, we must pound our senators' phones, faxes and e-mails to demand they reject her appointment by the enemy of America's freedom, Barack Obama.
In the wake of the failed cloture vote, Democrats and others on the Left are outraged – heck, they were already outraged at the previous doomed attempts to install Halligan.
Like Harry Reid
, they keep trying to "shame" the Republicans for obstructing a "perfectly qualified" nominee. Right after the failed vote, the leftist Alliance for Justice shot off a
whining, bunk-filled press release
that lamented:
Earlier this week, we urged Republican senators finally to put partisanship and obstruction aside and vote for cloture on the nomination of Caitlin Halligan to serve on the D.C. Circuit Court of Appeals.

But it appears that urging Republican senators to rise above partisanship is like urging three-pack-a-day smokers to "just say no" to tobacco.

Today, Republican Senators proved themselves to be addicted to obstruction, and utterly uninterested in putting the needs of the American people ahead of partisan posturing.

As a result, for the second time in two years, Americans have been denied the services of a highly qualified nominee to serve on what is widely considered the nation's second most important court.

There is no justification for this level of opposition.
The warped mind of the radical Left is a dark cesspool of lies and deception. To say "there is no justification" for opposing this woman is beyond absurd. This woman is against the very Constitution itself, and certainly she opposes the God of all creation in her perverse support for fake "marriage" of homosexuals and the killing of pre-born babies through abortion.
There is every reason to keep this woman away from our federal bench. The courts are already heavily polluted with anti-Christian, anti-American subversives, and Obama just keeps trying to add more (Kagan and Sotomayor being the highest-level, tragic Obama judicial appointees).
We know that federal judges have fled the proper bonds that were placed on them by our Constitution and have stepped into a too-powerful role that is not rightly theirs. Judges were never entitled to make new laws, but they have been allowed to do it by "precedent" for many decades now. The balance of powers in our nation is sick to the core and has become the very thing our Founding Fathers tried so valiantly to prevent.
So, let the "partisan obstruction" of bad and worse Obama nominees – like Caitlin Halligan – continue until this curse of a "president" is out of our White House!
© Gina Miller
---
The views expressed by RenewAmerica columnists are their own and do not necessarily reflect the position of RenewAmerica or its affiliates.
---