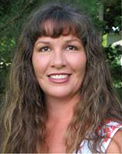 Gina Miller
New Orleans' anti-Christian ordinance challenged

By
Gina Miller
September 25, 2012
Jesus told us
that no one knows the hour or the day of His return, but that we will be able to look around and see that the end is near by the state of the world. One of the signs of the end will be a great apostasy, or falling away, as Paul calls it in
2 Thessalonians
, where he warns believers not to be deceived by anyone claiming that the Day of the Lord has come, because when the Day of the Lord comes,
everyone
will know it without question.
We are certainly seeing a great falling away from the truth of God's revealed Word to mankind — in churches as well as in the culture at large — although Satan has worked tirelessly from the beginning to pervert God's truth. We now have daily stories of Christian persecution, not in faraway countries where it has long been commonplace, but right here in the United States, which was once, as a nation, a strong supporter of Christian principles.
One of the latest stories of Christian persecution and the trampling of our God-given rights to freedom of speech and religion comes out of New Orleans, Louisiana. A year ago, almost to the day,
New Orleans amended the city code
to prohibit certain types of "aggressive solicitation," specifically in the French Quarter on Bourbon and Royal Streets between sundown and sunrise — the hours in which demonic "joy" is at a fever pitch in the Big Easy (I have been there; I know this).
Most of the legislation is devoted to defining "aggressive solicitation" and the places where it is prohibited. "Aggressive solicitation" is defined, in part, as:
... disturbing and disruptive to residents and businesses and contributes to the loss of access to and enjoyment of public places and to a sense of fear, intimidation and disorder.

Aggressive solicitation may include approaching or following pedestrians, repetitive soliciting despite refusals, the use of abusive or profane language to cause fear and intimidation, unwanted physical contact, or the intentional blocking of pedestrian and vehicular traffic
.
Well, that sounds reasonable, doesn't it? Who wants to be stalked, touched and abused with profanity? Most places already have laws against such types of physical and verbal harassment, so is this really about this kind of "aggressive solicitation"? No, it's not.
The key of the legislation is found near the end, in this clause:
It shall be prohibited for any person or group of persons to loiter or congregate on Bourbon Street for the purpose of disseminating any social, political or religious message between the hours of sunset and sunrise.
Here is the real reason for this ordinance enacted under former Lieutenant Governor of Louisiana, now current Democrat Mayor of New Orleans, Mitch Landrieu, the brother of Democrat Senator
Mary "Louisiana Purchase" Landrieu
(who was bribed with $300 million to change her opposition to the wicked Obamacare legislation to support for it). This is about opposition to the spreading of the Good News of salvation through Jesus Christ — as well as the social and political aspects of the Christian worldview — on the streets of a city steeped in debauchery; a city that takes pride in its heritage of voodoo and all types of sinful decadence. The Word of God is not welcomed by the principalities that control such a place.
Just ask Pastor Paul Gros who is now suing the city over this ordinance.
Bob Unruh, reporting for WorldNetDaily
late last week wrote,
The controversy was brought to a head by the Alliance Defending Freedom, which filed the case on behalf of Pastor Paul Gros of Vieux Carre Assembly of God Church at 433 [Dauphine] Street, just a block off of Bourbon.

For 30 years, he's periodically gone to the French Quarter community center to preach the message of Jesus.

"Pastor Gros shares his faith in various ways. Sometimes he preaches; other times he hands out tracts and/or carries portable signs. But more than any other way, Pastor Gros likes to engage individuals in respectful, one-on-one discussion about Jesus and the Christian faith."

Until he was ordered to be quiet by police.

The pastor's periodic visits came to an abrupt halt May 15.

"Around 9:30 p.m. Pastor Gros and his group were stopped from engaging in religious discussion. Upon receiving the order to stop, Pastor Gros asked to speak to the highest-ranking police officer and was directed to Officer [M.J.] Field. Officer Field confirmed that the law precluded any Christian speech on Bourbon Street at night," according to ADF.

Field cited an "aggressive solicitation" ordinance sponsored by council member Kristin Palmer.

"Because of the existence of the Religious Speech Ban and the penalties prescribed for violating it, Pastor Gros did not attend the Southern Decadence event that occurred this past Labor Day weekend. He feared arrest. And Pastor Gros soon learned that his fear was well-founded, discovering that several people communicating a religious message were arrested or threatened with arrest for violating 54-419."
The Southern Decadence parade is an annual French Quarter "celebration" of the homosexual "culture" in New Orleans. In the case of the recent arrests of nine Christians, according to the
New Orleans Times-Picayune
,
"... police said they yelled anti-gay slurs over bullhorns."
"Anti-gay slurs." What does that mean? If these people are true Christians — not like the
Westboro Baptist cult freaks
— that likely means they were simply telling the biblical truth about the sin of homosexuality.
Now, we could debate the pros and cons of using bullhorns to blast the Christian message. I personally do not think using bullhorns is the most effective way to spread the Christian message to random passersby who may not be receptive, but that does not mean it has never been successful in reaching the lost.
Regardless, the good news is that this anti-Christian ordinance is being challenged on constitutional grounds by lawyers with the nonprofit
Alliance Defending Freedom
(formerly the Alliance Defense Fund) who are representing Pastor Gros. As Mr. Unruh reported,
Alliance Defending Freedom Legal Counsel Joseph La Rue argued religious speech "is just as important, and just as protected by the First Amendment, as speech about any other subject at any time of day."

"New Orleans cannot make criminals of people simply because they want to talk about their faith," he said.

... The lawsuit, which also seeks an injunction halting enforcement of the ban, charges the prohibition "is unconstitutional on its face and as applied."

"It is a content-based restriction on speech but is not narrowly tailored to a compelling state interest," the complaint states.

La Rue says city officials in New Orleans "have chosen to criminalize speech about faith while allowing just about every other conceivable topic to be discussed and exposed."

"It's not up to the government to decide the topics we can and cannot discuss," he said. "The First Amendment protects an individual's freedom of speech."

The case was filed in the U.S. District Court for the Eastern District of Louisiana.

Named as defendants are the mayor, council members, police superintendent and others.
We are seeing this kind of bad legislation and these kinds of attacks on Christian liberty more than ever before in our nation. It is only going to get worse, but that does not mean we ever stop fighting against it. The Lord forewarned us of these ever-darker days when
evil would prevail for a short time
just before His return to issue the Royal Smack-Down of Eternity of the enemies of God.
In the meantime, those of us who love the Lord must do our best to stand firmly in His Word, pray for our brothers and sisters in Christ, like Pastor Gros and the legal warriors of the Alliance Defending Freedom, who are on the front lines in the battle for true freedom. We can also offer financial support to help fund the precious work of the nonprofit
Alliance Defending Freedom
.
© Gina Miller
---
The views expressed by RenewAmerica columnists are their own and do not necessarily reflect the position of RenewAmerica or its affiliates.
---