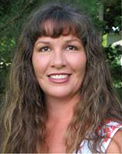 Gina Miller
Christian teacher in Ohio battles tyrannical evolution pushers

By
Gina Miller
April 17, 2012
Members of the anti-Christian, communist Left are obsessed with banishing the presence of Christian expression from all areas of the public square. They are probably the most fervent in this crusade in the government-run public school classrooms, where teachers are persecuted for displaying even a hint of Christianity.
I have written before
about a California teacher, Brad Johnson, who is fighting back against a tyrannical school district that ordered him to remove patriotic banners from his classroom walls — banners that simply included the name of God in their sayings. These banners had long been hanging in his classroom, but the God-hating tyrants in his school district decided they could no longer abide even the written mention of the name of the Lord in that classroom. How very like Satan that is!
Mr. Johnson's appeal is still pending in the courts, and the Thomas More Law Center has vowed to take it to the Supreme Court, if necessary.
There is another American teacher being persecuted for his Christian faith. This is a case out of Mount Vernon, Ohio.
As
reported at the Rutherford Institute website
, which is handling the case,
"The Rutherford Institute has appealed to the Ohio Supreme Court on behalf of John Freshwater, a Christian teacher who was fired for keeping religious articles in his classroom and for using teaching methods that encourage public school students to think critically about the school's science curriculum, particularly as it relates to evolution theories. Freshwater, a 24-year veteran in the classroom, was suspended by the Mount Vernon City School District Board of Education in 2008 and officially terminated in January 2011. The School Board justified its actions by accusing Freshwater of improperly injecting religion into the classroom by giving students 'reason to doubt the accuracy and/or veracity of scientists, science textbooks and/or science in general.' The Board also claimed that Freshwater failed to remove 'all religious articles' from his classroom, including a Bible."
Here we have the case of a Christian teacher encouraging his students to approach the unproven, unobserved theory of evolution with the skeptical eye it deserves. The anti-Christian crusaders in our world are so viciously against any teachings that declare God is the Author of the universe and all that is in it that they will fiercely defend a terribly flimsy theory — or hypothesis, rather — that seeks to explain the origins of life in this amazing world in which we live. The hypothesis of evolution — which is not even a plausible explanation, with its gaping, fossil record holes and fantasy mechanisms — is the best the godless among us have come up with, and they cling to it with a fanatical fervor.
The fact that this school district even cited Mr. Freshwater for having a Bible in his classroom is also chilling and disgusting. We must remember that our God-given rights do not end just because we become teachers in the public school system. There is no such thing as the fabled "separation of church and state" as the Left insists. The only constitutional mandates are against the federal government establishing an official national religion in America, which it has never done, and interfering with Americans' freedom to practice their faith, which it is doing more and more each year.
The bizarre beginning of this case was back in 2008, as reported in
Mr. Freshwater's Appeal to the Ohio Supreme Court
, filed last Friday by the Rutherford Institute,
"Despite objective evidence demonstrating Freshwater's consistent excellence as an eighth-grade science teacher for over 20 years, and despite his immaculate employment record, Freshwater came under intense scrutiny following a 2008 incident in which a common classroom science experiment with a Tesla coil used safely by other teachers for over 20 years allegedly produced a cross-shaped mark on one student's arm.

While the Referee who investigated this incident ultimately determined that 'speculation and imagination had pushed reality aside,'... community hysteria resulting from rumors about Freshwater and the incident prompted the [School] Board to launch a full-scale inquisition into Freshwater's teaching methods and performance. This sweeping critique focused entirely on trace evidence of Freshwater's religious faith which allegedly appeared in the classroom. On January 10, 2011, the Board adopted a Resolution terminating Freshwater's employment contract based upon a recommendation issued by Referee R. Lee Shepherd, Esq., on January 7, 2011 that Freshwater be terminated for 'good and just cause.'"
The supposed "good and just cause" was Mr. Freshwater's allowing his students to examine both sides of the evolution debate and teaching them to recognize issues in printed materials that could be questioned or debated, in other words, he was teaching his students critical thinking! The godless School Board also found offense in the fact that some of Mr. Freshwater's counterpoints to the hypothesis of evolution involved — GASP! — arguments for Creationism or Intelligent Design. Oh, the horror!
According to the School Board, this "good and just cause" amounted to "Failure to Adhere to Established Curriculum." That sounds like something out of Nazi Germany! Absolutely NO God talk allowed here, comrades!
Mr. Freshwater was also accused of "Disobedience of Orders," because he was told to remove certain items from his classroom, which he did, but there was a patriotic poster featuring Colin Powell that he did not remove, but said he did not recall being told to remove it. That poster was handed out to teachers by the school office and was displayed in other classrooms in the district besides his. He also had a couple of school library books: one was a Bible, and one was titled "Jesus of Nazareth." Because he had these things in his classroom, he was accused of "defiance."
This is an outrageous injustice, and this case is extremely important for the future freedoms of teachers and students alike. As the President and founder of the Rutherford Institute, John Whitehead, stated,
"Academic freedom was once the bedrock of American education. That is no longer the state of affairs, as this case makes clear. ... What we need today are more teachers and school administrators who understand that young people don't need to be indoctrinated. Rather, they need to be taught how to think for themselves."
The godless people who aggressively push the hypothesis of evolution in our public schools cannot tolerate opposing viewpoints, and if Mr. Freshwater ultimately loses this battle in the courts, all of America will have lost yet another chunk of our Christian liberty at the hands of anti-Christian tyrants.
As reported by the Rutherford Institute, two lower courts have already sided with the School Board against Mr. Freshwater, ignoring the First and Fourteenth Amendment violations by the school district.
The conclusion of
Mr. Freshwater's appeal to the Ohio Supreme Court
states,
"The [School] Board's actions constitute a violation of the First Amendment academic freedom rights of both Freshwater and of his students, of the First Amendment's Establishment Clause, and of Freshwater's right to Equal Protection under the Fourteenth Amendment. Because of its significant implications for academic freedom in public schools and the continued vitality of teachers' First Amendment right to openly practice and discuss their religious faith, the case is one of monumental public concern. As no reviewing court has yet examined these critical civil liberty components of this case, Freshwater prays that this Court will grant his petition and undertake that essential analysis."
We should all be praying that Mr. Freshwater is given a victory over this anti-Christian, public school district. Ultimately, we are all Mr. Freshwater, and if he loses, we all lose.
We should also pray for, and
consider financially supporting
, the Rutherford Institute, which is made up of front-line, legal warriors who provide free legal services to people who have had their constitutional rights threatened or violated. From the
Institute's information page
,
"The Institute's mission is twofold: to provide legal services in the defense of religious and civil liberties and to educate the public on important issues affecting their constitutional freedoms.

Whether our attorneys are protecting the rights of parents whose children are strip-searched at school, standing up for a teacher fired for speaking about religion or defending the rights of individuals against illegal search and seizure, The Rutherford Institute offers assistance — and hope — to thousands."
© Gina Miller
---
The views expressed by RenewAmerica columnists are their own and do not necessarily reflect the position of RenewAmerica or its affiliates.
---