Lloyd Marcus
Which GOP contender will keep their word in the WH

By
Lloyd Marcus
August 21, 2015
My wife and I were a very nervous and excited young couple purchasing our first home. Our home builder was a dear friend of my parents. Upon going to closing, there were numerous odds and ends the builder had not completed. He vowed to complete my home asap and asked that I sign a paper for the bank stating that he completed all the work on my home.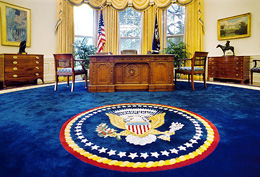 My mom cautioned me not to sign the paper. Mom said,
"Eaten bread is soon forgotten."
I ignored Mom's counsel. Sure enough, after my builder received his check from the bank, I had to chase him for over a year to complete my home.
Just like my builder said whatever necessary to get paid, politicians make voter-pleasing promises on the campaign trail. After they are elected, they forget their promises. Therefore, the final Jeopardy question is – Which GOP presidential contender will keep their word if elected? Having been burnt so many times, trustworthiness, character and backbone must be paramount in selecting our nominee.
In this primary season, we have witnessed honorable conservative candidates dialing back their original comments or apologizing due to pressure from the mainstream media and the candidate's handlers. This raises concerns in me about how these candidates will holdup under world class attacks once they are in the WH.
Leftists (mainstream media, Democrats and liberals) viciously insulted and accused president Ronald Reagan of every nasty thing imaginable. It takes a rare human being to stand firm in the midst of 24/7 relentless character assassination. Thus, my question. Which GOP contender will follow through with their conservative promises?
At the top of my list is Senator Ted Cruz. On several issues, Cruz seems to always end up on the opposite side of the GOP establishment and Leftist Democrats; in-sync with We the People. Cruz never follows the crowd. Eagles fly alone.
Remember Cruz getting hammered by Democrats and Republicans for fighting to defund Obamacare?
http://fxn.ws/1J8H4qr
Win or lose, We the People desperately needed to see someone on our side not simply rolling over and playing dead in surrender to Obama as he transforms our great country.
Cruz boldly says he is a Christian. During the GOP debate, I was struck by how naturally Cruz shared his dad's testimony; transformed from an alcoholic abandoning his wife and three year old Ted to giving his heart to Jesus and reuniting with his family. Politicians do not speak that freely about God and Jesus these days in the political public square. Obviously, Ted Cruz rejected the Left and MSM's memo banning God. As I said, eagles fly alone.
Some GOP contenders are wishy-washy on illegal immigration, even joining the liberal mainstream media in calling Trump racist for addressing it. Imagine how easily such a president's position could be swayed when he or she is trashed by the media.
Another GOP contender hopes to win black votes by exempting them from having to show a photo ID to vote. We do not want a president who is willing to surrender to the absurd Democrat party lie that it is too challenging for blacks to find their way to the DMV to acquire a photo ID. Americans do not want another president pandering to various voting blocs and selectively enforcing our laws.
While any of our GOP 17 are far superior to another socialist in the WH, a few are GOP establishment, big donor and Chamber of Commerce Trojan horses. They talk a good conservative game before the election. But once in the WH, they will prove to be a Manchurian candidate of the Washington cartel.
The Bible repulses the MSM like showing Dracula the cross. Still, Cruz quoted scripture, "you shall know them by their fruit." Cruz said we see lots of "campaign conservatives." He added that to win in 2016, we need a consistent fiscal, social and national security conservative. Cruz also touted that he has been a defender of life his entire career. This guy paints in bold colors folks.
Cruz looked America squarely in the eye and made bold promises during the GOP debate causing him to surge in the polls. On his first day as president, Cruz vows to rescind every illegal and unconstitutional executive action taken by Obama. He will instruct the DOJ to investigate the shocking videos and prosecute Planned Parenthood for any criminal violations. He will defend religious liberty, cancel the Iran deal and move the U.S. embassy in Israel to Jerusalem.
http://bit.ly/1EsnakK
Cruz also vows to repeal Obamacare.
http://bit.ly/1EugMcz
Again, as I stated, while all of our contenders know how to say what We the People want to hear, the $64,000 Question (1950s TV game show) is which one is "for real?" Who will keep their word?
Here is Cruz's last statement of the GOP debate.
"I will keep my word. My father fled Cuba, and I will fight to defend liberty because my family knows what it's like to lose it."
I believe him, folks. I believe him.
© Lloyd Marcus
---
The views expressed by RenewAmerica columnists are their own and do not necessarily reflect the position of RenewAmerica or its affiliates.
---