Lloyd Marcus
Leftists use 'Black Lives Matter' to exploit blacks, again

By
Lloyd Marcus
August 8, 2015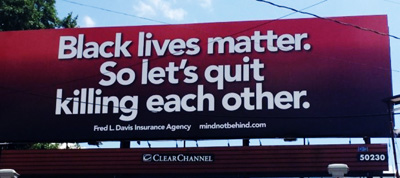 Recently, my black brother shared an unfortunate incident. Years ago, police in two unmarked cars blocked his car. They jumped out pointing guns, demanding that he exit his car. My brother immediately raised his hands, but did not exit his car because he was frozen with fear. An officer pulled him out of his car onto the ground. My brother said,
"Calm down! I am not resisting!"
After checking him out, the officers realized he was not their suspect. Rather than sending my brother on his way with an apology, the police framed him. My brother had an unopened six pack of beer on the floor. An officer opened one of the beers and said,
"You're under arrest for drunk driving."
The bogus charge did not stick and my brother was released hours later, angry, with a bitter taste in his mouth.
Ironically, my brother's reason for telling me about the incident was to defend the police in the recent shooting and arrests covered 24/7 on CNN. He said the cops who framed him were a few bad apples which are everywhere in every profession. Amen to that. Jesus had 12 disciples and one was a bad apple. My brother made the point that he was not harmed, because he submitted to the police's authority. He noted that the blacks in the videos shown on TV did not submit to the police.
My brother's point is correct. In each incident caught on video in which people are second-guessing officer's behavior, bad outcomes could have been avoided had the persons simply respected authority and complied.
A friend of mine is a veteran Baltimore black cop. He told me upon arriving at a scene, a cop must immediately take control of the situation. If not, the cop could end up dead – stabbed in the back by a weepy girlfriend or mom. The most hazardous part of a police officer's job is the routine traffic stop; 62 officers killed 2002-2011.
http://bit.ly/1OV0uQ2
Democrats, CNN and other liberal bias media have an insidiously evil agenda to convince black America that Republicans, conservatives and police are out to get them. These Leftists would love to feature my brother's bad boy cops story 24/7; claiming the cops were unequivocally motivated by white racism.
Meanwhile, the Left avoids experiences like mine with police like the plague. In the 80's, an interracial couple robbed a bank, their description matching my wife, me and our car. Police surrounded our car with guns drawn and ordered us out of our car. We complied. They checked us out, apologized and went on their way. We were stopped on another occasion years later. Again, the officers were respectful and professional.
As a young adult, my cousins wife called me in a panic to their home in the hood. My black cousin had a nervous breakdown. He held their two toddler sons hostage in the basement, threatening to kill himself and their boys. First on the scene were two white cops – one young and fit, the other much older and morbidly obese. Masterfully, the old obese cop gained my cousin's trust and talked him out of the basement.
"C'mon son, I know life gets tough, but you don't want to do this."
My cousin was arrested, given the mental health assistance he needed and was later released. My cousin is alive, well and a great dad.
Folks, cops kill whites at almost double the rate of blacks.
http://bit.ly/1gxYodS
As a matter of fact, blacks are killed by blacks 93% of the time.
http://nws.mx/1IfGDXh
The Left does not want you to know the biggest threat to black lives is other blacks. Despite the Left's Black Lives Matter (blame and hate white America) movement, incidents of blacks killing blacks are on the rise.
The Left is ignoring the stunning numbers of blacks murdered in Chicago by blacks.
http://bit.ly/1VTmLT2
In July, Baltimore homicides reached its highest in 43 years, up 60%.
http://fxn.ws/1N19K3S
The mainstream media deliberately creating the false impression that cops are the biggest threat to blacks is reprehensible. Proving they do not give a rat's derriere about blacks, the Left refuses to address real issues plaguing black America; multi-generational government dependency; increasing numbers of fatherless households; unprecedented high unemployment under Obama
http://bit.ly/1HggQwz
; epidemic school dropouts; black on black homicides and Leftist encouraged moral and cultural decline.
http://bit.ly/1hcAQek
White guys in white hoods, the Aryan nation nor cops are infiltrating black neighborhoods, victimizing residents and murdering blacks. The Left has been fooling blacks with its blame-everything-on-whitey tactic for decades; keeping blacks voting for their supposed Democrat saviors.
As young as 9 or 10, I realized the blame-everything-on-whitey excuse was a lie. My family lived on the sixth floor of a Baltimore project high-rise building. The elevators were often not working due to vandalism. The stairwells were pitch black due to broken light bulbs and smelled of urine. The crunch sound under foot echoing off the concrete walls was due to broken liquor bottles. I knew whites were not sneaking in at night, peeing in our stairwells.
Not to indict everyone who lived in the projects, some neighbors kept their apartments immaculate. Even as a child, I concluded that poverty (and ghetto) was a mindset rather than simply an absence of money.
The Black Lives Matter movement, "white privilege" and so on are founded on lies. They are despicable tools to exploit blacks' emotions. These Leftist scams have resulted in what can be described as black terror cells. Police are assassinated, outbreaks of black flash mob attacks and innocent whites assaulted, raped and murdered.
http://bit.ly/1IdaXE5
Outrageously, Black Lives Matter thugs threaten to "shut down" the Republican National Convention.
http://bit.ly/1KJ6VEq
Notice the stupid, hateful and racist assumption that white Republicans are a threat to black lives? Imagine if the Tea Party announced a plan to shut down the Democrat National Convention. After recovering from multiple convulsions of pleasure from being given such an opportunity to demonize the Tea Party, Leftist media would bombard the public with 24/7 news coverage; branding the Tea Party racist, sexist and homophobic.
Rest assured, you will not hear any meaningful criticism from the MSM, Democrats or Obama regarding Black Lives Matter thugs arrogantly assaulting free speech. Quite the opposite. Leftists are behind the scene cheering on the Black Lives Matter thugs.
Wake up, black America. The Left is playin' y'all, again.
© Lloyd Marcus
---
The views expressed by RenewAmerica columnists are their own and do not necessarily reflect the position of RenewAmerica or its affiliates.
---