Lloyd Marcus
Enough with the Ferguson pandering

By
Lloyd Marcus
December 2, 2014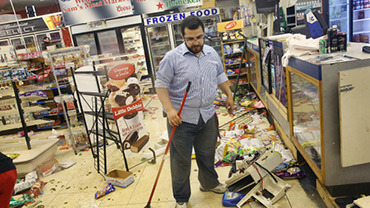 In all the media coverage of the riots in Ferguson, an annoying false premise has been allowed to stand as though it were an unquestionable truth. Talking heads on the left and right are saying while rioting is not the way, there is a need for change in America. What the heck change are they talking about?
By embracing the "need for change" premise promoted by Al Sharpton and company, the media is complicit in spreading the lie that America is racist and blacks are mistreated. For crying out loud folks, look around. Blacks are thriving in every area of the American experience. The real need for change is for blacks to stop voting for Democrats in exchange for just-enough-to-get-by handouts and endless failed big government spending programs that make problems worse; the death of the black family. That is what desperately needs to change in America.
I take offense with these snooty arrogant TV talking heads declaring my country and my fellow Americans guilty of something they are not. The talking heads are simply pandering to ignorance and beating up on my country and I do not like it. These elites are also poking a finger in the eye of the majority of Americans of all races who play by the rules to achieve their American dreams; working, playing, and crying together when necessary.
We have also heard from the media and Obama that police must deal with blacks differently. Obama said a better job must be done training law enforcement "to be sensitive to the concerns of minority communities."
http://bit.ly/1ydubVS
Hogwash! Why isn't standard police training sufficient for dealing with all criminals? Should extra tolerance be allowed by police when dealing with minorities? Absolutely not. The call for police special training is nothing more than liberal pandering.
I also fought to control my gag reflex every time I heard a media elite praise the Ferguson police for their great restraint during the looting and destruction of property and lives after the grand jury decision and earlier riots back in August. Such comments feed the notion that blacks have a right to be angry and behave badly because America is racist.
So as Americans watched footage of police cars burning, thugs gleefully running with stolen goodies and mayhem in the streets of Ferguson, we are told that while violence is not the way, we must understand their rage. Every opportunist thug wreaking havoc in Ferguson should be arrested. Period!
Despite all the media accusations of an over militarized Ferguson police department and despite Ferguson police walking on eggshells in an attempt not to further anger protesters and appease the MSM, black and white businesses were destroyed; apparently deemed acceptable collateral damage.
Even some conservatives contributed to the destructive pandering by subscribing to the narrative that special concessions must be made for blacks because they are still suffering the negative effects of slavery. This is absurd.
American blacks are suffering the negative effects of decades of Liberalism; liberals controlling our schools, controlling Hollywood and controlling the news media. Liberals have infected the hearts and minds of blacks, conditioning them to believe blacks are suppressed in America because of racism, while ignoring all facts, in plain sight, which prove otherwise.
If white America's agenda is to suppress blacks, what dark room deal was struck to allow Oprah, Obama, Beyonce, Dr Ben Carson and others to breakthrough the Great White American Glass Ceiling? Is there an annual restriction on the number of blacks permitted to achieve success in America?
Interviewed on TV, a young black male said the grand jury decision proves that America is systematically racist. I thought, there you have it. Al Sharpton and company have won. From the first reports of the shooting, Shapton and the Democrats' purpose was to exploit Brown's death to further their narrative that America is racist and cops murder blacks with impunity.
Insidiously, Sharpton and company successfully turned Trayvon Martin and Michael Brown's deaths into evidence of America's injustice in the minds of many; solely for the purpose of creating fear and hate against white America. Their messaging is vote for Democrats and we will keep the handouts coming, redistribute whitey's wealth and keep whitey off you back.
America is the greatest land of opportunity on the planet for all who choose to go for it. And yet, Sharpton and company are relentless in their efforts to hide this truth from black Americans, the very people they claim to champion. Why? The answer is the Left's agenda is to transform America into a socialist nation. They need government dependent blacks voting for Democrats to make it happen. This is why Democrats, liberals and the MSM are celebrating Obama, in essence, granting amnesty to over 5 million illegals, despite them taking jobs from blacks; further exacerbating black unemployment. By embracing Obama's lawless amnesty decree, the Democrats are throwing black Americans under the bus.
http://fxn.ws/1vLcGxk
Watching the Ferguson riots on TV was deja vu all over again. For decades, Democrats have been feeding blacks the same old excrement and we are witnessing the same results; angry frustrated blacks – a majority of black kids in fatherless households, high school dropouts, high unemployment, high black on black crime, high incarcerations, high abortions and so on.
Bottom line, far too many blacks are mentally stuck, infected with victim mindsets which prevent them from pursuing their American dreams.
Shepard Smith on Fox News said the protests in Ferguson brings up the larger issue that large numbers of people (blacks) across America do not feel that the system is working for them. The unfortunate mindset of such blacks is the result of brainwashing by liberals and Democrats; pure and simple. As I stated, all of black America's real issues stem from decades of them willfully living on the Democrat's liberal plantation.
The American system works great! Only in America could a barefoot cotton-picking little black kid in the 1940s dare to have a dream; grow up to become one of the most powerful black men in the world, U.S. Supreme Court Justice Clarence Thomas. Without Affirmative Action, Justice Thomas achieved success the old fashion way. He earned it via education, hard work and right choices.
America is great because America is good. May God continue to bless America.
© Lloyd Marcus
---
The views expressed by RenewAmerica columnists are their own and do not necessarily reflect the position of RenewAmerica or its affiliates.
---