Lloyd Marcus
Joe Carr is the real deal

By
Lloyd Marcus
August 3, 2014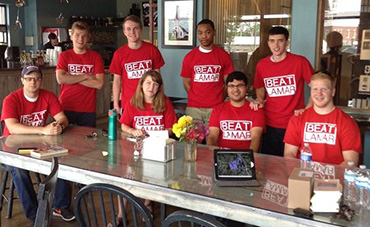 Mary and I made the trek from Florida to Chattanooga, TN for me to speak/sing at a rally for Joe Carr co-sponsored by "Beat Lamar" and Conservative Campaign Committee. Tennesseans have launched an enthusiastic grassroots effort to help Carr topple incumbent Obama sycophant Sen. Lamar Alexander in the Republican primary August 7th.
I had the pleasure of meeting Joe Carr the popular Tea Party conservative. Carr is down to earth, upbeat and friendly; a farmer. You can tell a lot about a leader by the way he treats those around him. Carr possesses that Ronald Reagan gift of making whomever he is speaking with feel important; giving them his full attention. A 21 year old black member of our CCC team commented about how much he liked and connected with Carr.
This is very important folks. We desperately need spokespersons to confidently present Conservatism in a positive and inspirational way to educate and attract the low-info masses.
My goal at the rally was to fire up Carr's troops/volunteers. However, the Carr supporters and volunteers "are" fired up. Surprisingly and refreshingly, many of Carr's volunteers are college aged. It was great to see youths who are thinkers rather than emotion-driven, MSM and liberal professor created walking dead Obama zombies.
I generally do not enter an environment and immediately start counting the numbers of minorities represented the way liberals do. However, with team Obama insidiously using race to polarize Americans along racial lines, I could not help noticing the diverse blend of Joe Carr, Beat Lamar volunteers. Voters of varying races and ages are excited about Joe Carr.
Joe Carr truly is a conservative star who gets it. Carr knows what needs to be done and clearly has the conviction and backbone to follow through. Carr talked about the border crisis and vowed to fight the invasion. Tennessee Rep. Carr reminded the audience that his efforts helped Tennessee to enact the toughest illegal immigration laws in the country.
Joe also stated his respect for the sanctity of life. He touched on a variety of topics: lower taxes, less government regulations and restoring constitutional principles.
http://bit.ly/1kabs9v
I got really excited when Carr expressed his eagerness to get to DC to help conservative senators Ted Cruz, Mike Lee and a list of others which he named off the top of his head.
Carr's speech at the rally was unscripted folks. His bold and confident articulation of Conservatism appeared effortless as it flowed from his heart and soul without notes or a teleprompter.
Patriots, please join our Phone From Home initiative for Joe Carr at: PhoneFromHome@ConservativeCampaign.org
Mary and I are enjoying seeing a lot of the beautiful lush green state of Tennessee. On Monday, August 4th, we are driving to Maryville for me to speak and sing at another Joe Carr rally. Y'all come.
http://on.fb.me/1qEdSeC
Joe Carr truly is the real deal.
© Lloyd Marcus
---
The views expressed by RenewAmerica columnists are their own and do not necessarily reflect the position of RenewAmerica or its affiliates.
---