Lloyd Marcus
Boston bombing: Americans rise to the occasion

By
Lloyd Marcus
April 18, 2013
Dear Fellow Americans,
Like you, I am saddened and angry at the evil terrorist who bombed the Boston Marathon. I am also angered by the Democrats' and their sycophant media hack's mad dash to blame Republicans.
http://www.breitbart.com/Big-Journalism/2013/04/15/Kristof-Republicans-ATF
Shamelessly, the Democrats despicably politicize any and everything.
http://www.rawstory.com/rs/2013/04/16/barney-frank-on-tax-cuts-after-bombing-be-grateful-for-a-well-funded-functioning-government/
Democrats have absurdly linked the Boston bombing to the Sequester.
http://www.humanevents.com/2013/04/16/democrats-link-boston-bombing-to-sequestration/
The dirty little secret that the Democrats do not want you to know and the mainstream media will not report is that Obama slashed the budget for domestic bombing prevention by 45%.
http://www.dailymail.co.uk/news/article-2310110/Obama-administration-SLASHED-budget-domestic-bombing-prevention-45-cent-says-Homeland-Security-Assistant-Secretary.html
The Left openly admits that they hope the Boston Marathon bomber is a white right-wing American.
http://www.salon.com/2013/04/16/lets_hope_the_boston_marathon_bomber_is_a_white_american/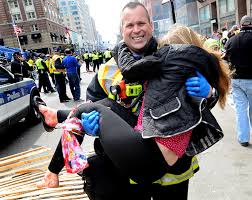 Rest assured, closed door dark room discussions are underway about how best to blame the Tea Party.
Remember, Obama's former Chief-of-Staff, Rahm Emanuel said,
"You never want a serious crisis to go to waste. And what I mean by that is an opportunity to do things you think you could not do before."
http://www.youtube.com/watch?v=1yeA_kHHLow
Americans who oppose Obama's socialist agenda and trampling of the Constitution have been a thorn in the Democrats and mainstream media's sides for years. What better way to destroy the Tea Party than to convince low-info Americans that the Tea Party is responsible for children losing life and limbs. While this strategy may sound a bit cynical, it is reasonable to reference Democrats' past behavior and Obama's former Chief-of-Staff, Rahm Emanuel's words,
"You never want a serious crisis to go to waste."
Frustratingly, all speculation as to who is responsible for the bombing has been limited to foreign terrorists and right-wing extremists. Despite the history of domestic terrorism proving otherwise, not one time in the media coverage has it been suggested the bomber/bombers could be left-wing extremists.
But folks, having exposed the Left's desire to make the Tea Party and Republicans responsible, I wish to focus on the heroes – awesome Americans who stepped up to assist the wounded and save lives.
Mary and I have been on the road away from our home in Florida for several weeks, working to put Conservative Republican Michael Sullivan in the U.S. Senate seat vacated by John Kerry in Massachusetts. We are still in a hotel room living out of suitcases. The stories of heroism and the pain and suffering of innocent children and families have touched us deeply.
I wrote, sang and recorded a song shortly after 9/11 titled, "United We Stand." My inspiration came from the way our nation came together, though briefly, in unity, patriotism and prayer for our country.
We want to salute the heroes who displayed remarkable bravery and compassion after the bombing. Using my song, Mary got on her computer and put this humble tribute together honoring our heroes. We pray that it blesses your heart.
Please click this link to view our tribute:
United We Stand – Boston Bombing
http://vimeo.com/64278052
© Lloyd Marcus
---
The views expressed by RenewAmerica columnists are their own and do not necessarily reflect the position of RenewAmerica or its affiliates.
---