Lloyd Marcus
On the road with Tea Party Express: tale of two black voters

By
Lloyd Marcus
September 14, 2012
Hi Patriots. I am on the road touring on Tea Party Express VIII: Winning for America. Before joining the tour yesterday, I was in Baltimore where a black woman told me,
"They're tryin' to get him! I pray that he wins."
The "they" she was referring to, in her mind, are those evil white racist Republicans who are trying to kick-out her black president. This black woman is a Christian. So I replied,
"Well, Obama coming out in favor of same-sex marriage and vowing to be an advocate for the gay, lesbian, bisexual and transgender communities turned-off a lot of people, including black pastors across America."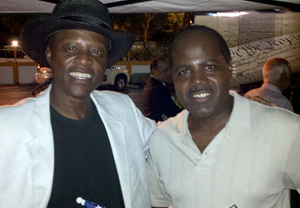 The woman's response was,
"I believe Obama only said that for political reasons to get the gay vote."
I thought, here is another willfully brain-dead emotion-driven black Christian who worships the false god of skin-color over her commitment to Christ. No truth will penetrate her idolatry of Obama. The encounter was a bit depressing.
But then, Lee, a black man with whom I chatted with at our Tea Party Express rally in Miami gave me hope. Lee said his eyes were opened years ago about the Democrats, long before Obama. He explained that Democrat policies/programs have destroyed the black family and the black community.
Lee said the last Democrat he voted for was Jimmy Carter. Lee is telling everyone who will listen about the fraud that is Obama and the Democrats. Quite refreshing.
Lee gave me a hug and encouraged me to,
"Hang in there brother. I really appreciate what you and your Tea Party Express team are doing."
After the rally, our team ate at Havana Miami Restaurant. Amazing what they can do with plantains.
© Lloyd Marcus
---
The views expressed by RenewAmerica columnists are their own and do not necessarily reflect the position of RenewAmerica or its affiliates.
---