James Lambert
Pelosi, Obama's demonizing of health care industry exaggerated and unfair

By
James Lambert
March 10, 2010
Unlike the powerful Speaker of the House, Nancy Pelosi (D-San Francisco), I am thankful for the health care industry. Several years ago, I shopped around to secure a new health care provider for my family, as the monthly premium expenses were increasing. I had to find a way of lowering my monthly health care costs.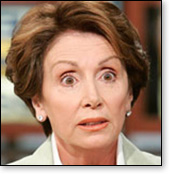 Thank God for good old competition (between the different providers). Besides saving money each month, I found a new health care plan for myself. When I did have to use that coverage to pay for an expensive operation, I figured my health care provider saved me over $80,000. It was an enormous blessing.
In their rush to pass their socialized medicine legislation, Democrats Pelosi and President Obama have been viciously demonizing the health care insurance industry with exaggerations and innuendo. Robert Gibbs, the President's press secretary, has even confirmed that the White House is hell-bent on passing the health care legislation sometime during the next 2 weeks. Insiders say that the push to get the bill passed before the Spring Break is intentional. If it isn't passed soon, it is expected that during the planned recess (Congressional) members will get 'an ear full' from their constituents which would doom the bill's passage.
Meanwhile Democrat leaders Pelosi and Obama are blaming the insurance industry for "carpet bombing" their attempts to pass socialized medicine. The dirty little secret here is that this bill, if passed, will cost American taxpayers hundreds of billions of dollars. It will also deny billions of dollars of Medicare funds to seniors in addition to transferring over $31B in expenses to the states, some of which are almost bankrupt. Even Obama admitted that we "can't cover another 46 million for free ... we're going to have to find the money somewhere."
Now the President is attacking the health care industry insurers by saying that insurers are not to be trusted. "They're filing the airways with deceptive and dishonest ads." The country is being "held hostage" by the insurance companies, according to the President. My, that's interesting. It seems like the federal government has all the power these days. They can legislate companies out of business, print money out of thin air (creating inflation), waste billions of dollars on frivolous government programs, and put trillions of dollars of debt on the back of future generations.
Speaker Pelosi's attacks on insurers are even more vicious. She emphatically states that the health insurers "are the villains in this. They have been a part of the problem in a big way ... It's almost immoral what they are doing ... Of course they have been immoral all along."
Mark Perry, professor of economics (School of Management) at the University of Michigan has a different take on health care insurers. He has studied profitability margins of the 100 most profitable industries in America. He ranks health care plan insurers at 86th most profitable in the country. This equates to a profit margin of 3.3% (see chart). Measured by profitability, there are 85 industries that are more profitable. These facts present a little different story from that which we hear from the President of the United States and the Speaker of the House of Representatives.
What the common layman needs to understand is that (health) insurers take tremendous risks in providing insurance to their customers. Like any prudent business, they do try to keep their costs down low with health care providers /hospitals and doctors. They also realistically deny coverage to very-high risk patients, much like banks turning down a car loan to a borrower who has a terrible credit history.
Unlike Speaker Pelosi, I don't believe that health care insurance is "a right."
Not everything in this country is a right — not by a long shot. There are many things in life that come by hard work and determination. The concept of personal responsibility is essential to our society. Even so, the federal government provides emergency care to anyone, especially if it's absolutely needed.
Finally, the government needs to understand that taxpayers can no longer be called on to pay for the health care of the 12 million people that are here illegally, the 7 million people who don't want health care insurance, or the millions of part time workers who are not covered by insurance from their employers. No one is forcing them to work for these particular companies.
If you want insurance you
most likely
can get it. You might not always like the coverage you get, but you get what you pay for. You can even get catastrophic insurance (which is even cheaper). It's like anything you buy in the free market place. People spend money on widescreen televisions, fancy cars, expensive cell phones, and computers. If they wish to prioritize their health care, most people can afford to buy
some
type of health protection. It will be a lot cheaper than what our tax rates will be if this socialized medicine bill is passed.
So Pelosi and Obama, back off! The free enterprise system does a much better job of providing health than the federal government could ever dream of.
(Note: If you don't want the government to take over the health care industry which represents 1/6th of our economy, please call these key Congressional Representatives, and voice your opinion today.)
© James Lambert
---
The views expressed by RenewAmerica columnists are their own and do not necessarily reflect the position of RenewAmerica or its affiliates.
---