Jake Jacobs
Young Americans for Freedom fight to save our republic!

By
Jake Jacobs
April 3, 2013
On Friday, March 22 at the
Reagan Ranch Center
in Santa Barbara, California, I was blessed to speak on
The Life & Character of Ronald Reagan
to 70 High School
"Young Americans for Freedom"
from all over the United States. Many of them came up afterward to thank me for what they said was an inspiring speech. They don't realize how much THEY inspire me and give me courage to continue in the Battle for the preservation of our Constitutional Republic that at times seems a lost cause.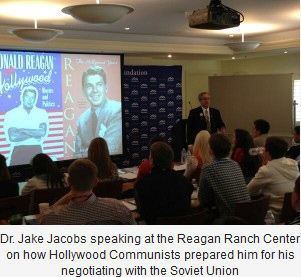 Since 2009 I have been traveling Wisconsin and America speaking at many Constitutional, Conservative, Libertarian, Tea Party and Republican events. The overwhelming majority of the participants at these events have been "gray hair" Patriots who are profoundly concerned that we are losing our Republic and the Liberties we so cherish. I admire their dedication to fight the fight because they are right. We are dying as BIG Government Statists like Obama, Progressives, Socialists and Cultural Marxists permeate our culture and have taken over the major institutions in our Land.
We are at WAR! Not a War with artillery, tanks, planes, and bombs but a WAR of Culture and Ideas.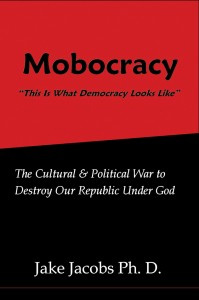 Unfortunately The LEFT is Winning their War to destroy our
Republic under God
as they have not only taken over our government schools but they have duped and or convinced millions of Americans that it is perfectly normal and natural to demand Entitlements from the hard working citizens and producers in the United States.
However, with ALL the negative News of explosive National DEBT and a President who lives in Denial about it, I was encouraged to see many
fine young Americans who love freedom,
admire President Ronald Reagan and who want to see his ideas and our Founding Fathers ideas back in our Nation again.
They give me hope!
I told those
Young American Patriots
in Santa Barbara that God Blessed my life by allowing me to be one of the last Americans to meet President Reagan in 1998 in his L.A. office.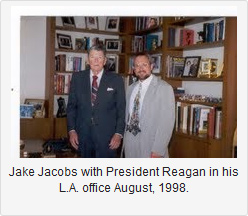 Many of my teaching colleagues ridiculed my devotion to the "Great Communicator" as I was attacked by them and in local newspapers as a fool who should be fired as a teacher of American History. That's OK. My hits were nothing compared to Reagan's. My unabashed admiration for President Reagan was based on his unabashed commitment to the values that made America great! Ronald Reagan was an authentic Patriot who truly believed in the values of our Founding Fathers. Values such as family, peace through strength, lower taxes and most importantly a limited Constitutional republican form of government under God.
President Reagan called the atheistic Soviet Union an
Evil Empire
because he knew it was a Socialist Empire as murderous and tyrannical as Nazism or National Socialism. Reagan in the face of typical naive and foolish appeasing Left Wing criticism challenged the status quo of containment and detente and resolutely looked Evil in the eye and did not blink. Reagan's brilliant statesmanship was instrumentally responsible for bringing the Evil Empire to an end and for tearing down Europe's Evil Iron Curtain of oppression. He had a simple philosophy when it came to the USSR:
"We WIN, they lose."
To this day many from Eastern Europe pay homage to President Reagan by visiting his grave in Simi Valley, California at the Reagan Library. I know I've been there a number of times and have meet them personally. They applauded him wildly!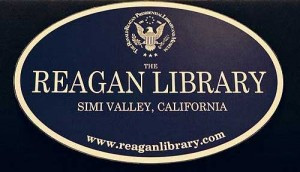 Reagan's simple but brilliant understanding of basic economic principles also tore down the wall of economic oppression ending the 70Œs recession and malaise by much needed tax cuts that opened doors of explosive productivity, entrepreneurial expansion, and capital investment whose effect and efficacy gave America our longest economic growth in modern history.
While the intellectual elite of Europe and America called him a simpleton, Americans didn't need a Ph.D. to see that Reagan "got it." While he was profoundly well read and could quote the great philosophers and economists of Western Civilization he never flaunted his intellectual acumen even in the midst of harsh
ad hominem
attacks by the gurus of the universities and elite media who thought they knew so much that wasn't so. He was right, they were wrong. Dead wrong! And they still are.
Reagan's genius was his keen insight into the American soul and his passion to convey across our great land that truth. Ronald Reagan knew that deep in our hearts was a desire to be left alone from government encroachment upon our God given right to be free from the entangling bondage that most governments in history have inflicted upon man. Ronald Reagan knew that Americans did not want to be punished for hard work and productivity and they did not want government bureaucrats and Harvard technocrats dictating policy from Washington DC for small businesses and citizens from Albany, NY to Sacramento, CA. Reagan was from Midwest America and never forgot where he came from and never allowed the "DC" world to change his thinking. He was one of us and never let the limelight go to his head as he was always more concerned about virtuous principles than polls, popularity, power and vainglory. When I met him he had this quote on his desk as seen in the picture below: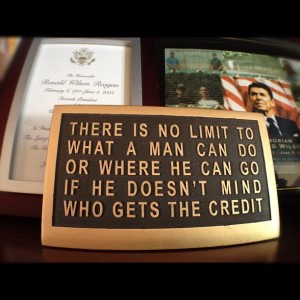 O' how I miss "The Gipper!" I loved him like a Dad. In many ways he was like a modern day Founding Father because he brought us back to their values and world. Mr. President we will never forget how you carried yourself,walking tall, shoulders back, always with velvet gloves backed with the steel fist of liberty's resolve. Most wonderfully you did it armed with that charming smile and twinkle in your eye, a twinkle that I will never forget. Someday Mr. President we will meet again in that shinning city upon a hill that you so eloquently and passionately conveyed to America and the World. Until then I'm off to the Battlefield of Ideas teaching to young and old alike on your life and our Founding Fathers values, values which we so desperately need in our Republic today......
© Jake Jacobs
---
The views expressed by RenewAmerica columnists are their own and do not necessarily reflect the position of RenewAmerica or its affiliates.
---