Fred Hutchison
A snake on the capitol dome

By
Fred Hutchison
September 27, 2009
The Glenn Beck show sometimes displays a picture of the capitol building with a giant snake wrapped around the dome. This chilling image age is unforgettable. But is it just an imaginative graphic metaphor, or is there some truth to it? Alas, there is some truth to it.
But what is the "snake"? It is not President Obama. Sometimes I think he is merely the front man for powerful forces. He is the salesman-in-chief or perhaps the con-man-in-chief. Is the snake head Nancy Pelosi, Speaker of the House? No, she is so prone to so many silly bloopers and laughably false statements that she makes Vice President Joe Biden look good. She is an aging airhead moppet. How then did she rise so high? By becoming the sock puppet of a strong man or woman.
The Power Grab
According to Glenn Beck, The Apollo Alliance wrote the stimulus bill and possibly wrote the 1,000+ page medical bill. Apollo is a subsidiary of the leftist Tides Foundation. Whoever controls Tides controls Apollo. Whoever controls Apollo writes our legislation. Who is in control of Tides? It might be George Soros and it might be Theresa Heinz Kerry. Soros gave $3 million to Tides. Mrs. Kerry gave $4 million.
The blogosphere is not in agreement about whether Soros or Mrs. Kerry controls Tides. Soros used to be on the board of Tides. Mrs. Kerry is involved with Nancy Pelosi in real estate ventures in San Francisco. Pelosi lives in San Francisco and Tides is located there. Pelosi, as Speaker of the House, can farm bills out to Apollo. Soros gave a lot of money to the presidential campaign of Mrs. Kerry's husband when he ran for president.
Well, the control of the Apollo Alliance to write our legislation according to a left-wing agenda could be in the hands of a conspiracy of a small number of rich left wingers, or it could be in the hands of either Soros or Mrs. Kerry. Since Apollo was founded by Wade Rathke, the father of the corrupt ACORN, and Van Jones, the professing communist who was a czar under Obama and resigned in disgrace, there is no limit to the games that sly individuals of the far left can play with Apollo.
Is this still a Democracy?
Readers, I ask you, if unelected and unidentified individuals are secretly writing our legislation, is this still a democracy? Is there a connection between the end of our democracy and the beginning of the tea parties? Do the people have an intuition or public sense of smell that they are no longer under the Republic, but are now under new masters? After all, the first tea party and the writing of the stimulus bill by Apollo are reasonably close in time. Do the people sense that there is a giant snake on the capitol dome?
---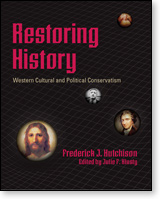 A message from Stephen Stone, President, RenewAmerica
I first became acquainted with
Fred Hutchison
in December 2003, when he contacted me about an article he was interested in writing for RenewAmerica about Alan Keyes. From that auspicious moment until God took him a little more than six years later, we published over 200 of Fred's incomparable essays — usually on some vital aspect of the modern "culture war," written with wit and disarming logic from Fred's brilliant perspective of history, philosophy, science, and scripture.
It was obvious to me from the beginning that Fred was in a class by himself among American conservative writers, and I was honored to feature his insights at RA.
I greatly miss Fred, who died of a brain tumor on August 10, 2010. What a gentle — yet profoundly powerful — voice of reason and godly truth! I'm delighted to see his remarkable essays on the history of conservatism brought together in a masterfully-edited volume by Julie Klusty.
Restoring History
is a wonderful tribute to a truly great man.
The book is available at
Amazon.com
.
© Fred Hutchison
---
The views expressed by RenewAmerica columnists are their own and do not necessarily reflect the position of RenewAmerica or its affiliates.
---