Fred Hutchison
A dishonest sales game for pushing socialized medicine

By
Fred Hutchison
August 12, 2009
Don't believe what you are told by Obama, Inc. about the proposed legislation to regulate medicine and medical insurance. Does this mean they are telling lies? Not exactly. I suppose that Obama is too shrewd to tell a blatant lie. But Obama and his surrogates are making a lot of statements to sell the health care bill which they cannot support.
Is Obama a con-man? Not exactly. A con-man is deceiving you so you believe something which he knows is false. Obama is closer in type to the used car salesman who is making claims which he cannot support and fails to warn you of risks which you need to know to make an intelligent choice. A lot of liberal Democrats are playing the same game.
The All-Star Panel
I was listening to a speech by Obama to clear up myths and misunderstandings about the health care bill. Point after point I shouted "lie!" There were perhaps five assertions which, at the time, I thought were lies.
Then I watched the "all star" panel on
The Special Report
on Fox News. Jonah Goldberg made most of the same points I made but called them "untruths." After reflection, I decided that they are neither lies, nor untruths but stretched truths.
Stretched truths
* If you like your health care insurance company you can keep it.
Rebuttal: It is theoretically possible that the bill will pass and you can keep your insurance provider. However, it is more likely that your company will get out of the health insurance business rather than compete with a government plan.
* If you like your doctor you can keep him.
Rebuttal: Yes, this might happen. But considering that the bill regulates what doctors earn, and how they are to practice medicine, your doctor might drop you, get out of his present specialty and find another niche in the health care labyrinth.
* A public option will encourage competition with the insurance companies.
Rebuttal: This possible but unlikely. Government regulated insurance companies will probably offer feeble competition for a tax supported health provider.
* You will not be denied life saving medical care because you are too old.
Rebuttal: Maybe not. However, other countries with socialized medicine are doing just this. Seeing that half of your lifetime medical costs are incurred in the last year of your life the actuaries of the government plan will exert tremendous pressure to skimp on expensive treatments, once they think you might be in your last year of life. Even young people with permanent handicaps might be denied expensive care after the actuaries compute the costs of caring for them for life. Let them die and relieve the system of millions of dollars of costs!
* There will be no scary panel of death.
Rebuttal: But there will be mandatory "counseling" which will consider end of life issues. They will have a lot of arbitrary power. If the wrong kind of people get on the panel and you are on Obama's enemies list, I suggest you leave the country.
* Obama said he has no enemies list.
Rebuttal: Maybe not, but we know he is taking names of those who oppose the health care bill and write "fishy" e-mails.
* The heath care bill is not a "Trojan horse" for socialized medicine.
Rebuttal: Maybe not. However, When Obama was a senator he advocated socialized medicine. Later he suggested legislation to move us gradually toward socialized medicine through a series of stages. Reminds me of how a crew of Greeks got inside the walls of Troy by hiding in a giant wooden horse and opened the city gates so the Greek army could get into the city.
* The Republicans offer no alternative plan.
Rebuttal: There is no one plan called "The Republican Plan." However, there are several plans offered by Republican legislators.
The dark labyrinth
Few senators or congressmen have read the thousand page bill. Obama has not read it. Reading it is like wandering in a dark labyrinth. Few who go into the labyrinth understand it. Some who claim to understand it do not. Most assertions made about the bill by Obama Inc. are not based upon an understanding of the bill but are crafted tactically for selling the bill. Keep the image of a slippery used car salesmen in mind when you listen to Obama Inc. defend the bill.
San Francisco values heath care
Who wrote the bill? Well, I suppose it was written by congressional staffers. Speaker of the House Nancy Pelosi is not limited to her staff. She has the unlimited resources of over-funded left wing institutions in her home of San Francisco at her disposal. The Tides Foundation comes to mind.
I have no factual basis for this surmise. However, I find it unlikely that the leftist Speaker of the house is not a welcome friend at Tides and other left-wing organizations in San Francisco. I can imagine such over funded and overstaffed organizations filled with PhD's writing a thousand page labyrinthine program. I find it difficult to envision mere congressional staffers creating such a megilla.
Welcome to the San Francisco values health care plan!
---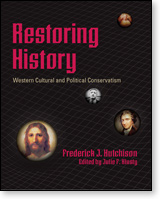 A message from Stephen Stone, President, RenewAmerica
I first became acquainted with
Fred Hutchison
in December 2003, when he contacted me about an article he was interested in writing for RenewAmerica about Alan Keyes. From that auspicious moment until God took him a little more than six years later, we published over 200 of Fred's incomparable essays — usually on some vital aspect of the modern "culture war," written with wit and disarming logic from Fred's brilliant perspective of history, philosophy, science, and scripture.
It was obvious to me from the beginning that Fred was in a class by himself among American conservative writers, and I was honored to feature his insights at RA.
I greatly miss Fred, who died of a brain tumor on August 10, 2010. What a gentle — yet profoundly powerful — voice of reason and godly truth! I'm delighted to see his remarkable essays on the history of conservatism brought together in a masterfully-edited volume by Julie Klusty.
Restoring History
is a wonderful tribute to a truly great man.
The book is available at
Amazon.com
.
© Fred Hutchison
---
The views expressed by RenewAmerica columnists are their own and do not necessarily reflect the position of RenewAmerica or its affiliates.
---