Anna Githens
Are anti-life Catholic politicians perpetuating an ancient unholy vow?

By
Anna Githens
February 3, 2014
As a native New Yorker, a Catholic, and an Italian by birth, I, like many others, was offended by
Governor Andrew Cuomo's
recent declaration that "'extreme conservatives' have no place in the state of New York." What I found especially offensive was his disdain for "pro-life" conservatives. While contemplating the deeply troubling implications of this mindset, I happened upon
Cardinal Sean O'Malley's homily
at the Pro-life vigil on the eve of the annual Right to Life March in Washington, DC. Particularly moving to me was Cardinal O'Malley's recounting of the Hans Christian Anderson story
"The Emperor's New Clothes"
in which he compared the church to "the little child" on the street who is pointing out the obvious contradictions and evil of abortion.
The next day I watched as ardent defenders of life battled the cold and I listened to passionate pleas to consider adoption as an alternative to abortion. Bearing witness to the strength and determination of the marchers and hearing their testimonies gave me a renewed sense of hope. One could see their mutual love for life and the unborn emanating through the record-breaking cold temperatures. For me, this overshadowed any bitter accusations from anti-life politicians.
Troubling still are government officials, like Andrew Cuomo, Nancy Pelosi, Joe Biden and many others, who claim to be Catholic and profess to take their faith seriously, yet lobby for legalized abortion. How is this possible? In a sense, the anti-life position that many Catholics leaders hold today is reminiscent of a certain Old Testament biblical figure. It is the story of Jephthah the Gileadite and his forsaken daughter.
Jephthtah's story is one of conquest and tragedy that holds much hidden meaning. The son of a prostitute, he was disdained by his brothers who feared he would receive their inheritance. Driven out of his home in Gilead, which is current day Jordan, he fled to Tob, near present day Syria, where he gathered a gang of rogue warriors who went raiding with him.
Some time later, the Ammonites, fierce rebels from the territory of Ammon, declared war on Israel. Their king wanted to seize Israeli land on which he had no legal claim. The elders of Gilead heard of Jephthah's powerful influence, so they came to him and asked him to command their army against the Ammonites. He was understandably reluctant. When they promised to be faithful to him and said he would be their true leader, he accepted the position.
Although a strong warrior, Jephthah made a rash and ill-fated vow before going into battle. He promised God that if he achieved victory over the Ammonites he would offer to Him the next thing he saw on his return as a burnt offering.
The Bible tells us that
"the Spirit of the Lord came upon Jephthath" (Judges 11:29)
and he led his army to destroy twenty Ammonite cities. Little did he suspect, however, that the next thing his eyes would see was not an animal, but his only daughter, coming out to greet him, dancing in celebration of his victory.
Seeing her he tore his clothes and said,
"Alas, my daughter! you have brought me very low, and become the cause of great trouble for me; for I have opened my mouth to the Lord, and cannot take back my vow."
And she said to him,
"My father, if you have opened your mouth to the Lord, do to me according to what has gone forth from your mouth, now that the Lord has avenged you on your enemies, on the Ammonites"
(Judges 11:35-36). Scripture tells us that Jephthah kept his vow, although it does not reveal how he carried it out.
While some biblical scholars dispute the fate of Jephthah's daughter, a crucial point to note is that recording an incident in scripture is not the equivalent of sanctioning it. Only God knows our hearts and what motivates our actions. Perhaps Jephthah's decision-making was rooted in invincible ignorance. Indeed, if he sought God's forgiveness with a sincere heart we have no reason to doubt His mercy, for it is revealed all too often throughout the Bible.
Yet while Jephthah showed remorse and his actions came from a desire to please God, there is something pitifully shameful about his warped belief system. From where did he get his self-righteous ideas? Being a man of faith, he must have known that the God of Israel and the God of Abraham were one and the same, and had prevented Abraham from killing Isaac. Why would Jephthah presume that a loving God condoned the taking of innocent life, especially his own flesh and blood? Judges 21:5 reveals,
"In those days there was no king in Israel; every man did what was right in his own eyes."
Despite his false ideas he led the Gileadites to victory over the Ammonites, and he ruled as judge over Israel for six years.
In some respects, is this not comparable to what is happening today? People with distorted religious perspectives attain high official positions and keep abortion – a travesty of justice – legal. These leaders have deluded themselves and others into thinking that it's permissible to take another person's life; and it's practicing social justice to allow someone to make this choice.
Jephthah foolishly believed he was serving God. Like some politicians today, he thought he was a religious man. His ignorance made his daughter a victim of a terrible injustice, as are the tiny victims of abortion – 55 million of them.
Jephthah's daughter had a childlike trust; she never suspected that her father could be wrong. This is what happens to the young women and men who fall prey to the lies of our time. Evidence to this are the women marching in D.C. who confess, "If only someone had told me, I might have reconsidered." Instead our society makes accessible the brutal violation of women's bodies, it deceives them by marketing a heinous atrocity as "safe and legal," and it pushes abortifacient drugs on twelve-year olds.
If we could shift our focus for a moment from the foolishness of Jephthah's vow to the courageousness of his daughter there is much to learn from her actions. Although her death is horrific and unjust, there is a wholesome innocence to Jephthah's daughter. Her love and unwavering faith propelled her to trust her father completely and at all costs, even though it cost her life. Her words,
"...do to me according to what has gone forth from your mouth,"
resemble Mary's response to the Angel Gabriel. By surrendering to her father's will, her actions reflect Jesus' prayer on the Mount of Olives,
"not my will but yours be done"
(Luke 22:42). And, similarly, she departed for a time with her companions and
"bewailed her virginity upon the mountains
." Like the Virgin Mary, we are told,
"she had never known a man,"
and, like the daughters of Jerusalem who lamented Jesus' suffering on the way to His crucifixion,
"the daughters of Israel went year by year to lament the daughter of Jephthah the Gileadite four days in the year"
(Judges 11:36-40).
Jephthah's daughter stayed true to her faith and followed the Lord's Commandments by honoring her father, however misguided he may have been. Love endures all things, for
"Greater love hath no one than this: to lay down one's life for one's friends"
(John 15:13). Perhaps had she not submitted herself to death, had she not honored Jephthah's vow, it would have meant death to her father, even if in the spiritual sense. A judge's daughter, she sacrificed her life to preserve his honor.
The Bible only refers to her as "Jephthah's daughter." Why wasn't her name mentioned? Perhaps this is to give emphasis to the tragedy that her flower never blossomed; she was never able to come into her own. Her father saw her as a potential sacrificial victim, a burnt offering, from which human persons should be exempt. Most certainly Jephthah believed his daughter belonged to him, that she was his personal property and not a separate life with a sacred dignity unto itself, a life that God only can give and take away. Thus, in the end she remained only Jephthah's daughter. In a sense, the story speaks for the unborn child and lost parenthood at the same time.
Jephthah's daughter never had the opportunity to become something more, as her father snuffed out her one and only chance at life. Isn't this the fate of all the unborn children who suffer abortion?
They are only a fetus, some "Catholic" politicians say, or a mass of tissue inside a woman's body. They have no name, no face, no potential for personhood; some even want to deny that they have a soul. They are and always will be their mother's, and father's, daughter or son. That is, at the very most, all they will ever be known as in this world – that's as far as their earthly existence is concerned. Emphasize
in this world.
But to God they are much more than that.
They are sacred, delicate, unique, exquisitely lovely human beings created in His image and likeness. Although Jephthah's daughter died tragically she was most welcomed into paradise in the loving arms of her Eternal Father, and she most certainly is a soul with a name and a face. As the Psalmist tells us,
"Though my mother and father forsake me, the Lord will receive me. Teach me your way, O Lord: lead me in a straight path because of my oppressors"
Psalm 27:10-11.
The story of Jephthah illustrates to us how far we are capable of drifting from the truth without even realizing it. Yet his daughter's loyalty to him is akin to the church's loyalty to us. While the church stands firmly on earthly ground, her vaulted ceilings rise toward the heavens, which enables her to prevail as a trustworthy and infallible guide. To ensure our consistent alignment with Eternal Truth, the church, as
Mater et Magistra,
keeps our feet securely planted while inspiring us to
"seek things that are above"
(Col 3:1).
This is why the teachings of the church will always supersede fleeting cultural whims and flawed mindsets of government leaders. For in the end, whom can we trust? Two thousand years of doctrine imparted to us by legions of church fathers, mystics, prophets, theologians, popes, cardinals, bishops, nuns and priests throughout history? Or government officials who are so fixated on maintaining power they designate themselves independent arbiters of right and wrong?
A prime example of human ignorance influencing young women today is House Minority Leader Nancy Pelosi.
Mrs. Pelosi believes
that the practice of
Kermit Gosnell
was "an extreme case" and that the decision to abort is merely "a judgment a woman makes about her reproductive health." She claims, as a "practicing and respectful Catholic" talking about late term abortion is "sacred ground to me and should have nothing to do with politics."
Governor Cuomo's radical
Reproductive Health Plan
allows abortion for the entire nine months of a woman's pregnancy, even up to the day of birth. He also wants to allow non-physicians to perform them. Mr. Cuomo calls pro-life conservatives "extremists" while he himself promotes the same abortion practices as Kermit Gosnell.
Self-deception is a powerful ruse, and many today have succumbed to its anesthetic advantages. It is evident that Nancy Pelosi employs this tactic since she has lost all sound reasoning capabilities. Deliberate blindness on certain moral issues can serve as a useful ploy for politicians, for it permits them to effectuate laws that appeal to the people in spite of being in direct conflict with their faith.
As
Cardinal Sean O'Malley
expressed in his homily at the annual Pro-Life Vigil Mass,
"All life is sacred...human rights without the right to life is a fraud, an exercise in self-deception. The majority of women who succumb to abortion are poor. Poverty is a dehumanizing force that leads people to feel trapped and to make this horrible choice. The Gospel of Life demands that we work for economic justice in our country and in our world. In a society where the rich are getting ever richer and the poor poorer, abortion looms ever larger. Planned Parenthood was founded to eliminate the poor."

And yet, our self-professed Christian president,
Barack Obama, bestowed a blessing
on Planned Parenthood and thanked them for their service. We are even exporting abortion with American tax dollars to impoverished countries. Thanks to the policies of our President, Vice-President, Nancy Pelosi, Kathleen Sebelius, the "Catholic" Secretary of Health and Human Services, and many others, under the guise of women's health we are imposing our dreadfully flawed views onto the poor.
Pope Francis affirms
,
"Among the vulnerable for whom the church wishes to care with particular love and concern are unborn children, the most defenseless and innocent among us... This defense of unborn rights is closely linked to the defense of each and every other human right.

A pregnant woman isn't carrying a toothbrush in her stomach, or a tumor. Science has taught us that from the moment of conception, the new being has its entire genetic code. It's impressive. Therefore, it's not a religious issue but, rather, a clear moral issue with a scientific basis, because we are in the presence of a human being."

If Governor Cuomo had his way, Cardinal O'Malley and Pope Francis, the Supreme Pontiff of the Catholic Church he claims to attend, would not be welcome in the state of New York.
What kind of a so-called Catholic leader would so smugly renounce the teachings of his church? Teachings that are so full of mercy?
Only one who, in the quest for power, is undoubtedly blinded by pride.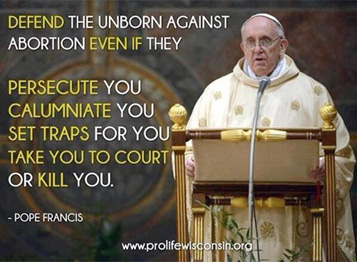 © Anna Githens
---
The views expressed by RenewAmerica columnists are their own and do not necessarily reflect the position of RenewAmerica or its affiliates.
---