Tom DeWeese
Immigration and China's threat to our sovereignty

Part one: Betrayal of the golden venture

By
Tom DeWeese
January 7, 2021
One of the key arguments used by proponents of open borders is that America has always welcomed the downtrodden of the world to join us. Americans are a compassionate people with a strong sense of right and wrong. We believe it is our duty to help those who cannot help themselves. It's how we celebrate our own birthright of freedom.
However, while Americans are happy to extend a helping hand they also don't want to be taken for suckers. We are a nation – a proud one – with our own culture combined with a rule of law that has made us the envy of the world. It's the very reason many want to come here. Our arms are open to share what we have – but we must also reserve the right to insist that we share on our terms.
The fact is, there are immigrants who come here legally. In addition, there are illegals who fight to get here for very good reasons, and they come with our blessings. Of course, there are "damned illegals" who come here in defiance, openly biting our extended hand of assistance. These are the ones who are wearing down our natural reaction for compassion. Americans must understand that all illegals are not the same. Not all come here for the same reason. Motive and purpose should be strong arguments in deciding who enters and who doesn't. Laws, not political games, should decide. Consider the following:
In June of 1993, 286 people, mostly from China, boarded a rickety, rusty old ship named the Golden Venture to sail to the United States in a desperate attempt to escape the brutal Chinese communist regime. Their flight to freedom had taken most of them a year of running through steaming jungles, hiding from pursuing authorities, and surviving the cramped, stifling, tiny hold of the ship. Finally, as the ship got within 300 yards of the promised land – the shoreline a few miles from Manhattan — it hit a sand bar and ran aground, forcing the passengers to swim to shore in icy waters.
Please help the American Policy Center continue the fight to protect private property rights!
THE WAR ON FREE ENTERPRISE, PRIVATE PROPERTY, AND INDIVIDUALS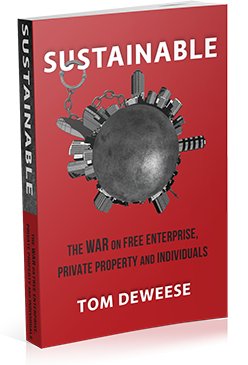 Sustainable: The WAR on Free Enterprise, Private Property and Individuals describes in detail the process being used at every level of government to reorganize our society under the excuse of environmental protection. Author Tom DeWeese pulls back the curtain to reveal the policies and the powers behind them that are systematically changing our culture and system of government to impose a political agenda of top-down control at every level. He provides invaluable insight as to how elected officials are pressured by an army of private organizations, planners and federal agencies, armed with federal grants to impose specific regulations in the name of Sustainable Development. Sustainable serves as a hand book for property rights activists to organize opposition. It provides vital information to a news media that is basically clueless to these policies, and it provides a blue print for fighting back as it offers hope to those who are its victims.
© Tom DeWeese
---
The views expressed by RenewAmerica columnists are their own and do not necessarily reflect the position of RenewAmerica or its affiliates.
---