Rev. Mark H. Creech
Revelation Chapter 6: Persecution and 'the blood of the Martyrs'

By
Rev. Mark H. Creech
January 8, 2023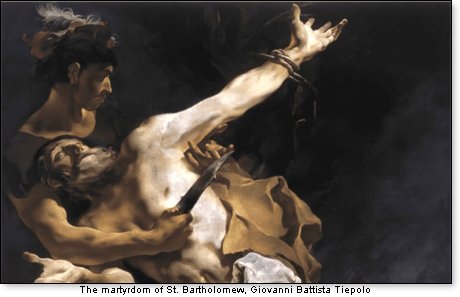 During the early years of Christian martyrdom (between the 2nd and 5th centuries BCE), Christians fled by the thousands into underground caverns outside of Rome. There were nearly 600 miles of molelike tunnels and passageways where they hid.
At least ten generations of Christians were buried in the catacombs during approximately 300 years of persecution. The number of believers interred in the tunnels is unknown, but some archaeologists have estimated it to be between 1,750,000 and 4,000,000.
Inscriptions of Holy Scripture are still visible on the catacomb walls. Perhaps the most frequent one is the sign of the fish. A particular inscription, however, summarizes what kept them from losing or abandoning their faith. It reads, "The Word of God is not bound."
Every believer in Christ is deeply indebted to the faithful witness of these Christ followers. As Tertullian said, "The blood of the martyrs is the seed of the church."
Still, persecution and martyrdom, for Christ's sake, are not simply a thing of the past. Far from it.
According to the 2022 World Watch List (WWL) published by Open Doors International, which has supported persecuted Christians worldwide for over 60 years, nearly 360 million Christians, 1 in 7 globally, suffered discrimination and persecution for their Christian faith. As many as 5,898 were murdered for their profession of Christ – up more than 23% from 2020. More than 5,000 churches were attacked or forced to shut their doors – an increase of 13% during the same period. Moreover, as many as 6,000 Christians were arrested without trial – up by 44% – and 4,000 Christians were kidnapped – up by nearly 124%.
The persecution of Christians is growing – even abounding.
A new phenomenon in the land of religious liberty, America, hostility towards faithful followers of Christ is at a high never seen before.
The Family Research Council (FRC), a national Christian public policy group, reported in December 2022 that there were over 400 acts of hostility against churches between January 2018 and September 2022. From January 2022 to September 2022, there were at least 57 pro-abortion attacks on churches, "342 occurrences of vandalism, 58 arson attacks or attempts, 12 gun-related incidents, 11 bomb threats, and 19 other incidences (assault, threats, interruption of worship services, etc.). Twenty incidents (4.76 percent) fell into more than one category."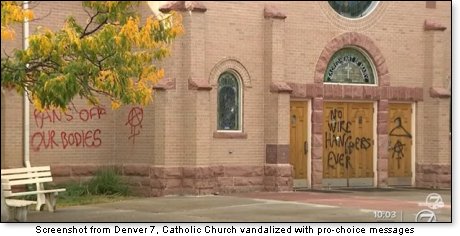 Tony Perkins, the head of FRC, said: "As a former commissioner and chairman of the U.S. Commission on International Religious Freedom (USCIRF), I've seen the warning signs of this gathering like clouds across the Atlantic. As the mainstream culture moves further and further away from a biblical worldview, I've witnessed the hostility to moral truth creep closer to our shores. The West, once the safe haven of free speech and religion, is turning cold to our religious foundations that have helped us thrive."
In Revelation 6:9-11, the Lamb of God (Jesus) opens the fifth seal of the scroll, revealing God's plan for the world in the last days. John's account reads:
When the Lamb broke the fifth seal, I saw under the altar the souls of all who had been martyred for the word of God and for being faithful in their testimony. They shouted to the Lord and said, "O Sovereign Lord, holy and true, how long before you judge the people who belong to this world and avenge our blood for what they have done to us?" Then a white robe was given to each of them. And they were told to rest a little longer until the full number of their brothers and sisters—their fellow servants of Jesus who were to be martyred—had joined them.
It's not that there hasn't been Christian persecution and martyrdom throughout history. Christ's letter to the church in Smyrna in Revelation 2 spoke to this issue. Nonetheless, what is described in chapter 6 is what Christ said would be like "birth pangs" (Matthew 24:8).
In other words, as the end approaches, like a woman's contractions grow in intensity before she gives birth, troubles like persecution and martyrdom will increase just before a new world under Christ's lordship is born.
Bradford Richardson of The Washington Times has said, "Advocates who work to protect persecuted groups say there is a 'blind spot' in the West concerning the plight faced by Christians around the world…From the Coptics in Egypt and the 'house churches' in China to the 'subversives' in North Korea and the 'apostates' in Pakistan, Christians are under fire on the international stage."
This "blind spot" Richardson references, however, isn't limited to the West alone. Instead, it's everywhere Christians are harassed.
Sinclair B. Ferguson, in his commentary on Christ's warning about persecution in The Sermon on the Mount, explains the reason:
"The world in which we live assumes that it will welcome Christians with open arms – until the first time it meets the genuine article. Until then, it is ignorant of its real response to the Gospel. It assumes that it is well-disposed to Jesus Christ and God.
"But Scripture tells us otherwise: the world is in rebellion against God. Jesus said himself that if men persecuted him, they would also persecute his followers (John 15:20). He told them, 'If the world hates you, keep in mind that it hated me first' (John 15:18).
"Christians are persecuted for the sake of righteousness because of their loyalty to Christ. Real loyalty to him creates friction in the hearts of those who only pay him lip service. Loyalty arouses their consciences and leaves them with only two alternatives: follow Christ, or silence him. Often their only way of silencing Christ is by silencing his servants.
"At the beginning of the Christian life, we need to grasp the reality of persecution. This awareness will save us from discouragement and disillusionment. We follow a crucified Savior. We should not think it strange if we ourselves encounter fiery trials (I Peter 4:12). Rather, we should learn to rejoice that we have been counted worthy to suffer for the name of Christ (Acts 5:41). Ours is the kingdom of God."
"Worthy to suffer for the name of Christ" – there is no higher honor in the entire world. Why is this?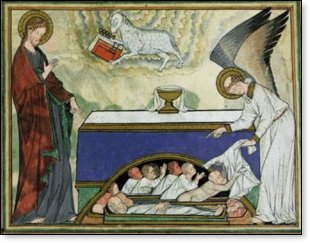 Revelation 6 answers because it's counted the same as a holy sacrifice to a Sovereign God. The martyrs' life's blood was violently poured out in obedience to God, and so they are seen "under the altar," where they call out to him for retributive justice.
When the first martyr, Abel, was murdered by his brother Cain, it was because the disobedient heart of Cain was pricked at his brother's virtuous example. At Abel's death, God said to Cain, "What have you done? Listen! Your brother's blood cries out to me from the ground!" (Genesis 4:10).
Jesus told a parable about upright people who suffered greatly at the hands of wicked persons whose only hope of justice was in God: "Don't you think God will surely give justice to his chosen people who cry out to him day and night? Will he keep putting them off?" (Luke 18:7) asked Jesus. "I tell you, he will grant justice to them quickly!" (v. 8).
The prayer by the martyrs is not a call for vengeance, which would be unlike Jesus' exemplar prayer for those who crucified him: "Father, forgive them, for they don't know what they are doing" (Luke 23:34). The martyrs' prayer calls for God to hold unrepentant persecutors accountable for their murderous actions. They petition him to restore a disturbed equilibrium in the universe caused by their unwarranted deaths. Surely God will not wink at what was done or sweep the shedding of their righteous blood under the rug.
No, he will not! To put it in the vernacular, the Lord answers them, saying payday is coming soon enough. But for now, they shall be given white robes – symbols of purity, peace, and their deserved rest. They are to take ease a little longer until God's plan is complete.

Years ago, Dr. M.A. Thomas, a stupendous evangelist, and pastor responsible for planting numerous churches, schools, and orphanages throughout India, was threatened by a Hindu extremist. The Hindu man came to where Dr. Thomas resided, wielding a knife, and called for the great preacher to come outside so he could kill him. Dr. Thomas left the safety of locked doors, met the man in the street, ripped open his shirt, and challenged the Hindu radical to plant his knife in the middle of his chest.
"But before you do," said Dr. Thomas, "you should know for every drop of my blood that falls to the ground, God will raise up a thousand more like me." At this, the militant Hindu ceased his threatening and walked away.
Christians must prepare their hearts as much as possible for persecution and martyrdom. Every faithful Christian will not necessarily become a martyr, but "everyone who wants to live a godly life in Christ Jesus will suffer persecution" (2 Timothy 3:12).
The Bible says persecution and martyrdom will increase before Jesus returns to earth. It is a part of God's strategy for giving this world to Christ to establish his kingdom and live among his people.
Moreover, anyone considering becoming a follower of Christ should count the cost (Luke 14:26-33). Salvation is free, but living for Jesus can be pricey. We must love the Giver more than his gifts. Yes, it's still true after all these centuries, "The Word of God is not bound." Nor shall it ever be!
© Rev. Mark H. Creech
---
The views expressed by RenewAmerica columnists are their own and do not necessarily reflect the position of RenewAmerica or its affiliates.
---