Rev. Mark H. Creech
Money troubles? Stop worrying about it!

By
Rev. Mark H. Creech
November 16, 2018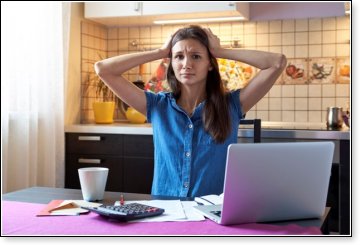 After suffering a heart attack and having quadruple bypass surgery, a man awakened to find himself in a Catholic hospital with Nuns taking care of him. As they nursed him back to good health, one of the Nuns asked if he had health insurance. "No, unfortunately not," he replied. "Do you have any money in the bank?" asked the Nun. "No. No money in the bank either," the man said. "Do you have any relatives you could ask for help?" the Nun continued. The man replied, "I only have a spinster sister who is a Nun." At this remark the Nun became irritated. "Nuns are not spinsters;" she said demonstrably, "Nuns are married to God!" "All right then," said the man, "Send the bill to my brother-in-law."
Your sister may not be a Nun, but if Christ is your Savior, you have a rich, heavenly Father who knows your every need.
Jesus said, "Don't worry, saying, 'What will we eat?' or 'What will we drink?' or 'What will we wear?' For the idolaters eagerly seek all these things, and your heavenly Father knows that you need them. But seek first the kingdom of God and his righteousness, and all these things will be provided" (Mt. 6:31-32).
It's characteristic of people who don't know God to be anxious about money and all the problems that arise when it's running short. But this shouldn't be the case for people who have learned to relate to God as their loving heavenly Father.
God is not uncaring, capricious, or unpredictable. He loves his children better than we love our own. Jesus also said, "What man among you, if his son ask him for bread, will give him a stone? Or if he asks for a fish, will give him a snake? If you then, who are evil, know how to give good gifts to your children, how much more will your Father in heaven give good things to those who ask Him! (Mt. 7:9-11).
Moreover, it makes little sense to live one's life just around making a living, which can be an endless drudgery of existing to pay bills. However, this is the way most people carry on their lives.
Steven J. Cole on Bible.org shares a marvelous story that illustrates this point.
"An American businessman was at the pier of a small coastal Mexican village when a small boat with just one fisherman docked. Inside the small boat were several large yellowfin tuna. The American complimented the Mexican on the quality of his fish and asked how long it took to catch them.
"The Mexican replied, 'Only a little while.'
"The American then asked why didn't he stay out longer and catch more fish.
"The Mexican said that he had enough to support his family's immediate needs.
"The American then asked, 'But what do you do with the rest of your time?'
"The Mexican fisherman said, 'I sleep late, fish a little, play with my children, take siesta with my wife, Maria, stroll into the village each evening, where I sip wine and play my guitar with my amigos. I have a full and busy life, senor.'
"The American scoffed, 'I am a Harvard MBA and could help you. You should spend more time fishing and with the proceeds buy a bigger boat. With the proceeds from the bigger boat, you could buy several boats. Eventually, you would have a fleet of fishing boats. Instead of selling your catch to a middleman you would sell directly to the processor, eventually opening your own cannery. You would control the product, processing, and distribution. You would need to leave this small coastal fishing village and move to Mexico City, then to L.A. and eventually to New York City, where you will run your expanding enterprise."
"The Mexican fisherman asked, 'But senor, how long will this all take?'
The American replied, 'Fifteen to twenty years.'
'But what then, senor?'
The American laughed and said, 'That's the best part. When the time is right, you would announce a stock offer, sell your company stock to the public, and become very rich. You would make millions.'
'Millions, senor? Then what?'
"The American said, 'Then you would retire. Move to a small coastal fishing village where you would sleep late, fish a little, play with your kids, take siesta with your wife, stroll to the village in the evenings, where you could sip wine and play your guitar with your amigos.'
Don't worry when it seems you don't have enough to make ends meet. Don't live your life the way most people do – caught up in a vicious cycle of trying to get more and more so you won't have to be worried about money, or so you can live in ease.
Focus instead on the higher things of life. Nurture and develop your relationship with God through Christ. Make God's business your business, placing it above all other business, and the Lord will take care of everything else.
Tell your creditors to get in touch with your brother-in-law. Well, no, perhaps it's best not tell them that unless a Nun is your sister. But neither should you be consumed with anxiety. You can trust your heavenly Father and turn the matter over to him.
© Rev. Mark H. Creech
---
The views expressed by RenewAmerica columnists are their own and do not necessarily reflect the position of RenewAmerica or its affiliates.
---