Rev. Mark H. Creech
Aloof evangelical leaders contributed to Roy Moore's defeat

By
Rev. Mark H. Creech
December 18, 2017
John Oxenham has written, "He [God] writes with characters too grand/For our short hand to understand/We catch but broken strokes, and try/To fathom all the mystery/Of withered hopes, of death, of life/The endless war, the useless strife-/But there, with larger, clearer sight/We shall see this – His way was right."
Such beautiful words which reference God's sovereignty over life's disappointing and tragic events may be at times our only consolation. The full assurance that God reigns, is too kind to be cruel, too wise to make a mistake, and too deep to explain himself, is what brings comfort to me as I think of Alabama Judge Roy Moore's failure to win a U.S. Senate seat.
Nevertheless, I am admittedly angry and struggling to keep it in check. It's not that I am so much incensed at the cheap tricks of the Democratic Party, or a leftist media, or the Republican establishment, as I am at certain evangelical leaders.
Roy Moore has carried the flag of conservative evangelicals for decades. In a recent 4 minute YouTube post, I think he encapsulated his consistent stand through the years. He said:
"Today, we no longer recognize the universal truth that God is the author of our life and liberty. Abortion, sodomy, and materialism have taken the place of life, liberty and the pursuit of happiness...We have stopped prayer in our schools...We have killed over 60 million of our unborn children. We have redefined marriage and destroyed the basis of the family, which is the building block of our country. Our borders are not secure. Our economy is faltering under an enormous national debt. We have a huge drug problem. We have even begun to recognize the right of a man to claim to be a woman, and vice versa. We have allowed judges and justices to rule over our Constitution, and we have become slaves to their tyranny. Immorality sweeps over our land."
You would think such unwavering support for such a principled stand, the one touted over and again by evangelicals, would garner more than the friendship of fair-weathered friends. It didn't. At the first sign of allegations of sexual misconduct – allegations – no more and no less – several evangelical leaders backed away from Moore and stood aloof from him for the remainder of his campaign. Their reserve, the manner in which they distanced themselves from him, in my estimation, was what kept enough evangelicals at home to cause his defeat.
One highly esteemed evangelical leader said he thought the allegations against Moore were credible, and, therefore, he couldn't vote for him. In other words, he believes in approximating the truth. Wow! Now there's a strong Christian worldview! Withdraw support if the allegation might be true! Let's hope that evangelical leader is never wrongly accused and treated the same way.
What about the question of Roy Moore's credibility? He had a spotless record of service. Perhaps these evangelical leaders now believe the accusations of Potiphar's wife against Joseph should have been believed. Certainly, no woman would ever lie about something like that! Contrary to much of what's being said at the moment, it happens every day.
In his blog, Rod D. Martin, whom Fox News refers to as a "tech guru," Martin insightfully writes that some evangelical leaders "found Moore distasteful from the beginning, and saw in the allegations an opportunity to distance themselves, even at the expense of character assassination. And others saw virtue signaling to their audiences as virtue itself, or at least an opportunity to jockey for position in their herd." He adds, "Moore didn't lose because 'Trump has no coattails' or 'Bannon is an idiot' or any of the other trash talk du jour. He lost because of a naked character assassination, aided and abetted by many on his own side..." Martin concludes, "The church has too many wolves in sheep's clothing. But it also has too many sheep in shepherd's clothing."
I see it that way too. I believe many Christian leaders were simply cowards, and really more concerned about the potential splatter from political mud-slinging getting on them if they stood with Moore. They were fearful it might be proven at some point Moore was truly guilty. Still, I am persuaded it is better to be found as having been betrayed than having been the one who betrayed.
Warning!!! If you're ever a candidate for office or a Christian activist in the public square, don't count on these Christian leaders to have your back if you get into trouble. A well-organized hit job on you may be enough to make them back off and leave your posterior swinging in the wind.
They like to sit in their ivory towers and safely pontificate on politics. They're fascinated CNN, the Washington Post, and the New York Times call them for interviews. Just keep in mind these guys are mostly academics and have never actually been on the field and in the game themselves. They personally know little or nothing about the serious cuts and bruises that will inevitably be sustained in a contest between good and evil, especially one as strategic as a U.S Senate seat when the nation is morally and fundamentally divided. And perhaps more often than not, they fail to realize that they are little more to the media outlets calling on them than "useful idiots" for a leftist agenda. They grossly underestimate the enemy and highly undervalue those who put their lives and reputations on the line to serve.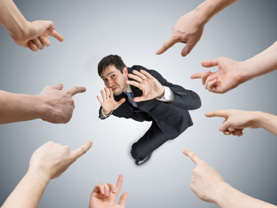 Please spare me the echoes of the right raised to a fever pitch by the left about protecting vulnerable women from sexual harassment and children from pedophilia, especially when that same left wants to allow men into women's restrooms, locker rooms, and showers. Those so concerned about what the left thinks and whether they'll call evangelicals hypocrites have a misplaced concern.
When evangelicals called for President Bill Clinton's resignation after it was proven he had behaved unworthy of his office, the media and the political left christened evangelicals, "self-righteous." When evangelicals support a man who has allegations against him that are unsubstantiated, the left calls them, "hypocrites."
Jesus referenced something like this in his own day, when he said, "For John [the Baptist] came neither eating nor drinking, and they said, 'He has a demon!' The Son of Man [Jesus] came eating and drinking, and they said, 'Look at this glutton and drunkard..." (Luke 7:33). Nefarious forces are never adept at discernment, but most practiced in accusation.
Granted, our first allegiance is always to the Lord. But how can we really show allegiance to God whom we've never seen, if we can't demonstrate faithfulness to a brother who has shown himself credible?
Yes, God is indeed sovereign but there is a price to be paid for this kind of folly.
© Rev. Mark H. Creech
---
The views expressed by RenewAmerica columnists are their own and do not necessarily reflect the position of RenewAmerica or its affiliates.
---