Rev. Mark H. Creech
The handwriting on the wall: will you believe it?

By
Rev. Mark H. Creech
April 22, 2017
The deterioration of national moral character means inevitable tragedy.
That was the message to Belshazzar, the Babylonian King, who was celebrating in revelry, extravagance and luxurious passion when he made a momentous and daring decision.
In Daniel chapter 5 of the Bible, it is recorded that at the height of a tremendous festival he ordered the vessels of gold and silver that were taken from the Temple in Jerusalem to be brought. Belshazzar would use them as wine goblets, while in his orgy he praised his own gods. It was an open defiance of the living God of Israel whose moral requirements were known throughout the world.
Suddenly, a ghostly hand appeared in front of everyone to write on the wall of the palace banquet hall. It was a message of judgment for a people who were godless in their behaviors. As they drank from cups dedicated to God's service, the irony was that sin's work of dissipation had filled the cup of their lives and was overflowing. The hand writing upon the wall was God's own, saying, "Mene, mene, tekel, upharsin" – meaning "numbered, numbered, weighed in the balances and found wanting; your kingdom is gone."
Before that very night would end, King Cyrus of Persia would attack Babylon; Belshazzar would be slain, and Darius given the kingdom.
The truths of this story are self-evident for our own time.
To trifle with God, who is sovereign over the nations, is to invite disaster.
Babylon had enslaved "God's Chosen People." No doubt, they couldn't have been more marginalized. Their influence was essentially negated. They were not at liberty to worship God freely. Belshazzar thought of God and His people as powerless.
Whether we speak of the nation of Israel or spiritual Israel, the Church, let it be proclaimed far and wide that God's people can never be discounted in his scheme of national and worldly affairs. They are always at the heart of what He's doing.
To bless God's people is to be blessed. To curse God's people is to be cursed. (Gen. 12:3)
The Temple vessels Belshazzar desecrated were not simply things; they were images and pictures of a real counterpart. The vessels speak of the people of God – those whom God intends to fill with Himself – those whom God ordained to pour out His blessings upon the earth.
A sure sign of coming judgment to a country is when that which is dedicated to God and reserved for holy use is filled with venality and vice. It is most telling for any nation when the presence of true religion is co-opted in the name of idolatrous practices.
Belshazzar, the Bible says, called for someone to read the handwriting on the wall, but only Daniel, the prophet of God, could read it. Preceding the judgment of a nation, those who truly know the Lord – those who understand His commands may not be prevalent or popular, but they will still be in demand. Only they can really discern the times.
We've all heard the old adage, "Those who don't learn from history are destined to repeat it." Indeed. But obviously, Belshazzar had not learned this lesson. His father, Nebuchadnezzar, had been a proud man and ignored God. For this he suffered from insanity for seven years before finally confessing, "Now I Nebuchadnezzar praise, exalt, and honor the King of heaven, for all His works are true and His ways just, for He is able to humble those who walk in pride" (Dan. 4:37). Belshazzar knew all of this but refused to learn from it (Dan. 5:17-22).
History tells us that twenty-two great civilizations have risen and fallen, and the reasons for their demise are amazingly similar.
They abandoned their religious convictions, fully rejecting basic tenants of morality.


They were obsessed with sex and its perversions.


They reduced the quality and intrinsic value of their money, while also increasing the general price level of goods and services.


They no longer viewed honest work as a necessary virtue.


They allowed respect for the law to seriously diminish, and violence became an accepted means for achieving both individual and group ends.

Will we learn from history? These five reasons for the destruction of previous mighty civilizations are currently rampant in America.
Are we seeing the handwriting on the wall? Most definitely! It seems that judgment is imminent!
"Judgment? By whom or what standard?" someone protests defiantly. "What right does anyone have to judge me?" If he had been afforded the time, Belshazzar might have said the same. Nevertheless, the hand that wrote on that wall was God's, telling Belshazzar and the people of Babylon that they had been weighed in His balances and found wanting.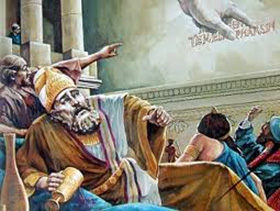 Today people often argue that they have their own balances and scales for judging life's issues, but one day everyone is going to face God as He really is and be judged by the standards of His Word. We won't be able to bring our own scales on Judgment Day; we'll be weighed on His alone.
Christ died on the Cross to redeem people of every kindred, tongue, and nation. Dr. George Sweeting, former chancellor of Moody Bible Institute has written, "No nation can rise above the faith and character of its individual citizens. America has a choice to make. Either we turn back by faith in Jesus Christ, or we will join the fate of other long-forgotten nations."
Why are we so foolish to believe that we can escape the judgment of God? Why do we continue ignoring the handwriting on the wall? Why aren't clergy claiming this from the rooftops?
We will either go to our knees in repentance and faith or be driven to our knees in defeat.
Will you trust Christ as your Savior today? Christian, have you fallen into sin and in need of making things right with your Lord?
Let us heed the call of Jeremiah 18:8 before it is too late: "If that nation, against whom I have pronounced, turn from their evil, I will repent of the evil that I thought to do unto them."
God save the great state of North Carolina. God save the United States of America.
*******
The author acknowledges with appreciation that much of the content for this article was drawn from a book titled, Keeping Free, by Frank Pollard, Broadman Press, 1983.
© Rev. Mark H. Creech
---
The views expressed by RenewAmerica columnists are their own and do not necessarily reflect the position of RenewAmerica or its affiliates.
---