Rev. Mark H. Creech
Easter: authentic life and liberty

By
Rev. Mark H. Creech
April 17, 2017
Few Americans truly understand to what degree our way of life is being challenged. We are threatened by forces from without, but worse still by forces from within. Our greatest problems are intellectual and moral. Now more than ever we need to connect with those principles that made us who we are, and one of the most important is freedom.
Too often we have consciously and unconsciously misinterpreted freedom. We seemingly have come to believe it means we can do whatever we want, whenever we want, and wherever we want. We have come to believe that it means no limitations on our thoughts, our words, our behavior, and that this lack of limitation is the essence of freedom.
Jesus spoke about freedom. The Scriptures say, "Then said Jesus to those Jews which believed on him, If ye continue in my word, then are ye my disciples indeed; And ye shall know the truth, and the truth shall make you free" (John 8:31, 32).
Nothing speaks to the issue of liberty more than the Gospel of Christ. Central to its message is that Christ is the great Emancipator. His sacrifice on the Cross provides an internal freedom – freedom from the enslaving power of our broken inner natures – freedom from sin and its penalty, which is death and judgment.
Jesus also said, "The Spirit of the Lord is upon me because he hath sent me...to set at liberty them that are bruised" (Luke 4:18).
Our nation's founders were keenly aware that both the moral ethic of civil liberty and the Christian reality of spiritual liberty were interlocked. History reveals that stable democratic republics in the West were largely drawn from the wellspring of minds and hearts who had embraced the internal liberty that they had come to know in Jesus Christ. The liberty of the Gospel was essentially the spark that lit the fires of the American idea.
Constantly today it seems that a new revolution of some kind is being announced. What we really need in this country, however, is to get back to that driving force which was behind the American Revolution.
What was it? The answer comes as a surprise to many. It was the firm conviction that if Christ would die to set men free to live for him – what right did the King of England have forcing people to live and die for the British crown? Thus, one of the great cries of the American colonies was, "No King, but King Jesus!"
When Daniel Webster in 1851 was reviewing the great history of our nation, he noted this connection between the spiritual and the civil. "Let the religious element in man's nature be neglected," he wrote, "Let him be influenced by no higher motives than low self-interest, and subjected to no stronger restraints than the limits of civil authority, and he becomes the creature of selfish passions or blind fanaticism...On the other hand, the cultivation of the religious sentiment represses licentiousness...inspires respect for law and order, and gives strength to the whole social fabric, at the same time that it conducts the human soul upward to the Author of its being."
A hundred years after Webster, Charles Malik, Ambassador to the United Nations from Lebanon affirmed the same, saying, "The good in the United States would never have come into being without the blessing and the power of Jesus Christ...I know how embarrassing this matter is to politicians, bureaucrats, businessmen and cynics: but, whatever these honored men think, the irrefutable truth is that the soul of America is at its best and highest Christian."
There is an old story about a kite that wanted to be free. He was thrilled the day his master took him out, and he caught the wind and was raised high above the earth. But before long he realized he could fly only so far. His master had quit letting out the string.
"Why am I held back like this?" he fretted. "If you think I am high in the sky now, if I could only be let loose and be given my freedom, then I would show them how high I could go."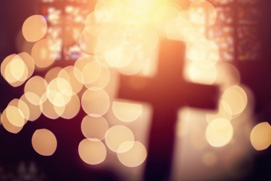 One day while the kite was fretting in this manner, the string broke. The kite wavered for a minute or two, was blown from side to side, then suddenly it turned topsy-turvy and came floating down, unable to right itself. Finally, it was swept by a strong wind against an electric light line and there it hung helplessly suspended, all tattered and torn. Its freedom was its ruin.
It is a false freedom that leaves people at liberty to do whatever they want, whenever they want, wherever they want; true freedom is being tied tightly to our moorings.
Jesus taught that there is a framework to liberty – a group of principles and laws within to which we must adhere. More importantly, Jesus said that he was the embodiment of those principles and the very fulfillment of those laws. To know him is to know the truth, and to know the truth is to be free indeed.
William R. Inge has wisely said, "Christianity promises to make men free, but it never promises to make them independent."
Our national holiday of Easter provides the solemn reminder that the sacrifice of our own wills, death to ourselves, for God's sake and that of our fellowman is what results in authentic life and liberty.
© Rev. Mark H. Creech
---
The views expressed by RenewAmerica columnists are their own and do not necessarily reflect the position of RenewAmerica or its affiliates.
---