Rev. Mark H. Creech
Nonresistance to alcohol compromises marijuana resistance

By
Rev. Mark H. Creech
November 21, 2016
The votes for advancing alcohol sales across the Tar Heel state were alarming this year. A total of 27 alcohol referendums were held in Alexander, Bertie, Burke, Camden, Cleveland, Davidson, Davie, Gaston, Haywood, Johnston, and Stanly counties. Every referendum succeeded with votes in favor of greater access to alcohol besting limited sales by an average of 62.3% to a 37.1% margin.
It used to be 30 to 40 years ago, if there was an alcohol referendum on the ballot in some city or town in North Carolina, nearly every mainline church would join forces to defeat it. There was a general consensus among churches that easier access to alcohol was inherently problematic, bringing with it hosts of social problems. Today, however, it's difficult to find a handful of churches willing to oppose an alcohol referendum.
Thus, the primary reason pro-alcohol forces bent on making new markets for wine, beer, and spirits had a banner year in North Carolina.
Pastors rarely, if ever, preach on the subject of alcohol use and abuse in their churches anymore. A few years ago, a pastor asked me to come to his church and preach on the topic. After I finished my sermon, several people came up to me afterward and said it was the first full sermon they had ever heard on the subject.
What concerns me is another threat coming down the pike that was also up for a vote on Election Day, not in North Carolina but in other states. And the compromise of our churches on the alcohol issue, I believe, places us in a vulnerable position to effectively resist it.
According to the Washington Post, "Voters in California, Massachusetts and Nevada approved recreational marijuana initiatives Tuesday night, and several other states passed medical marijuana provisions, in what is turning out to be the biggest electoral victory for marijuana reform since 2012, when Colorado and Washington first approved the drug's recreational use."
Maine also voted on a recreational marijuana initiative, but the vote is so close that it will take at least a month to determine whether it succeeded. The Huffington Post also notes that "[e]ven without Maine, 66.9 million Americans living in seven states and the District of Columbia – or 21.4 percent of the U.S. population – will soon have access to legal marijuana."
Does this concern you, citizen Christian? If not, it certainly should. On top of all the quantifiable damage done to individuals, families, and society caused by alcohol – on top of all the quantifiable damage caused by tobacco to the public's health – now there is a movement with serious momentum to legalize recreational marijuana – something some of the most reputable studies from Europe and the United States have found has multiple significant adverse outcomes.
Interestingly, the same arguments made in favor of legalizing recreational marijuana are essentially the same made when an alcohol referendum proposes lifting restrictions on alcohol sales in our state:
It's needed to generate more tax revenue


It's needed to enhance economic growth


It will create new jobs and new opportunities


It will provide better control, ending the business of illegal sales.

Just as these always prove to be false promises for communities that vote in favor of an alcohol referendum, they'll prove over time to be false for any state that legalizes marijuana.
Of course, one can never talk about alcohol and marijuana in the same sentence without someone quickly pointing out that Prohibition was a failure, and, therefore, the current prohibition on marijuana needs to also be lifted.
Such claims, however, don't stand up to scrutiny. It is true Prohibition didn't end alcohol use altogether, but it did succeed in reducing consumption and its harms.
William J. Bennet and Robert White in their book,
Going to Pot,
reference journalist Daniel Okrent's recent research in his book on Prohibition, titled
Last Call.
They write:
"Prohibition had the effect of reducing alcohol consumption by 70 percent in its first few years. Furthermore, the highest rate of consumption of alcohol in American history was 2.6 gallons of pure alcohol per person just before Prohibition. It stayed below that for a long time, even long after repeal, not reaching that level of 2.6 gallons again until 1973."

The authors also cite research from Professor Mark Moore of Harvard's Kennedy School of Government noted in an article from the
New York Times:
"Cirrhosis death rates for men were 29.5 per 100,000 in 1911 and 10.7 in 1929. Admissions to state mental hospitals for psychosis declined from 10.1 per 100,000 in 1919 to 4.7 in 1929. Arrests for public drunkenness and disorderly conduct declined 50 percent between 1916 and 1922...[V]iolent crime did not increase dramatically during Prohibition. Homicide rates rose dramatically from 1900 to 1910 but remained roughly constant during Prohibition's 14-year rule. Organized crime may have become more visible and lurid during Prohibition, but it existed before and after."

To contend Prohibition didn't work is an untenable argument, no matter who makes it. What is more, to claim the current prohibition on marijuana hasn't worked is just as untenable because, like alcohol, legalization won't reduce consumption or harms but only increase both.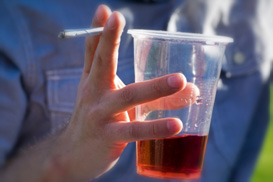 Since 2008 there has been legislation filed in the North Carolina General Assembly to legalize medicinal marijuana, which is simply the first step toward legalizing recreational pot. Each year, these measures have been rejected.
Still, the point here is that this issue will continue to push North Carolinians for a decision in its favor. And if churches don't start taking on alcohol as a threat to their communities, if preachers don't start preaching against alcohol use and encouraging abstinence, if citizen Christians are unwilling to resist alcohol for what it is – America's number one mind-altering drug that destroys more lives than all the other drugs combined – then there seems to be little ground for standing on to defeat weed.
Don't misunderstand me. Prohibition is a dead issue and it isn't coming back. Nevertheless, the less resistance there is to alcohol, the wider the door swings for marijuana legalization to sashay in.
© Rev. Mark H. Creech
---
The views expressed by RenewAmerica columnists are their own and do not necessarily reflect the position of RenewAmerica or its affiliates.
---