Rev. Mark H. Creech
Alcohol worse than guns?

By
Rev. Mark H. Creech
June 25, 2016
Instruction, advice, given seasonably, is a beautiful thing. That's what the writer of Proverbs was saying when he wrote, "A word fitly spoken is like apples of gold in a setting of silver" (Proverbs 25:11).
I thought about that principle recently when I read Franklin Graham's words about Democratic Congressional leaders holding a sit-in on the House floor of the Capitol. Graham said:
"Democratic leaders in the House had a sit-in last night! Do they think this is the 1960's? The President, along with many Democratic leaders, believes the problem in the world is with guns. The Bible says, "The heart is deceitful above all things, and desperately wicked: who can know it?" (Jeremiah 17:9). That is so true. It takes a human being to pick up a gun and pull the trigger. More people are killed with knives annually in the United States than with rifles. More people are killed by drunk drivers annually in America than with all the guns. But you don't see them having a sit-in to ban alcohol! The hypocrisy of our leadership never ceases to amaze me. Our government has become so dysfunctional."
Wise reproof. Well given by a wise reprover.
It was Graham's words about alcohol, however, that mostly captured my attention. I doubt it ever crosses the minds of most Americans that alcohol is actually more problematic for our country than guns. The trail of alcohol is one of ignominy and death.
According to
Everytown for Gun Safety/Support Fund
, which claims to have the "most comprehensive, up-to-date sources of data to measure America's unprecedented levels of gun violence," an average of approximately 33,000 people were killed annually by guns from 2010–2014. This includes every category, homicide, suicide, unintentional deaths, legal intervention, and undetermined intent.
By contrast, according to the
National Institute on Alcohol Abuse and Alcoholism
, nearly 88,000 people die annually from alcohol-related causes.
Furthermore, the
U.S. Department of Justice Report on Alcohol and Crime
found that alcohol abuse was a factor in 40 percent of violent crimes committed in the U.S. And add to this that 37 percent of almost 2 million convicted offenders, who are currently in jail, report that they were drinking at the time of their arrest, one can only wonder how many of the large number of deaths by guns were not in some way influenced by alcohol.
Yes, alcohol is much worse than guns. In fact, one could argue that alcohol is worse than the Atomic Bomb. Most people cringe whenever they see old footage of the carnage after Hiroshima was hit with an atomic explosion during World War II. The Manhattan Engineer District Survey published a study in 1946 that concluded the death toll was about 66,000 people. Still, we tolerate something worse than a Hiroshima from the negative wake of alcohol use and abuse every year in America.
Call me an ignoramus and out of step with the times, if you wish. But when I see our nation's leaders sprawled across the floor of the U.S. House in a protest for gun control measures, I can't help but ponder in what ways alcohol may be negatively impacting them.
Now I don't mean to say that they were all drunk or that they had even been drinking. What I am asking, however, is in what way is alcohol fueling the dysfunction in our government that Graham opined about.
In the 1980s, evangelist Jack Van Impe, in his book,
Alcohol: The Beloved Enemy
asked a series of related questions. He wrote:
"Perhaps alcohol's most dangerous potential for destruction is the power to influence decisions in government. What is the impact of alcohol in the day-by-day legislative, judicial, and executive processes?
"How many laws are passed because of politicking at drinking affairs?
"How many committee compromises are worked out by key people over cocktails?
"How many votes in state legislatures and in Congress are in some way influenced by the alcohol in the blood of the elected officials?
"How many votes are missed because of hangovers?
"How many judicial decisions are tainted by alcohol?
"Is a drinking Judge competent to hand down decisions affecting the lives of individuals for years to come?
"Can Judges who abuse the product that is the nation's number one drug problem correctly evaluate cases involving other harmful substances?
"What part has alcohol played in foreign policy-making?
"If .06 percent alcohol in a person's bloodstream (about three drinks) makes a driver twice as likely to cause a traffic accident, what might the same quantity do to a negotiator dealing with problems concerning nuclear weapons?
"How much alcohol in the blood would be required to cause a chief executive to make a misjudgment that would bring about a nuclear holocaust?"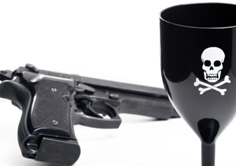 I'm not sure we should conclude such questions as pure hyperbole, when we consider media reports back in 2013 that said bartenders near the Capitol were claiming members of Congress were partying and drinking a lot during the government shutdown. Reporters covering the vote complained Congressional members smelled strongly of booze.
The Scriptures admonish leaders, "It is not for kings, O Lemuel, it is not for kings to drink wine, nor for princes strong drink; Lest they drink, and forget the law, and pervert the judgment of any of the afflicted" (Proverbs 31:4,5).
"So what's your point?" someone asks. "Are you saying we should ban alcohol?"
Nope. I'm not arguing for bringing back prohibition. Nonetheless, I am unashamedly arguing that alcohol is a bigger and even more urgent problem than guns. And while I don't believe we need further restrictions on gun ownership, I do believe governments, local, state and federal, should do more to tighten alcohol policy.
But don't worry; there won't likely be a sit-in anywhere, anytime, by anyone over that issue.
© Rev. Mark H. Creech
---
The views expressed by RenewAmerica columnists are their own and do not necessarily reflect the position of RenewAmerica or its affiliates.
---