Rev. Mark H. Creech
The choice is clear

By
Rev. Mark H. Creech
May 28, 2016
In 1993, Don Wyman, a mustached, burly mining company employee, was using his chain saw to cut up a fallen tree. It was late in the afternoon, and he was alone in the woods.
After finishing one cut, tragedy struck, when the tree snapped back in Wyman's direction and knocked him to the ground. The massive oak he was cutting landed on his left shin, shattering bone and tearing his flesh. Pinned solidly to the ground, he screamed in pain.
He tried desperately to free himself. Although he still had access to his chain saw, he couldn't reach the tree to cut himself loose. He dug around and beneath his leg, but hit a rock too large to move. Pausing every few minutes he would call out for help, but each time to no avail.
Wyman knew that if he didn't get some help soon, he was subject to bleed to death. So he weighed his options. He could lie there; hoping someone would eventually wonder within earshot or his wife might figure out something was wrong and send someone looking for him. Or he could do the scariest thing of all. He had a pocket knife with him. Maybe he could muster the strength to amputate his own leg and somehow crawl back to where he could find help.
Wyman made the toughest decision. He pulled the starter cord from his chainsaw, wrapped it around his leg, tied the cord to a wrench and formed a tourniquet that would cut off the flow of blood to his shin. Using only his pocket knife, he managed to remove his own leg just below the knee.
With only one leg left, Wyman through a series of additional challenges would have to make his way to a farmer's house a mile and a half away. The farmer, John Huber, assisted Wyman in getting the emergency care needed to save his life.
In 2003, Aron Ralston, had a similar experience. Ralston, an outdoorsman, hiker and climber was alone in Utah's Blue John Canyon. While he was descending a slot canyon, a suspended boulder shifted, crushing Ralston's right hand and pinning him to the canyon wall.
Ralston spent five days in the canyon trying to free himself. With little food and water to sustain him and constantly facing dehydration and hypothermia, his life was desperately in the balance. He tried chipping away at the rock with a multi-tool that included a dull two-inch knife, but it wasn't working. Finally, he made the only decision left to him. Like Wyman, Ralston devised a tourniquet and then employed the knife of the multi-tool to amputate his right hand and extricate himself.
Even after he was free, he still had to hike several miles out of the canyon. He would eventually run into a family that was vacationing and they hurried to alert the authorities.
When asked how he finally made the decision to cut off his own limb, Ralston said he realized that he had to take complete responsibility for his circumstances. "I realized that my situation was the result of decisions I made. I chose to go out there by myself. I chose to not tell anyone where I was going. I chose not to go with two climbers I had met in the canyon on the first day...I took responsibility for all my decisions, which helped me take responsibility of getting myself out." [1]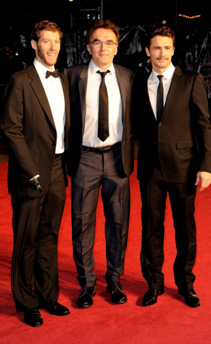 Ralston's situation was later made into a movie, "127 Hours" directed by Danny Boyle, with actor James Franco playing the role of Ralston.
Don Wyman's leg, undoubtedly, was dear to him. Aron Ralston's hand was also cherished by him. But both men recognized that even keeping something as beloved as one's own leg or hand might cost them their lives.
We too have things in our lives that we highly favor – sinful pleasures, lusts, and activities we don't want to give up. Losing them would be like amputating our own leg or hand. Yet, if we don't, if we won't take responsibility for our own poor judgment, we could die, or worse still, lose our souls.
Jesus spoke figuratively about this when he said, "If your right eye causes you to sin, pluck it out and cast it from you; for it is more profitable for you that one of your members perish, than for your whole body to be cast into hell. And if your right hand causes you to sin, cut it off and cast it from you; for it is more profitable for you that one of your members perish, than for your whole body to be cast into hell" (Mt. 5:29-30).
You know, a culture can be in similar danger. For what is a dying society but the sum total of dying individuals?
One writer described America's current moral crisis in this manner:
"The danger is imminent. Time is running out. Something miraculous must happen in the heart and soul of America...now before it's too late. The choice is clear. It is repent or perish, revival or ruin, Christ or chaos." [2]
Resources:
[1] Benoist, Michael. "Climber Who Cut Off Hand Looks Back."
National Geographic News
. N.p., 30 Aug. 2004. Web. 27 May 2016.
[2]
The Rebirth of America
. Bala Cynwyd, Pa.?: Arthur S. DeMoss Foundation, 1986. Pg. 229.
© Rev. Mark H. Creech
---
The views expressed by RenewAmerica columnists are their own and do not necessarily reflect the position of RenewAmerica or its affiliates.
---