Rev. Mark H. Creech
Wanted: true friends of religious liberty

By
Rev. Mark H. Creech
June 6, 2015
William Penn once said, "A true friend freely, advises justly, assists readily, adventures boldly, takes all patiently, defends courageously, and continues a friend unchangeably."
People of faith that have sincere religious objections to same-sex marriage have every reason to question whether they have a friend in the Governor's office, and, perhaps in certain lawmakers.
Recently, North Carolina Governor Pat McCrory vetoed SB 2 – Magistrates Recusal for Civil Ceremonies. The bill simply establishes procedures that magistrates may recuse themselves from performing all lawful marriages, based upon a sincerely held religious objection. The same accommodation would be made for assistant register of deeds and deputy register of deeds. The recusal would be for a minimum of six months and would continue until rescinded in writing. Officials recusing themselves would not be subject to disciplinary actions or prosecution.
The legislation became necessary after federal court rulings knocked down the state's constitutional amendment defining marriage as one man and one woman, forcing same-sex marriage on a citizenry that voted to uphold the traditional understanding of the sacred institution by 61 percent.
Subsequently, at least sixteen magistrates resigned their posts. Eight were known to have resigned because they felt their faith prohibited them from performing gay nuptials. Time Warner Cable News reported more resigned for the same reason, but didn't want to publicly admit to it for fear of retribution.
The state's Administrative Office of the Courts (AOC) could have easily remedied the situation by simply providing a religious accommodation. Instead, the AOC sent out a memo to magistrates and register of deeds that if they were unwilling to conform, they could be subject to suspension, firing, or even criminal prosecution.
SB 2 passed in the N.C. Senate by a wide margin of 32-16. In the House the vote was 67-43. The governor's reasoning he said for vetoing the measure was, "We are a nation and a state of laws. Whether it is the president, governor, mayor, a law enforcement officer or magistrate, no public official who voluntarily swears to support and defend the Constitution and to discharge all duties of their office should be exempt from upholding that oath."
But that's just it, the Governor's veto brings into question whether he is a friend of the law, the U.S. Constitution, or the state's constitution.
Title VII of the Civil Rights Act made it an unlawful employment practice to discharge or discriminate against individuals with respect to compensation, terms, conditions or privileges of employment because of someone's religious beliefs. The law applies to both public and private employees, but it expressly excludes some government employees, including magistrates. So later Congress passed the Government Employees Rights Act to clarify the same rights for government employees, like magistrates and register of deeds, with only a couple of slight distinctions, (1) they don't get a jury trial, and, (2) they can't receive punitive damages.
Under Title VII, the law simply requires that an employee demonstrate a bona-fide religious belief that conflicts with an employment requirement and that the employee was disciplined for failing to comply. Once this is demonstrated, then the government must show that it couldn't reasonably accommodate the conflict. This is federal law that's been on the books for many years.
Moreover, it has been federal judges that have wrongly taken away the sovereignty of states to define marriage guaranteed them by the Tenth Amendment of the U.S. Constitution. That amendment declares: "The powers not delegated to the United States by the Constitution, nor prohibited by it to the States, are reserved to the States respectively, or to the people."
Gary DeMar of American Vision, in a recent article concerning the Governor's veto rightly notes "the Preamble to North Carolina's constitution states that 'Almighty God,' not the federal courts, is 'the Sovereign Ruler of Nations,' and by extension the Ruler of North Carolina." [1]
DeMar continues, arguing, "Second, in Article IX, Sec. 4, North Carolina is designated as a 'Christian state.' This means the 'Almighty God' of the Preamble is the God of the Bible, therefore, the definition of marriage is a biblical definition and can't be redefined by any court or legislature." [2]
He concludes, adding, "These magistrates swore an oath to "support and defend the Constitution," and now they were being forced to break that oath since the US Constitution makes no provision for the redefinition of marriage and the North Carolina constitution sanctions only heterosexual marriages." [3]
Indeed, DeMar is one hundred percent correct. Yet the AOC is unwilling to make the slightest accommodation based in federal law, while the Governor acquiesces to the tyranny of federal courts.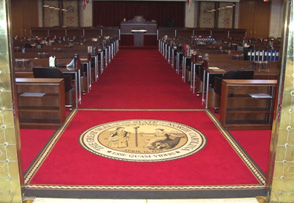 On Monday, June 1, the N.C. Senate stood up to this nonsense and overrode the Governor's veto by a vote of 32-16. The state House is planning an override vote as well, but there are a few House Republican hold-outs who are wrongly influenced by the Governor's poor example. Without their vote, the override will be short of just a handful of lawmakers needed to secure it.
It's hard to understand who the Governor and Republican hold-outs are befriending. It's not really the law. It's not the United States Constitution. It's not the North Carolina constitution. Maybe it's the homosexual activists who urged the Governor to veto the legislation. Maybe it's their own self-proclaimed nobility to represent all of North Carolina they believe guides them at this time.
To such assertions, perhaps the admonition of Aristotle is relevant, "A friend to all is a friend to none." Or, instead of loving those that are typically their political enemies, maybe they should treat their political friends, like conservatives, Catholics and evangelical Christians, a little better.
What's wanted now are true friends of religious liberty that will "freely, advise justly, assist readily," adventure boldly, "take all patiently, defend courageously," and continue as "a friend unchangeably."
Resources:
[1], [2], [3] "North Carolina Senate Shows It Has Political Balls."
Godfather Politics
. N.p., 05 June 2015. Web. 05 June 2015.
© Rev. Mark H. Creech
---
The views expressed by RenewAmerica columnists are their own and do not necessarily reflect the position of RenewAmerica or its affiliates.
---