Rev. Mark H. Creech
A calamity that threatens to blight North Carolina's history

By
Rev. Mark H. Creech
October 1, 2013
Note: The following article is North Carolina specific. However, it begs the question of how underage drinking may be affecting one's own state.
North Carolina has an interesting history with alcohol.
Most folks who know anything about the Tar Heel state have at least heard of Josephus Daniels, the newspaper magnate who started a number of publications, among them the Raleigh News and Observer.
In 1912 Daniels promoted Woodrow Wilson for President of the United States. When Wilson was elected, he returned the favor by appointing Daniels as secretary of the Navy. Among some of the changes Daniels enacted as secretary was to eliminate alcoholic beverages from aboard naval ships. Because of Joe's ban on alcohol, the sailors started drinking a lot of coffee. Thus, calling a cup of coffee a "cup of Joe" is something that resulted first as a naval term because of Daniel's opposition to alcohol.
Quite frankly, to the chagrin of some, I personally believe Daniel's tee-totaling and devout Methodist influence was a positive for North Carolina history.
And then, there is the state's past with moonshining. The term "moonshine" is based in the illegal whisky trade back during prohibition days when it was wisest to do the business only at night. The people who sold the contraband were referred to as bootleggers because they would often hide their bottles in their loose-fitting boots. Moonshine running, which was the distribution of whisky via automobiles that were fast enough to escape "revenuers," would ultimately become the billion-dollar industry known today as stock car racing. NASCAR and its relationship to North Carolina may be the one exception to something good coming out of the commerce of alcohol.
Still, it's hard to imagine anything positive arising out of North Carolina's current issues with underage drinking.
The Centers for Disease Control (CDC) tell us that underage drinking is widespread in our beloved state. In fact, 63.8% of High School students in North Carolina have had at least one drink on one or more days in their life; 19.0% had their first drink before age 13; 35% have had a drink on one or more occasion in the past 30 days; and 18.7% have engaged in binge drinking just within the past 30 days. [1]
Underage drinking leads to a host of serious health and social problems for the nation. It's a well-established fact that youngsters who use alcohol before the age of 15 are five times more likely to be abusers than those who wait until they are 21 or older. What is more, underage drinking is the main cause of death for those under the age of 21. Annually in America, approximately 5000 youth die from alcohol-related injuries. About 1900 (38%) of those 5000 deaths involved automobile accidents, about 1600 resulted from murders, and about 300 were caused by suicides. [2]
These harms are also well-documented in the Old North State. During 2009, due to underage imbibing there were 41 traffic fatalities; nearly 1700 nonfatal traffic injuries; an estimated 60 homicides; an estimated 737 teen pregnancies and more than 30,000 teens having risky sex; nearly 27,000 nonfatal violent crimes such as rape, robbery and assault and 67,400 property crimes including burglary, larceny, and car theft. [3]
What does all of this cost? It cost the nation about $62 billion a year and North Carolina pays about $1.5 billion.
Some good news is that the Chairman of our state's Alcoholic Beverage Control Commission has started organizing the North Carolina Governor's Initiative to Prevent Underage Drinking/Addiction. Jim Gardner, a former Lieutenant Governor, truly has a genuine concern for curbing our state's problem with underage drinking.
In a recent WRAL story the new Chairman of ABC said a good first step would be to restore adequate funding to North Carolina's Alcohol Law Enforcement (ALE). During the last session of the North Carolina General Assembly, lawmakers slashed the budget for ALE by nearly a third. "Gardner said ALE agents are needed to regulate what is a $6 billion industry in North Carolina. ALE agents also specialize in undercover operations that identify underage drinking, find businesses that 'over-serve' patrons and enforce other areas of the ABC statute." [4]
Gardner is right! North Carolina cannot afford to be without the expertise of a sufficiently funded ALE. Local law enforcement is not equipped, nor can they bear the additional burden of performing the very specialized services ALE renders.
I firmly agree with most of the cuts the General Assembly made when developing the state's budget this year, but I don't agree with the reductions to law enforcement. The primary purpose, if not the exclusive role of the state, is to judge and suppress evil – to defend the unalienable rights of the people – something law enforcement is meant to do. Nothing in our culture affects more negatively the life, liberty and property of the people than alcohol abuse. Therefore, ALE needs adequate funding.
In other matters of concern, Gardner told WRAL that "underage and excessive drinking on college campuses was at the top of his agenda." [5] Again, the Chairman is right. Due to drinking consequences, more than 1800 students die on college campuses every year. [6] That doesn't even take into account the vast number of injuries, assaults, sexual abuse, academic problems, vandalism, property damage, etc., that stem from a drinking culture at our universities that is clearly out of control.
Certainly another positive step in dealing with underage drinking would include the General Assembly approving legislation like
HB 782 – Fortified Malt Beverages Act.
We're living in a day when the alcohol industry, despite the fact it talks a good talk about responsible drinking and its opposition to underage drinking, continues marketing such products as "alcopops" (fruity and soda-pop tasting malt beverages), knowing full well these forms of alcoholic beverages appeal and are sold primarily to youth. Though statutes in our state define "alcopops" as spirits, the industry has gotten away with categorizing them as beer. The Fortified Malt Beverage Act would have required these products be properly categorized as spirits and limited to sales in the state's ABC stores – away and largely out of the reach of underage drinkers. Unfortunately, however, this legislation didn't go anywhere during the last session because of powerful alcohol lobbying interests who were allied against it. Yet there are few things that would have made a greater dent in the state's underage drinking problem than the approval of such legislation.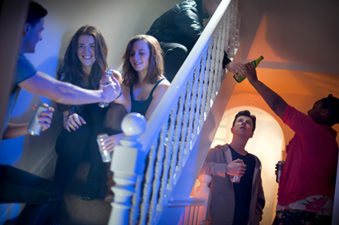 When it comes to the subject of alcohol in general, I tend to agree with Josephus Daniel's approach. But in the climate of our time, banning alcohol just isn't likely to happen except on a personal level. Effectively addressing the problem of underage drinking in North Carolina will take a comprehensive approach that involves the family, schools, businesses, and public-policy initiatives. And like NASCAR's fastest racer, all of us ought to be moving at break neck speeds to do everything possible to prevent this calamity from blighting our great state's history.
Resources:
[1] "Underage Drinking in North Carolina: The Facts."
Underage Drinking Enforcement Training Center,
http://www.udetc.org/factsheets/NC.pdf
[2] "Negative Consequences of Underage Drinking."
Too Smart to Start,
http://www.toosmarttostart.samhsa.gov/teens/facts/consequences.aspx
[3] "Underage Drinking in North Carolina: The Facts."
Underage Drinking Enforcement Training Center,
http://www.udetc.org/factsheets/NC.pdf
[4] Binker, Mark. "ABC Commission Wants to Sober Up Parties, Curb Violence."
WRAL.com,
20, September, 2013
http://www.wral.com/abc-commission-worried-about-violence-rules/12903099/
[5] Ibid
[6] "A Snapshot of Annual High Risk College Drinking Consequences."
College Drinking: Changing the Culture. http://www.collegedrinkingprevention.gov/statssummaries/snapshot.aspx
© Rev. Mark H. Creech
---
The views expressed by RenewAmerica columnists are their own and do not necessarily reflect the position of RenewAmerica or its affiliates.
---