Rev. Mark H. Creech
'The Story of America' and the threat of judgment

By
Rev. Mark H. Creech
January 18, 2013
Most that know me well understand I love looking for rare and old out of print religious books. I've found some real treasures in antique stores over the years. Last Saturday, I found another amazing book, not a religious one, but one on American history.
The book I found has a copyright of 1892 and is Elia W. Peattie's classic, "The Story of America." I've already read the first couple of chapters of its more than 750 pages and the first paragraph alone, I thought, was gripping. It reads:
"The plans of God are very wide. No nation may have the right to say, 'We are the people, and wisdom shall die with us.' Traces are left of so many great and perished nations, that we are constantly reminded that a thousand years is but a day in His sight, and that the work and progress we are so proud of may disappear and leave but little hint of us by which the coming race may guess what we were like." [1]

This quote from Peattie reminds me that our nation can take the same route of so many other civilizations that currently are no more than mere ruins. They too were proud, with tremendous prowess, power, and influence in the world. Yet today they are largely but a faint memory.
Few people understand that unlike individuals, God's judgment on nations always occurs in the here and now and not eternity. The degree to which countries are willing to live within the parameters of God's Word determines everything – their prosperity – their security – their future.
Dr. Henry Morris of the Institute for Creation Research has rightly argued:
"Can whole nations become oblivious to the true God of creation – and do business and legislate and conduct all their affairs just as though God no longer existed? If so, those nations (or at least those citizens of those nations who practice such wickedness) are in mortal danger. "Thou puttest away all the wicked of the earth like dross" (Psalm 119:119)." [2]

Of course, there are those who will rail at such a notion for America, claiming we were founded on a secular premise. These people don't have a clue about this country's real history or the history of the world, for that matter. Every nation that was ever formed has been based on some religion, except for those founded on an anti-theistic premise, like the former Soviet Union or Communist China – places people try to escape rather than violate their borders to live – places where civil liberties and freedom are basically non-existent.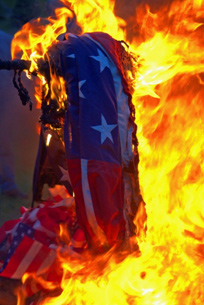 Noah Webster described the situation this way:
"Almost all the civil liberty now enjoyed in the world owes its origin to the principles of the Christian religion...The religion which has introduced civil liberty, is the religion of Christ and his apostles, which enjoins humility, piety, and benevolence; which acknowledges in every person a brother, or a sister, and a citizen with equal rights. This is genuine Christianity, and to this we owe our free constitutions of government..." [3]

Those who came to our shores to begin a new nation believed America had made a covenant with God and if violated would result in the nation's ultimate demise. John Winthrop noted:
"Now if the Lord shall please to hear us, and bring us in peace to the place we desire, then hath he ratified this covenant and sealed our commission, and will expect a strict performance of the articles contained in it; but if we shall neglect the observation of these articles which are the ends we have propounded, and, dissembling with our God, shall fail to embrace this present world and prosecute our carnal intentions, seeking great things for ourselves and our posterity, the Lord shall surely break out in wrath against us, and be revenged of such a people, and make us know the price of the breach of such a covenant...we shall be made a story and a byword through the world." [4]

It can be disheartening to see so many Americans, even Christians, live as though the talk of judgment is something far-off, conjecture, or at worst hyperbolic fear-mongering. But the threat of judgment is not an empty one, and most assuredly it isn't if America doesn't repent and return to its Christian moorings. Instead judgment is imminent and we should all tremble that our beloved civilization is destined like those of the past that ignored or forgot God to "disappear and leave but little hint of us by which the coming race may guess what we were like."
Resources:
[1] Peattie, Elia W.
The Story of America,
Chicago: Mid-Continent Publishing Company, 1892, pg. 31
[2] Morris, Henry "Nations That Forget God."
Institute for Creation Research, http://www.icr.org/article/4051/
[3] Webster, Noah
History of the United States,
New Haven, 1833, pp. 273-274
As quoted by McDowell, Stephens, Beliles, Mark,
Liberating the Nations,
Charlottesville, Va., 1995, Providence Foundation, pg. 17
[4] Beeman, Richard, Golway, Terry
American Political Speeches,
New York, N.Y., 2012, Penguin Books, pp. 1-2
© Rev. Mark H. Creech
---
The views expressed by RenewAmerica columnists are their own and do not necessarily reflect the position of RenewAmerica or its affiliates.
---