Anita Crane
Americans demand real damage control at Planned Parenthood

By
Anita Crane
August 21, 2015
"No social movement has ever succeeded without people looking at the victims," said Joe Scheidler, founder of the Pro-Life Action League. "We learn 90-some percent through sight."
He
told me that
at the 2012 March for Life, where the stunning video "
Created Equal
" by Mark Harrington was playing in public on a jumbo screen. Scheidler, Harrington and their contemporaries have saved many lives by showing the brutal truth of abortion to the public, but nothing has moved Americans to demand justice like the
Center for Medical Progress documentaries
.
Now, the Pro-Life Action League and some 65 other groups have organized the international event
Protest Planned Parenthood
for Saturday, August 22. So far, over
300 protests
are scheduled to take place at Planned Parenthood sites mostly in the United States, but also in Ireland, Honduras, Mexico and Slovak Republic.
Planned Parenthood and their allies are waging damage-control campaign and they are failing. Lawmakers, governors, presidential candidates, religious leaders and laypeople are moving swiftly because they have seen Planned Parenthood's victims. And while many people of goodwill are disgusted with media who ignore or distort the truth about extremists caught on CMP's videos, take heart.
After watching the
first CMP video
with Dr. Deborah Nucatola describing how she dissects the live little ones to sell their heads, brains and other organs, John Kass of the Chicago Tribune
couldn't contain himself
: "When we think of evil, we think of something violent or demonic, something filled with hatred and wretchedly hungry to devour the good. But what if evil eats a salad at lunch and is polite, speaking rationally with nice table manners?"
Neither could
Christine Flowers
of the Philadelphia Inquirer: "The point of this column is to scream, at the top of lungs that have not been harvested for sale, that what is depicted in both the edited and full length videos that came to light this week transcends the horrors that I've studied in my office, presented to judges, and tried to extinguish with the help of a benevolent government."
"The only thing I hate more than talking about abortion is writing about it. It's no accident that, in 2,000 columns over a quarter-century, I have never – ever – written about abortion. I've avoided the topic like a root canal," wrote 'pro-choicer'
Ruben Navarrette Jr.
of The Daily Beast.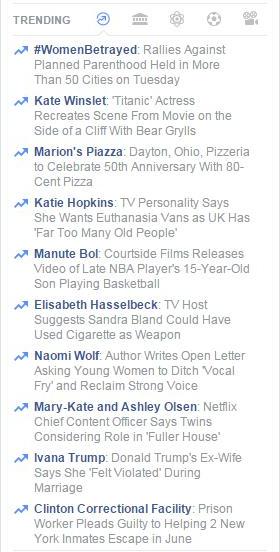 "But that is getting harder to do with the release of what are now five gruesome, albeit edited, undercover videos by The Center for Medical Progress depicting doctors and other top officials of Planned Parenthood discussing, and even laughing about, the harvesting of baby organs, as casually as some folks talk about the weather."
Students for Life of America
organized Women Betrayed by Planned Parenthood rallies that took place in 65 U.S. cities on July 28. These rallies were ignored by most media. Nevertheless, it was the top trending story on the English-language edition of Facebook that morning and afternoon.
So, consider this:
Facebook's latest stats
say that 986 million members are daily active users, and 16.9 percent live in the United States and Canada. This seems to mean that the majority of 163.6 million English-speaking North Americans were reading and talking about the protest.
Not bad in terms of social media, but it's not enough damage control for those who want to end the abortion holocaust in America and around the world.
© Anita Crane
---
The views expressed by RenewAmerica columnists are their own and do not necessarily reflect the position of RenewAmerica or its affiliates.
---