Alan Caruba
A real agenda for the GOP Congress

By
Alan Caruba
December 9, 2014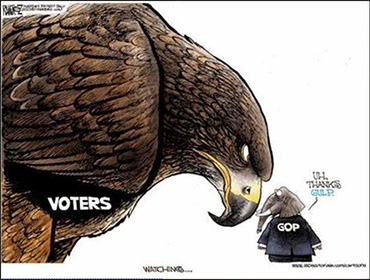 Clearly President Obama did not get the message the voters sent in the November midterm elections, electing enough Republican Senators to shift power in the Senate and to increase it in the House. Many Presidents in their second term encounter this shift, particularly if they are seen by the voters to be incompetent in some respect.
Writing in the December 9 edition of
National Review
, Henry Olsen, reminded readers that 'wave elections" do not guarantee victories to come. "In each previous case – 1946, 1994, 2010 – a Democrat held the White House and Republicans thought the wave presaged his subsequent defeat. Each time, however, the Democrat won reelection relatively easily." The GOP can only give thanks Obama cannot run in 2016, but no one should count out Hillary Clinton at this point.
Shortly after the November 4 elections Obama told the nation he heard those who voted, but also those who did not. What Obama heard, however, was that he should rewrite immigration laws. Investigative reporter
Jerome R. Corsi
, writing in World Net Daily, says no executive order has been issued, but rather that the Department of Homeland Security has been told to issue work permits and avoid deportations of illegal aliens.
One might have thought that the GOP got the message in 2012 from those Republicans who stayed home and thereby let Obama remain in office. Apparently politicians only hear what they want to. The polls indicate that Americans do not like ObamaCare and want it repealed, and that they do not want Obama's unconstitutional amnesty actions acted upon.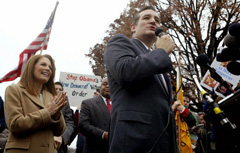 On Wednesday, December 3, House and Senate Republicans, supported by the Tea Party, joined with grassroots activists to denounce Obama's unilateral amnesty efforts. Among those participating in the TheTeaParty.net event were Senator Ted Cruz, Representatives Steve King, Michele Bachman, Louis Gohmert, Tim Huelskamp, and Curt Clawson. Also participating was Niger Innis, Executive Director of TheTeaParty.net.
As reported by the
Tea Party News Network
, the problem is "many moderates appear to be going soft on the issue" of illegal immigration "as Speaker of the House John Boehner works to try and avoid a government showdown between Democrats and Republicans."
The reported compromise is a budget bill that funds the government through to September 2015, but the Department of Homeland Security only through March to permit the new Congress to take some action on the amnesty issue.
Innis noted that the Tea Party has 2.5 million members and warned "If the Republican leadership tacitly colludes with the President, then they will have betrayed the voters who elected them and will pay the price at the ballot box. It's shocking that Republicans would even contemplate preemptive surrender before the new Congress even convenes."
Realistically, however, House Speaker Boehner cannot order Republican Representatives to vote as the Tea Party would prefer. Voters tend to assume that there is party unity among the House Republicans, but in reality they vote their own political interest and those range from liberal to conservative. It is, however, worth remembering that not one Republican in Congress voted for Obamacare.
On December 3, The Daily Caller's White House correspondent, Neil Munro, reported that he had heard that "House Speaker John Boehner will ask Rep. Nancy Pelosi to help him overcome 'snowballing' GOP opposition to the GOP leadership's draft 2015 government budget bill" which would fund the entire government for 2015" and "makes merely token efforts to stop President Obama's agencies from implementing his unpopular amnesty, according to rank-and-file GOP legislators."
On the day after the November 4 midterm elections, The Washington Post, reported that "This
will
be the most dominant Republican Congress since 1929, with an almost-certain 8 percent majority in the Senate and an 11.7 to 17.7 percent majority in the House. That trumps the party's 6.3/13.3 percent majorities in the 80th Congress that began in 1947."
Dominant in numbers, but is the GOP leadership acting hesitantly regarding either amnesty issues or the repeal of ObamaCare? It's more like that are acting pragmatically, realistically. They know that Obama would veto such legislation. Symbolic votes are not useful. Practical politics that accomplish real goals is.
I believe that Congressional Republicans have decided to let the courts deal with the issue of Obama's unconstitutional over-reach. On December 3, CNS News reported that "A coalition of seventeen states have joined together to file a suit against the Obama administration." The states are mostly southern and Midwestern. In addition, law suits opposing ObamaCare are also making their way through the courts.
One cannot blame the voters for being angry and impatient.
On November 25,
Rasmussen Reports
said of its latest survey regarding Congress, "Even though they just voted for a new Republican majority, voters still give Congress dismal marks and the majority believes members get re-elected because the system is rigged." The survey found that "just eight percent (8%) of likely U.S. voters rate Congress's performance as good or excellent. Sixty-four percent (64%) rate their performance as poor, also in line with earlier surveys."
As the new GOP-controlled Congress takes over in January, Republicans should hope that it will begin to simplify the tax code, cut spending, reduce the huge national debt, aid the growth of the energy sector, and crack down on rogue agencies. That would be a good start toward electing a Republican President in 2016.
© Alan Caruba
---
The views expressed by RenewAmerica columnists are their own and do not necessarily reflect the position of RenewAmerica or its affiliates.
---