Alan Caruba
Democratic voting bloc-heads

By
Alan Caruba
October 20, 2014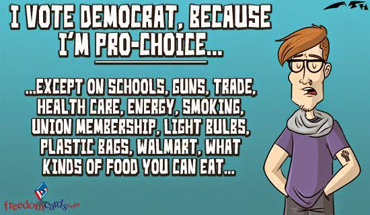 As this is being written, Rasmussen Reports says that 48% of likely voters approve of President Obama's performance in office while 50% disapproved. Other polls indicate far more unhappiness with Obama, but in general one must conclude that half the voters are idiots. He is an enormous failure domestically and with his foreign relations.
In early July, a Quinnipiac University national poll found that Obama was regarded as "the worst president since World War II." The only poll that counts will be the midterm elections on November 4th.
We know that Republicans and a significant percentage of independent voters will pull the lever for the change needed to save the nation from Congressional gridlock and whatever further mischief and idiocy Obama will seek to impose, but what do we know about the Democratic Party's voting blocs? They say a lot about America today.
A website called Debt.org, offers a look at the "Economic Demographics of Democrats." It offered the following conclusions:
# Generally, Democrats live closer to a coast – East or West – living more in cities than Republicans. Populated areas have a higher concentration of minorities who "overwhelmingly vote Democrat."
# They tend to have more women in their ranks than Republicans and this is true as well of gays and lesbians.
# They support organized labor, unions, more.
# They are slightly younger than Republicans and "increasingly less religious."
After years have telling Americans that Republicans are engaged in "a war on women" it should not come as a surprise that 37% of women are Democrats while Republicans have 24%. Unmarried women vote Democrat about 62% of the time, while married women tend to split between the parties.
What may well save the nation from the split between the two political parties is the fact that 43% declare themselves to be politically independent.
Economically, people earning less than $15,000 a year represent 31% of Democrat voters. Those earning $50,000 or more vote Republican or independent. The average median household income in the U.S. is $49,777, right near the point where the Democratic advantage in numbers disappears.
While the President and the Democratic Party are forever complaining about the inequality of the wealthy while endlessly taking their money for campaigns, a review of the twenty richest Americans as listed by Forbes magazine found that 60% affiliate with the Democratic Party!
Would it surprise anyone to learn that Republicans are better educated than Democrats? Or that Democrats tend to be slightly younger, with an average age of 47. This voting bloc, 46 million, is anticipated of increase to 90 million in 2020.
Racially and ethnically, Republicans are 87% white as compared to Democratic supporters.
African Americans mindlessly vote Democratic and are literally taken for granted by the party though an Oct 18
New York Times
article reported that a confidential memo from a former pollster for President Obama "contained a blunt warning for Democrats. Written this month with an eye toward Election Day, it predicted 'crushing Democratic losses across the country' if the party did not do more to get black voters to the polls." He said, "In fact, over half aren't even sure when the midterm elections are taking place." That's the kind of voter the Democratic Party has relied upon for years.
Jews as well give 80% of their votes to Democrats. Hispanics are the fastest growing group of voters and also tend to support Democrats, voting for them 60% to 70% of the time. They constitute 16% of the population and are expected to nearly double by 2050.
Observers of politics at this point note that Democrats are stepping up an aggressive push to woo single women, regarding of their age, level of education, or earning power, but they also note that many single women do not vote, especially in non-presidential election years like this one. The result is that older, white and more conservative women will vote more. One analyst, Jackie Calmes, notes that, according to the nonpartisan Voter Participation Center, in the 2012 presidential election, 58% of single women voted, but is predicting that will slide to 39%.
In an American Thinker.com September commentary, Chad Stafko, wrote that "The African-American voting block has become powerless and irrelevant due to its decades-old blind allegiance to the Democratic Party and the growing likelihood (is) that the group will soon be eclipsed in size by the Hispanic voting bloc." The judgment of this bloc is best seen in the fact that African Americans have voted for Democrats for years to serve as mayors in "what are now some of the most economically-challenged cities in America." Despite having voted for Obama at a rate of 93%, they have "received the brunt of the effects of the Obama-led stagnant economy."
While there is much talk of the growing Hispanic bloc, but many are ineligible to vote and those that are often do not or are concentrated in noncompetitive districts and states. One observer, Nate Cohn, noted that "Hispanic voters will represent a tiny fraction of the electorate in the states and districts critical to the battle for control of Congress." Currently that represent about 17% of the U.S. population and a quarter of them are under age 18 and cannot vote. Only 69% of adult Hispanics are citizens as compared with 96% of adult-non-Hispanics.
In general, Democrats may have numbers, but those voters are just as likely to skip the upcoming midterm elections. When you add in concerns about Ebola and the economy, there's even more reason to believe they are less motivated to vote. In contrast, Republicans and a large segment of independent voters are far more motivated.
The Democratic Party depends on voting blocs of less educated, less wealthy, more knee-jerk voters than the Republican Party, and thanks to a liberal news media the GOP has problems getting out its message and responding to the lies the Democratic Party incessantly repeat.
Even so, political pundits are predicting that the midterm elections will sweep Democrats from office and defeat their candidates. That's the good news.
© Alan Caruba
---
The views expressed by RenewAmerica columnists are their own and do not necessarily reflect the position of RenewAmerica or its affiliates.
---