Alan Caruba
An American decline that must be reversed

By
Alan Caruba
October 17, 2014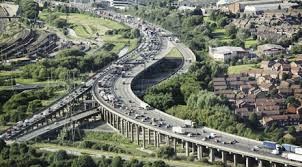 The tendency of pundits is to address the decline in American culture and traditional moral values. The concerns addressed include the rather sudden, but widespread embrace of same-sex marriages or calls for the legalization of marijuana so anyone can get high without the fear of arrest.
You can probably name a few things you consider evidence of decline, but there is one you are not likely to notice much. It's the nation's infrastructure of highways, airports, waterways and ports. It's only dramatic declines such as the decay of Detroit, once one of the nation's most dynamic cities that get attention because it is so blatant. We judge the backwardness of third world nations by their bad roads and lack of infrastructure to support their economies.
We don't, however, think of the U.S. as a nation in decline, but we are.
A September study released by the
National Association of Manufacturers
(NAM) revealed that overall spending on public infrastructure fell 10.5% between 2003 and 2012. As reported by The Wall Street Journal, "Spending on highways and streets by federal, state and local governments, dropped a higher 19% during that same period, according to the study."
NAM president, Jay Timmons, said, "The United States is stuck in a decade-long decline (in infrastructure spending) that will eventually harm job creation, future productivity and our ability to compete head-to-head with companies all over the globe." When a manufacturer cannot transport their product in a timely fashion, it puts them at a disadvantage. Multiply that by the nation's many manufacturers and you have a very big problem for lack of adequate highways, roads, and bridges
The great power of America's infrastructure was supported by the maintenance it requires. The 2013 study was commissioned by the Building America's Future Educational Fund and NAM to survey manufacturers. It found that they "overwhelmingly viewed America's infrastructure as old, inefficient, and badly in need of modernization."
Findings included 70% who believed that U.S. infrastructure is in fair or poor shape and needs a great deal or quite a lot of improvement. The same percentage believe that road are getting worse and 65% did not believe that infrastructure, especially in their region, is positioned to respond to the competitive demands of a growing economy over the next 10-15 years.
This may not seem very exciting compared to news of combat in the Middle East or the threat of Ebola, but consider that, in early October, the Financial Times reported that "China has surpassed the US in terms of GDP based on purchasing power parity (PPP), becoming the largest in the world by this measure, International Monetary Fund estimates show. In 2014 China reached $17.6 trillion or 16.48 percent of the world's purchasing-power-adjusted GDP, while the US made slightly less, 16.28 percent or $17.4 trillion, according to IMF data."
We are now number two in the global economy.
The NAM study's research, said University of Maryland Professor Jeffrey Werling, "helps confirm what engineers and executives both know, The quality and quantity of current U.S. infrastructure is deficient, and these deficiencies are already hampering economic growth."
For years, a federal fuel tax has helped underwrite needed highway construction, but it hasn't been increased since 1993 and annual collections have been declining due to fuel-efficient vehicles and motorists who have been driving less than in the past. The Wall Street Journal reported that "Congress has shown little interest in raising the 18.2 cent-a-gallon tax" and has relied on stop-gap funding.
There was a time when a politician would jump at the chance to have a bridge or a strip of highway named after him. Those days are over. We have a Congress that can barely agree on anything, let alone something as undramatic as funding infrastructure projects. The States and local communities are squeezed for their own funds, burdened with pensions and other costs.
None of this bodes well, but at least we can say we've been warned, eh?
© Alan Caruba
---
The views expressed by RenewAmerica columnists are their own and do not necessarily reflect the position of RenewAmerica or its affiliates.
---