Alan Caruba
America's education battlefield

By
Alan Caruba
October 2, 2014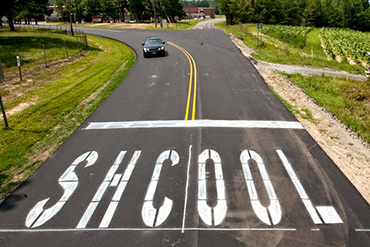 The 2010 introduction of Common Core, a set of requirements for what elementary and secondary school children should know in math and English language arts, has turned schools in one state after another into battlefields as its complexity and other factors led to protests against it. Even so, by mid-2014, a NBC/Wall Street Journal poll found that very nearly half of those asked about it hadn't even heard of it. A number of states, such as Missouri, Indiana, Oklahoma, and South Carolina have withdrawn from it.
Schools today are often under fire for one reason or another. Ever since the 1960s when teachers unions began to secure more and more control, formerly the responsibility of individual and state school boards, Americans have been engaged in efforts to improve the elementary and secondary education systems. Many have elected to home school their children. Others have pushed for school choice to permit their children to attend a school that was clearly doing a better job than the one to which their children were assigned.
As youngsters settle into their classes, there are a number of trends worth noting.
Perhaps one of the most interesting trends is the expansion of online classes into K-12. As Ashley Bateman noted in a recent issue of
School Reform News,
"In 2013 ten million students of all ages participated in more than 1,200 massive, open, online courses offered by more than 200 universities." Of value to self-motivated students in particular, online classes are sure to find a larger audience of students who have grown up in the virtual world of game playing.
Another trend was noted by Marcy C. Tillotson, an education reporter for Watchdog.org. It is the increasing demand for more and more data about each student who worry that things done at a very young age like a schoolyard fight or emotional problems will follow them into college when they have long outgrown the problems or behaviors of childhood. Parents want to know what data is being collected and who has access to it. As often as not, they cannot find out.
Increasingly, school choice, a parent's right to enroll their child in a selected public school, a private or a parochial choice, has become an issue that makes it into state legislature's where some support and some forbid it. In Louisiana and Texas, for example, school choice programs and scholarship credits have gained support as a political issue. In Florida, the teachers union has initiated a lawsuit "to eliminate school choice for many low-income students and effectively kill a program to help students with autism and other special needs." In North Carolina, its Supreme Court rendered a decision that permits more than 2,000 low-income parents to send their children to schools of their choice.
Attention to the quality of teachers, as opposed to letting tenure keep poorly performing ones in the classroom, is a growing trend. Last year in California, a first of its kind teacher quality lawsuit was decided in favor of the education reforms that brought it, striking down tenure and a similar lawsuit has been announced for New York.
As Ms. Tillitson reported,
"Vergara v. California
struck down state laws that required teacher layoffs based solely on seniority with no regard to teacher effectiveness, gave teachers permanent status after two years on the job, and made it difficult for school administrators to dismiss ineffective teachers." As this trend expands to other states, a major complaint regarding poor performance will be addressed.
At the heart of the issue of teacher quality are the programs that prepare them to teach. As Ms. Tillotson noted, "A week after a California judge ruled on a case involving teacher tenure, dismissals and layoffs, the National Council for Teacher Quality released its annual report on another fundamental problem, the poor quality of teacher preparation programs. The report found that, as a whole, the programs need improvement. "Only a quarter of the programs expect aspiring teachers to be in the top half of their college's academic pool. On a 125-point scale, the NCTQ ranked most programs as earning fewer than 50 points.
Increasingly, the quality and content of various educational programs are being questioned and challenged. One example is the College Board's Advanced Placement U.S. History Framework (APUSH) and the questions about who wrote the curriculum that is taught to 500,000 students in more than 8,000 high schools every year.
When Larry Krieger, a retired College Board-praised teacher and Jane Robbins, a senior fellow at The American Principles Project asked the College Board who was the author or authors of the program, all they got as a reference to a web page listing 19 college professors and teachers who served on two College Board committees but where not listed as authors, but as "Acknowledgements." Kreiger and Robbins call the history program "biased, poorly written, and ineptly organized"; one that "has raised alarms from state and national leaders." We keep hearing about the importance of "transparency" but apparently the College Board does not think it applies to them.
It has long been known that U.S. schools tend to perform more poorly than those in other nations. Joy Pullman, a research fellow of
The Heartland Institute
and managing editor of
School Reform News
reported that "According to two recently released studies, the schools middle-income families send their kids to are not as good as parents think."
"A national study," wrote Ms. Pullman, "found U.S. students whose parents have college degrees perform worse than peers from comparable families in other countries. In the United States, 43 percent of such children tested 'proficient' in math on an international test, compared to 71 percent of comparable students from Poland, 68 percent in Japan, and 64 percent in Germany." Overall, U.S. students performed better than those in only six countries.
Not surprisingly, Ms. Bateman has reported that "Accepting federal mandates in exchange for funding is the crux of the problem" of ever-growing educational bureaucracies at the state level. "States report that 40 percent of the paperwork burden they deal with is to comply with federal regulations," said Lindsey Burke, the Will Skillman Fellow in Education at The Heritage Foundation.
When one considers how much in tax revenue is collected for the purpose of educating our youth, one would hope for better results, but fortunately there are many individuals, parents, and organizations seeking to improve the quality of education and our schools are going to remain battlefields for many years to come.
© Alan Caruba
---
The views expressed by RenewAmerica columnists are their own and do not necessarily reflect the position of RenewAmerica or its affiliates.
---