Alan Caruba
Is a gay football player news?

By
Alan Caruba
September 6, 2014
Michael Sam, the first openly gay athlete drafted into the National Football League, did not make the cut with the St. Louis Rams after it trimmed its roster ahead of the start of the 2014 season.
Sam has been signed for the practice squad of the Dallas Cowboys, but given their dismal record of late we are not likely to hear much other than their losing scores. The only reason I would watch the Cowboys on TV is their cheerleaders!
Now we will be able to enjoy the season
without
a story every day about what Michael Sam did or said. We will not have to endure television interviews of him and his boyfriend telling us how wonderful it is to be gay in America.
If I never see a photo of those two kissing one another, I will be happy knowing that neither will a generation of young boys who want to grow up to be football players.
If you think about it, since homosexuals are about two percent of the U.S. population, it should hardly be newsworthy that a particular athlete is gay. We accept that there's a fair percentage of gays in the arts and other fields, but gay athletes are deemed – at least by the media – to be in some special category.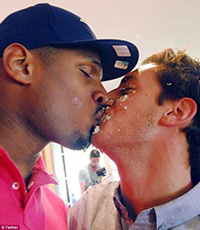 When it comes to sports, most of us only want to know if an athlete has won or lost. Writing for NBC Sports, Michael David Smith probably got the Michael Sam story right. He reported that Eric Wood, a Bill's defensive lineman, believes that "teams are avoiding Sam because they don't want the ESPN hype that would come with having Sam."
The plain fact of Sam's fate was that he was
not as good
as the others on the preseason team. Prior to the news he was not signed, Vinnie Iyer, a Huffington Post sports writer, noted "Robert Quinn and Chris Long are the Ram's elite starters at defensive end. Veterans William Hayes and Eugene Sims are the projected backups. Sam's chief competition, undrafted fellow rookie Ethan Westbrooks, was better than Sam throughout the preseason."
To show his support, Sam's boyfriend, Vito Cammisano, tweeted a photo of the couple together, wearing shirts from the University of Missouri, where they both attended college. In May, ESPN had aired a celebratory kiss between the two men. "You know, I can play in this league," said Sam. Just barely.
If you think the media devotes altogether too much "news" about gays, I would be inclined to agree. There is, however, a massive propaganda campaign conducted by gay organizations to ensure that their issues are always in the news. They hardly merit such coverage. Why should their sexual orientation be the subject of so much coverage? The answer most likely is the intense liberal orientation of the news media these days.
Nor has the U.S. ever had such a gay-oriented President as Obama in its history. On July 21, Obama signed
an executive order
prohibiting federal contractors from discriminating "on the basis of sexual orientation or gender identity." Obama said, "I firmly believe that it's time to address this injustice for every American." The EO amended a previous one issued by President Lyndon B Johnson.
Everything that can be done to undermine the moral values of the nation has been underway for several decades. In December, a judge appointed by Obama, Robert J. Shelby, issued an opinion declaring that a right to same-sex marriage is "deeply rooted in the nation's history and implicit in the concept of ordered liberty. When he was confirmed to the federal bench on September 21, 2012, no senator objected. CNN reporter, Terence P. Jeffrey, said "His opinion could fundamentally alter American law and culture."
There is not a bit of U.S. history or a word in the Constitution to justify Judge Shelby's decision.
The media, according to a June 2013 study released by the Pew Research Center, found that articles with "statements supporting same-sex marriage outweighed those with statements opposing it by a margin of roughly 5-to-1." The study was of nearly 500 stories from March 18 through May 12 "primarily focused on support for the measure..."
As children return to schools, K-12, this year, their curriculums will include support for homosexuality when many older Americans recall that this subject was
never
a part of what was taught when they attended school.
Ensuring special treatment for gays is now part of many aspects of life in America and if that isn't inherently unfair, unequal, and totally out of proportion to the other 98% of the population, than it is impossible not to conclude it is part of the government's and media's agenda these days.
None of this bodes well for America.
© Alan Caruba
---
The views expressed by RenewAmerica columnists are their own and do not necessarily reflect the position of RenewAmerica or its affiliates.
---