Alan Caruba
What economic recovery?

By
Alan Caruba
June 30, 2014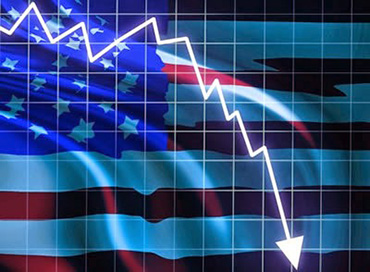 You have to know that the Obama administration has run out of excuses for destroying the U.S. economy when it starts to blame it on the weather.
According to the Commerce Department, the economy based on its Gross domestic product – the value of its goods and services – fell at a seasonally adjusted annual rate of 2.9% in the first quarter of this year. That was the largest recorded drop since the end of World War II in 1945!
The June 20 edition of The Wall Street Journal's article,
"Economy Shrank Rapidly in First Quarter"
led off by reporting that "Weather disruptions at home and weak demand abroad caused a contraction in the U.S. economy in the first quarter, renewing doubts about the strength of the nation's five-year-old recovery."
What recovery? When the economy stays in the basement for five years you are looking at an on-going stagnation based on too much government interference with growth, the decline of the nation's middle class, the lack of new start-up businesses, and the reluctance or inability of consumers to spend money, if they have any to spend.
In May, writing on his blog, Economic Collapse, Michael Synder pointed to
"27 Hugh Red Flags for the U.S. Economy"
noting, for example, that according to government numbers, "everyone is unemployed in 20 percent of all American families." The other indicators include:
# Sales for construction equipment were down 13% in April and have been down for 17 months in a row.
# During the first quarter of 2014, profits at the office supplies giant, Staples, fell by 43.5%
# Foot traffic at Wal-Mart stores fell by 1.4% during the first quarter of 2014.
# It is being projected that Sears will soon close hundreds more stores and may go out of business altogether.
# Existing home sales have fallen for seven of the last eight months and seem to repeating a pattern witnessed back in 2007 prior to the last financial crash.
# The home ownership rate in the U.S. has dropped to the lowest level in 19 years.
You do not have to be an economist to understand that President Obama's economic policies are flat-out failures that include a "stimulus" that wasted billions of taxpayer dollars without stimulating the economy, nor that having a $17 trillion debt means anything other than a nation teetering on a massive economic collapse.
In May,
CNSnews
reported that "A record 92,594,000 Americans were not in the labor force in April as the labor force participation rate matched a 36-year low of 62.8 percent, according to data released today by the Bureau of Labor Statistics."
This is not my definition of a "recession" although we are told that it ended in 2009. This is a "depression" for millions of Americans. The labor force participation rate has gone from 63.5% to 63.3%, the lowest since 1979, but the Obama administration keeps telling us that it is "improving."
Consumer spending is down. Exports are down. Employment is barely increasing. The only thing that is up is inflation.
Edward C. Prescott, a 2004 Nobel Laureate in Economics and Lee E. Ohanian, a professor of economics UCLA, writing in the June 26 edition of The Wall Street Journal, noted that the declining GDP rate was "the worst productivity statistic since 1990. And productivity since 2005 has declined by more than 8% relative to its long-run trend. This means that business output is nearly $1 trillion less today than what it would be had productivity continued to grow at its average rate of about 2.5% per year."
"Lagging productivity growth is an enormous problem because virtually all of the increase in Americans' standard of living is made possible by rising worker productivity."
The Obama administration would have you believe that the economic decline in the first quarter was due to a harsh winter. They will be blaming it on a hot summer come autumn.
This is an administration whose main theme these days is the threat of "climate change," but it has nothing to do with the climate and everything to do with vast government spending and borrowing, an explosion of regulations that have slowed or stopped the creation of new businesses, a "war on coal" that is forcing a decline in the production of electricity, and a widespread perception that the President is the worst to have held office since the nation began.
There is no recovery. There is a return to the factors that led to the 2008 financial crisis. Government entities Fannie Mae and Freddie Mac that bought up all the sub-prime mortgage loans and packaged them as assets are still in business. Credit card companies are reaching out to sub-prime users, signing them up. Nobody seems to learn anything from the past, even if it is the recent past.
If the control of the U.S. Senate cannot be wrested away from a Democratic Party led by Harry Reid and a GOP increase in the U.S. House that was led by Nancy Pelosi until the 2010 elections cannot be achieved in the forthcoming November elections, the President's continued attack on the economy – which includes a massive increase in illegal immigration – the nation's economy will remain tenuous.
© Alan Caruba
---
The views expressed by RenewAmerica columnists are their own and do not necessarily reflect the position of RenewAmerica or its affiliates.
---