Alan Caruba
It's hard being a black conservative

By
Alan Caruba
April 23, 2014
"We're not being governed. We're being ruled by incompetence."
It is refreshing to read a book that reflects one's own views and "Guardian of the Republic" by Allen West, a former Lieutenant Colonel in the U.S. Army for over twenty years and a former, one-term congressman from Florida, who is perhaps best known these days as a Fox News channel contributor. He is a very conservative, articulate black American.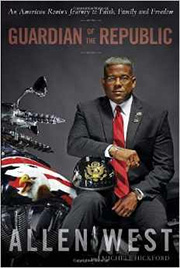 As he points out, "The Left must destroy black conservatives because it cannot afford to have freethinking, independent-minded black Americans. When the Left wins, our community loses. The result of such blind loyalty is that many black voters have come to resemble Vladimir Lenin's 'useful idiots.' They make up an electorate that is completely taken for granted and no one even bothers to listen."
It is ironic that the first black President will not only be remembered as our worst, but that his failure will reflect on the entire black community in America even while men like West and other blacks of real achievement exist.
For now, it is definitely an uphill struggle for black conservatives, particularly for those in public life. "The mainstream media," says West, "have a clear tendency to recruit other blacks to denigrate and demean black conservatives" and have "sought to disrespect and deny the existence of black conservatives, but they're losing the battle and they realize it. The big lie that has resulted in the twenty-first century economic plantation will be exposed and defeated, and our community will be restored."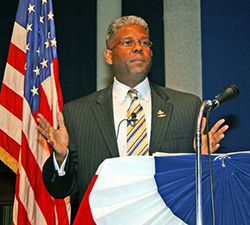 I don't know when I first heard West, but I suspect it was during his run for Congress. I do recall I was instantly and enormously impressed. He won that race and served from 2011 to 2013 representing Florida's 22nd District. His race for reelection was a classic case of electoral tampering, misconduct, and political slander by those who wanted to defeat him.
"One of my biggest frustrations and concerns about America (is that) our electorate doesn't have a clue about who we are or whence we came." Much of his book is devoted to a mini-history lesson regarding the founders, the Constitution, and the principles that set America on the path to greatness among nations. West holds two masters degrees; one from Kansas State University in political science and the second from the U.S. Army Command and General Staff College in military arts and sciences.
He had just over twenty years to practice military arts, but he had set his heart on joining the Army early on, joining the ROTC in college and thereafter being recognized at every stage for his intellect and his leadership skills. He was deployed to Kuwait in 1991 and Iraq in 2003.
West is plain-spoken. He defines our fundamental governing principles as "limited government, fiscal responsibility, a free market, individual sovereignty, a strong national defense, and an understanding that all of man's freedoms come ultimately from God."
And then he says, "Measured against our fundamental governing principles, we clearly do not have good government – heck, we suck! We have excessive debt, growing poverty, exploding deficits, an expanding nanny-state, and an anemic economy."
"The sad thing is," says West, "there seems to be no reprieve in sight. Why? Because, as a nation, we have become uninterested, uninformed, and disengaged from the truth."
Throughout his book, West mixes lessons regarding the system the Founders implemented and his fears about the present generations of Americans, given the last two elections. "I fear national-level elections have become nothing more than a version of American Idol," says West at one point. He concludes his first book saying, "We have to turn off the brain-draining reality TV shows for a few hours and read, think, assess, and challenge ourselves to be better."
West has had a remarkable life to this point and he could choose to make a lot of money in some corporate position or as an entrepreneur, but he wants to reach out, not just to the black community, but to all Americans because he is worried about where President Obama has taken the nation he loves and wants to see it saved from unimaginable and unconscionable debt.
We need a lot more men like Allen West. The black community needs to pay him and other black conservatives more attention. The rest of us should hope that a change in future administrations will bring his talent to bear on the restoration of America.
© Alan Caruba
---
The views expressed by RenewAmerica columnists are their own and do not necessarily reflect the position of RenewAmerica or its affiliates.
---