Alan Caruba
Lower than pond scum

By
Alan Caruba
February 26, 2012
Between 1955 and 1959 I was a student at the University of Miami. It was perhaps the best four years of my life and remembered fondly for its combination of fun and learning. On Thursday, February 23, President Barack Obama was on the UM campus to tell the biggest bunch of lies about energy in America I have heard compressed into a single speech.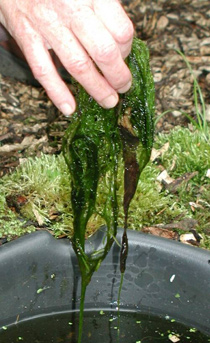 This President has already set records wasting taxpayer's money on a range of so-called clean energy and renewable energy "investments." Solyndra, the solar panel company that went bust and stuck taxpayers with a half-billion in loan guarantees is just one of those "investments" and I keep waiting for someone to ask why public funds are being flushed down the toilet when, if the companies involved were viable, they could not raise private venture capital?
"And we're making investments in the development of gasoline, diesel, and jet fuel that's actually made from a plant-like substance known as algae," said the President. "Believe it or not, we could replace up to 17% of the oil we important for transportation with this fuel that we can grow right here in America."
All politicians put the best face on their pet projects, but to flat-out lie about one of the most idiotic ideas to replace oil when this nation has enough oil, domestically and offshore, known and estimated to exist, defies the imagination. It is an insult to every one of us. And Obama wants to pump $14 million into algae, otherwise known as pond scum.
It is very likely that, like the solar panel and other "clean energy" scandals that we know about and will learn about as time goes alone, the average American is unaware that, by 2008, there were fifteen (15) algae startup companies. When I heard Obama talk about algae, I could practically hear the campaign fund-raising bundlers scurrying like rats from company to company.
To those of you not intimately and well informed about algae, it is that organic stuff that gathers in ponds and swamps and, in aggregate, is politely called "plant-like organisms that are usually photosynthetic and aquatic." It is scum. It has no roots, stems, or leaves. It is scum.
In a marine environment it is called seaweed. Algae have chlorophyll and can manufacture their own food through photosynthesis. Algae, the scientists tell us, produces more oxygen than all the plants in the world in addition to being an important food source for marine creatures as diverse in size as shrimp and whales.
The notion that millions would be "invested" to turn algae into fuel ranks just above the idiocy of converting thousands of acres of corn into ethanol instead of food.
Barack Obama has been lying about so many things for so long I doubt he even knows when he is lying or even cares. It's not enough to dismiss this saying that all politicians lie because many do not. Some in Congress right now are desperately trying to get the public in general and voters in particular to understand that America has more debt per capita than Greece. We are on the precipice of financial collapse and Barack Obama just wants to spend more and more and more; some of it on pond scum.
During his UM speech, he derided those who have for decades been saying that America has to allow oil companies access to its vast reserves in order to reduce our dependence on imported oil. "We've heard the same thing for thirty years," he said. He's right. And administrations and Congress have blocked access for just as long. It's our oil!
He went further, though. "It means that anyone who tells you we can drill our way out of this problem doesn't know what they're talking about — or isn't telling you the truth." That's rich, coming from someone who lies almost as often as he exhales. Oil is a global commodity. The more that's available to the market, the lower its cost.
Domestic oil always costs consumers less than imported oil!
The truth is that oil production on federal lands declined last year by eleven percent on lands controlled by the Obama administration and six percent for natural gas in 2011.Oil and natural gas production on federal lands is down by more than forty percent (40%) compared to ten years ago. The Obama administration, in 2010, issued the lowest number of onshore leases since 1984. In 2011, it held exactly one offshore lease sale.
On February 24, one day after the Obama speech, the U.S. Geological Survey released a report on the amount of oil estimated to exist in the North Slope of
Alaska
. "The amount of oil that is technically recoverable in the United States is more than 1.4 trillion barrels, with the largest deposits located offshore, in portions of Alaska, and in shale in the Rocky Mountain West. When combined with resources from Canada and Mexico, total recoverable oil in North America exceeds 1.7 trillion barrels.
In a 2008 Wall Street Journal interview, Obama's Energy Secretary, Dr. Steven Chu, famously said, "Somehow we have to figure out how to boost the price of gasoline to the levels of Europe." Anyone who does not believe this administration has a deliberate policy of achieving this goal is just not paying attention. Remember that the next time you fill your car's gas tank.
This is the same President who stopped the building of the Keystone XL pipeline from Canada that would provide more oil for our refineries and not cost the American taxpayer one penny to build. This is the same President who imposed a moratorium on oil from the Gulf of Mexico even after the courts told him to remove it. It caused the loss of an estimated 12,000 jobs while rigs departed for Cuba, Brazil and Mexico.
Between now and November, the President will be out campaigning and telling the same lies. The rise in the cost of oil isn't just a seasonal thing though prices have usually gone up in the summertime when people travel more for vacations. It's up because the Iranians are closing in on making their own nuclear weapons and their own missiles to hit, not just Israel, but the U.S. It's up because it is essential to ensure that the tankers oil-producing nations around the Persian Gulf can enter and exist it via the Strait of Harmuz.
The world isn't running out of oil and is not about to run out. The Earth floats on an ocean of oil despite the rising demand from Asia and other developing nations. To replace foreign oil with algae-based fuel would require a chemically-controlled tank the size of the State of Colorado, about 69.3 million acres.
In 2010, Obama's mandated biofuel production was less than ten percent of foreign oil imports. It is impossible for biofuel of any description to replace foreign oil imports; just as it is idiotic to pay $41,000 for an electric car when you can have a gasoline-fueled car for around $16,000.
Pond scum is not a rational substitute for oil and spending $14 million on its production as a fuel is beyond absurd. It is the same confidence game as selling "carbon credits" to avoid the hoax of "global warming."
© Alan Caruba
---
The views expressed by RenewAmerica columnists are their own and do not necessarily reflect the position of RenewAmerica or its affiliates.
---