Alan Caruba
Saying no to Emperor Obama

By
Alan Caruba
January 20, 2010
Yes, it's true. The emperor has no clothes. Even in a State where you cannot swing a dead cat without hitting a dozen Democrats, the voters said "No."
"We don't want your odious Medicare 'reform.' We don't want to be forced to buy insurance. We don't want a bill that exists only because every sweetheart deal and other form of bribery was used to get it to this point in the Senate." And, ignored by the media, it was no to amnesty for illegal aliens as well, another issue of Scott Brown's race.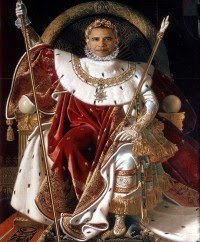 The significance of the Massachusetts victory for Scott Brown is the repudiation of Barack Hussein Obama, his policies, and his performance in office.
It wasn't the first time the voters sent the White House this message. They told him to buzz off in Virginia and they told him to get lost in New Jersey. This is a tangible voter backlash against profligate spending and excessive taxation.
Come November, the voters, Democrats, Republicans, and independents will come together to clean house in Washington, D.C. It takes no great punditry to see that coming. If the midterms were held tomorrow, the result would be the same.
It is almost beyond comprehension how Obama could have engineered a failed presidency within the space of just one year. He got a lot of help from Speaker Nancy Pelosi, as mendacious and imperious an individual to have ever held that office. He got a lot of help from Majority Leader Harry Reid, a scowling, malicious cockroach whom the voters of Nevada will remove in November.
Obama's narcissism and arrogance will blind him to the message of the Massachusetts victory. He and his press secretary, Robert "Glib" Gibbs, will put out a statement that will dismiss the historic event as just an aberration, but the aberration is Obama!
So, stand up and take a bow, Massachusetts!
Home to the Pilgrims;
home to the Boston massacre when British troops fired on protesters in 1770;
home to the 1773 tea party to protest taxes; and
birthplace of Benjamin Franklin, John Adams, Sam Adams, Elbridge Gerry, Josiah Bartlett, Roger Sherman, and John Hancock, signers of the Declaration of Independence!
Those first Americans led the resistance to the greatest power of their day, Great Britain, and its king.
For all the years Obama taught the U.S. Constitution at the University of Chicago Law School, he either never really understood it or never believed it means what it says.
He never understood that real Americans will not be pushed around, cheated of their Constitutional birthright, or be lied to.
They will push back.
A former emperor, Napoleon of France, spent his last days as an exile on St. Helena. It would not surprise me if Emperor Obama spends his on one of Hawaii's islands.
© Alan Caruba
---
The views expressed by RenewAmerica columnists are their own and do not necessarily reflect the position of RenewAmerica or its affiliates.
---