Timothy Buchanan
Faithlessness and failure

By
Timothy Buchanan
October 7, 2020
Freedom is only one election away from being forfeited. America's first leaders knew well that once lost, regaining precious liberty would require much blood-letting on many battlefields. Our generation has failed to faithfully safeguard freedom.
All of human history illustrates the fact that every major conflict is, at its core, a battle for the supremacy of truth. Those who wisely hold unwaveringly to objective truth shall always be opposed by others who seek to deny, redefine, and obfuscate the truth for self-serving ambitions of power and wealth. Political contests are no different. Each one is a struggle for the primacy of objective truth over subjective feelings.
For many of our neighbors, style is more important than substance and feelings prevail over facts. As a result, the great and noble precepts upon which the United States was built, are gravely threatened. We live in a time of profound faithlessness, when many otherwise-intelligent people are only too eager to demonstrate their ignorance and lack of integrity without fear of reproof or exposure.
When I swore, in the oath of military service, to "defend the Constitution of the United States from all enemies, foreign and domestic," I never imagined that promise would put me in direct opposition to citizens of my own country and elected officials in our government, but it has.
Ironically, in the Commonwealth of Virginia—the birthplace of patriots Patrick Henry and Thomas Jefferson—voters have chosen to be led by a majority of scoundrels, thieves, sots, and reprobates. Governor Ralph Northam, openly supports infanticide and has imposed dubious restrictions on First Amendment rights under the beguiling shroud of "health and safety concerns," while retaining the support of the General Assembly.
Elsewhere in the country, bigoted thugs and anarchists are free to loot, kill and destroy while liberal local and state officials unjustly affix blame on a system they themselves created. All across the country, people of every sort cower behind worthless symbolic masks of paper and cloth in hopes of avoiding a virus, while proudly pretending that they "care."
Benjamin Franklin prophetically warned, "They that can give up essential liberty to purchase temporary safety, deserve neither liberty nor safety."
President Trump is perhaps, the most unjustly maligned and hated leader of our lifetimes. Democrats and their footmen in national and local media have undertaken a disinformation campaign that would be the envy of the former Soviet Union's propaganda ministry. Why? Could it be that inciting fear of public gatherings and cultivating malice against the president, serves to distract public attention away from their tyrannical goals and disastrously-failed policies? Sensible people will honestly ask and answer this and other questions.
The sole reason that President Trump excites the spleen of his adversaries is that he exposes their dirty schemes and devious deceptions. Against the onslaught of a four-year-long political campaign against him, Donald Trump has proven that he will not surrender and will not negotiate with lawless Democrats who are determined to rob, kill, and destroy.
The sad reality is that a lie will often compass the world before truth leaves the harbor. Time and again, media voices have prefaced their false attacks with the preamble, "without evidence..." But then, when the evidence is revealed, no correction is forthcoming. Systematic voter fraud by Democrats is one example. Dishonest news media minions dismiss voter fraud as a myth. Is it?
In 2016, a man in Harrisonburg, Virginia was charged with casting twenty votes. Just this week, at least six mailboxes in mostly conservative Central Virginia were broken into and looted. The Democrat majority in the General Assembly eliminated the photo-I.D. requirement to vote in elections in the Commonwealth. Without a national requirement for positive voter identification, multiple balloting will expand and opposition ballots will be destroyed.
The same media scalawags who buried the facts about felonies committed by the Obama administration and unconstitutional edicts, sneered when President Trump claimed he was the victim of illegal campaign spying. And when the evidence poured in...on to the next contrived controversy.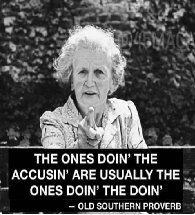 The Russia collusion accusations, persisted for over a year and a half before being debunked, and when the truth leaked out...on to the next big lie. The phony impeachment fiasco was a gamble that had inherent risks of exposure for the Biden family's corrupt connections to Ukraine and China, but when the ugly truth began to ooze out...on to the next scheme.
COVID19 seemed ready-made for the purpose of destroying the president's spectacular economic accomplishments. But then, Dr. Fauci's conflicting statements and predictions were exposed and his connection to the Wuhan lab where the virus originated became known. Truth has languished in the streets and is maliciously hidden by the crooked media.
President Trump is either admired and respected or hated and maligned—a telling commentary of our nation's failure. Many of his opponents accuse him of dishonesty, never for a moment conceiving the possibility that his accusers could be lying. Ask them what the president was wrong about, and if they can provide an answer at all, you will invariably hear a replay of the cunningly-concocted talking points of fake news operators.
Scripture reminds us that every man is known by the company he keeps. Unlike his predecessor and his current political opponent, President Trump will not be hosting members of Black Lives Matter, Antifa, or the Muslim Brotherhood at the White House.
The president maintains the support of genuine Christians, honorable patriots, and honest working people who treasure freedom and who give rather than take. Why? Because he leads by example. Unlike Joe Biden and Democrats, he does not promise to give his supporters that which costs him nothing.
Day unto day, Mr. Trump leads in the battle to defend innocent citizens, the injured, and the defenseless, from unscrupulous and treacherous domestic enemies, while surrounded by hostile forces on every flank. He does this boldly and masterfully without compensation or hope of reward other than that satisfaction which his noble cause provides. For this reason, he has well earned my support and my gratitude.
© Timothy Buchanan
---
The views expressed by RenewAmerica columnists are their own and do not necessarily reflect the position of RenewAmerica or its affiliates.
---