Judie Brown
Saving babies enslaves their mothers

By
Judie Brown
April 23, 2019
Ohio representative
Janine Boyd
(D) drafted an amendment to the Ohio Heartbeat Bill that would have been a radical departure from such laws. Her proposed amendment would have exempted black babies from protection under that law.
Fortunately, Governor Mike DeWine
signed
the new law without the Boyd amendment, but the story bears repeating.
While many
pro-life groups
were up in arms about the Boyd proposal, some of them are the very ones who support exceptions for abortion. We pointed this out in two tweets: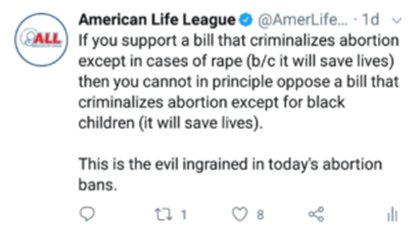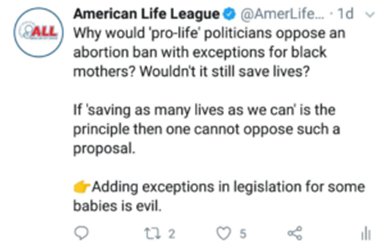 There are many pro-life
leaders
and
groups
that have no problem with exceptions for rape, incest, and life of the mother, calling such language part of the
incremental approach
to chipping away at
Roe v. Wade
and
Doe v. Bolton
.
So when Boyd
said
that "black slaves were once treated like cattle and put out to stud in order to create generations of more slaves" and that our country "is not far enough beyond our history to legislate as if it is," her exception to allow black babies to continue to be slaughtered should not have enraged anyone who has frequented the politically corrupt exception trough of the past 40 years.
Having said that, we thank God that Boyd's proposal failed, but the exercise does teach us a valuable lesson. Our struggle to defend the innocent cannot be about drawing lines and setting parameters that dictate which babies will live and which will be permitted to die under the law. Our opponents already realize this and have said as much.
When news of DeWine's signing of the Ohio Heartbeat Law became known, abortion proponents immediately
reacted
. Freda Levenson, legal director of the Ohio chapter of the American Civil Liberties Union,
said
the bill was "blatantly unconstitutional." Levenson's statement continued: "SB 23 is one of the most aggressive, oppressive, and radical attacks against women ever seen in this state and this country."
Note that, unlike the pro-life exception rhetoric, the pro-aborts never give an inch to the babies. They view every abortion as a woman's right for any reason at all. And when a bill passes, as it did in Ohio, that curtails that "right" in some way and is a radical attack on women! Never mind the babies who will be saved! For these folks, only the mothers themselves deserve legal protection.
We must learn from this, as it is never too late to avoid the pitfalls created by the politically motivated tactic of taking small steps to save babies – steps that result time and again in leaving dead bodies in their wake.
Yes, pursuing an all-or-nothing strategy is what we are recommending, but with good reason. Every abortion – whether chemical, medical, or surgical – is an attack against every innocent human being from her inception to death. Leaving some of them behind is never an option. And unlike Boyd and others who run roughshod over principle as they defend their skewed view of discrimination, we understand that any death by abortion discriminates against the entire human race, which is weakened in the wake of killing the innocent.
In
Evangelium Vitae
, Saint John Paul II
taught
: "To defend and promote life, to show reverence and love for it, is a task which God entrusts to every man, calling him as his living image to share in his own lordship over the world: God blessed them, and God said to them, 'Be fruitful and multiply, and fill the earth and subdue it; and have dominion over the fish of the sea and over the birds of the air and over every living thing that moves upon the earth' (Gen 1:28)."
Boyd and her allies are wrong to argue that saving babies enslaves their mothers.
Saving babies upholds the laws of justice and mercy.
American Life League is the nation's oldest grassroots, Catholic, pro-life organization. Its president, Judie Brown, has led the organization since its 1979 beginning. She has served three terms on the Pontifical Academy for Life – appointed twice by Pope John Paul II and again by Pope Benedict XVI.
© Judie Brown
---
The views expressed by RenewAmerica columnists are their own and do not necessarily reflect the position of RenewAmerica or its affiliates.
---