Matt C. Abbott
Tears from heaven

By
Matt C. Abbott
August 19, 2023
I posed the following question (via email) to Father Chris Alar of the Marian Fathers:
Regarding the Church-approved apparition at La Salette: the Blessed Mother was seen crying at first. Theologically, why would the Blessed Mother be seen crying when she's in/from heaven, where sorrow doesn't exist?
Below is the response I received from the Marian Fathers.
________________
You ask a perennial question, one that touches on the mysteries of God's own existence and relationship to us. The same question emerges when we are told in Scripture that God was wrathful, or God is upset, or God is sorrowful. We know that God is impassible in His divinity as a matter of dogma, and yet something real is conveyed when we hear of divine wrath rejoicing in Heaven. (For a good discussion of that, see this article.)
Now, some part of the answer may come when we consider the insight that C.S. Lewis depicts well in The Great Divorce: that when we talk about the saints in Heaven, we aren't solely talking about people who died and went to Heaven as they were at the end of their lives. Rather, a life redeemed is an entire life redeemed. The whole of the person is in some sense present in Heaven, meaning their entire life span – not their sins, privations of their goodness and existence, but the person's existence. In the case of Jesus and Mary, no part of their lives on earth were the results of their personal sin, since both were perfectly, purely holy.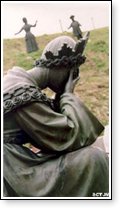 So Jesus appears at times as the Christ Child – the Infant of Prague, for example – or even in His mother's womb (Our Lady of Guadalupe was pregnant, according to the image on the tilma). So Our Lady, who was perfectly responsive to God's will, may well appear as the young, pregnant mother, or as Our Lady of Sorrows, weeping over the sins of the world that are crucifying her Son, or as the girl between the Immaculate Conception and the Annunciation. None of her life was touched by her own sinfulness, since she was immaculate from the first moment of her conception and was perfectly responsive to God's grace all throughout her earthly existence; her tears, therefore, are in some sense similar to Christ's wounds – holy realities. Jesus has appeared to St. Faustina, for instance, wounded and suffering (see Diary of Saint Maria Faustina Kowalska, 9). Certain of His wounds remain even in His glorified body, as shown when He appeared to the Apostles in the Upper Room that first Easter Sunday and first Divine Mercy Sunday.
Again, we speak of mysteries. To pretend to have too comprehensive an explanation would be a mistake. But certainly we can say that Our Lady's tears are a message and a warning; they communicate something crucial from Heaven, rather as the Scriptural warnings about the anger of God communicated something crucial. We can say that Our Lady is truly in glory in Heaven, honored above all other saints and angels, and blessed beyond all other creatures. We can also say:
A great sign appeared in the sky, a woman clothed with the sun, with the moon under her feet, and on her head a crown of twelve stars. She was with child and wailed aloud in pain as she labored to give birth (Rev 12:1-2).
Our Lady is Mother of the Church, as she was the Mother of Christ the Head of the Church. She is in labor, in a sense, bringing Christians into new life until the end of the world. Tears, then, are not out of place.
For more on the Church's essential Marian teachings, see Dr. Robert Stackpole, Mary: Who She Is and Why She Matters.
May God bless you, Mary keep you, and St. Joseph protect you,
The Marian Fathers
© Matt C. Abbott
---
The views expressed by RenewAmerica columnists are their own and do not necessarily reflect the position of RenewAmerica or its affiliates.
---